Michigan 4-H volunteer spotlight: Branch County's Laura Johns
Michigan 4-H volunteers are finding creative ways to continue connecting with Michigan 4-H'ers during social distancing. Read about one these Michigan 4-H volunteers and what she is doing.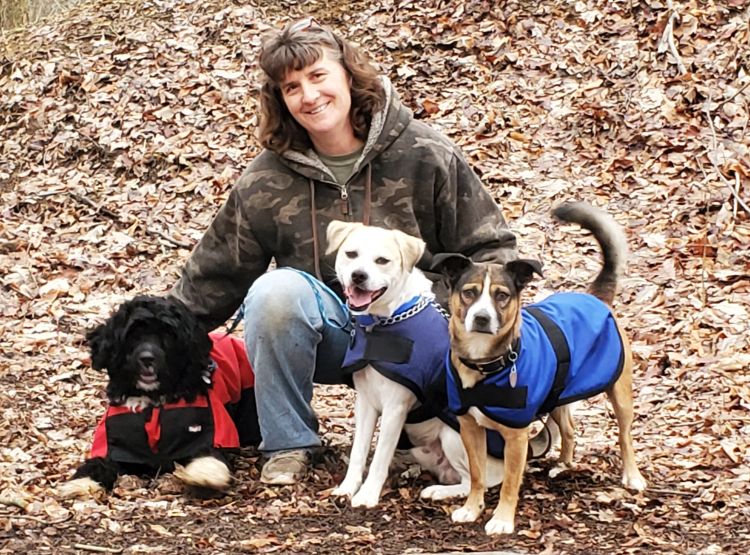 During the unprecedented COVID-19 pandemic and social distancing restrictions Michigan State University Extension volunteers are finding new, unique and creative ways to reach youth. Michigan 4-H is excited to spotlight a few of these volunteers and their efforts, as well as provide tricks, tips and tools other volunteers can apply in their own support of 4-H youth.
Laura Johns has been creating videos with her rescue dog for the Obedient K-9 4-H Club in Branch County. Demonstrating how to train this dog in basic obedience commands is perfect for creating videos for the club; members can watch and learn the techniques to try them at home with their dogs. Practicing at home along with the aid of the videos is a great way to learn and offers instruction that would otherwise not be available at this time.
Johns has kept her members motivated and on schedule with these videos. Johns has also developed some fun videos for the members and their dogs that demonstrate simple tricks and games to play with your canine companion. Having young people interact with their dogs is not only fun but also beneficial for bonding and exercise. The entire family can enjoy a well-trained dog.
Johns has been active with the 4-H dog project since the age of 8 and has been a dog leader for 35 years. She clearly has a passion for working with young people and dogs. She is a school bus driver and enjoys working with family and friends in this adventure we call 4-H. She not only serves as the organizational leader of the Obedient K-9 4-H Club but also the superintendent of the dog show at the Branch County Fair.
She was concerned about providing opportunities for her club members and wanted to be sure to keep in contact with them, so she started creating and posting the videos. She already utilizing a closed Facebook group but has added these videos, which have received a great deal of positive feedback and provided members with inspiration and instruction. They were just another way she could reach and provide educational content when she could not meet with them face to face to continue to help them grow in their projects. She has also added additional emails, Zoom meetings and mentioned how at first she needed to ask many questions to get the members talking but found once they got comfortable online, they all just kept talking.
Connie Lange, Branch County 4-H program coordinator, states, "Laura is a positive influence on young people and their families in all times, but especially in this time!"
Johns reminds us, "We have all of this technology in our favor to help them (youth) feel together as a club. Be creative, encourage them and be positive!"
Johns advice for fellow Michigan 4-H volunteers is simple and practical yet inspiring:
Ask questions to break the ice and get your members talking when you have them online so they can feel comfortable. Then, know how to find the mute button—you will need it once they all get involved. Be patient; this is different for everyone.
Think outside the box. Find fun ways to connect with games and activities through Zoom, Facebook or videos to keep them involved. It is about them connecting and having fun.
Michigan 4-H volunteers play an important role in connecting with 4-H youth during these times. There are many ways that volunteers can connect with youth when they cannot meet in person. Additional resources can be found on MSU Extension's Remote Learning and Resources website.