Michigan 4-H volunteer spotlight: Wexford County's Laura Hartson
Michigan 4-H volunteers are finding creative ways to continue connecting with Michigan 4-H'ers during social distancing. Read about one these Michigan 4-H volunteers and what she is doing.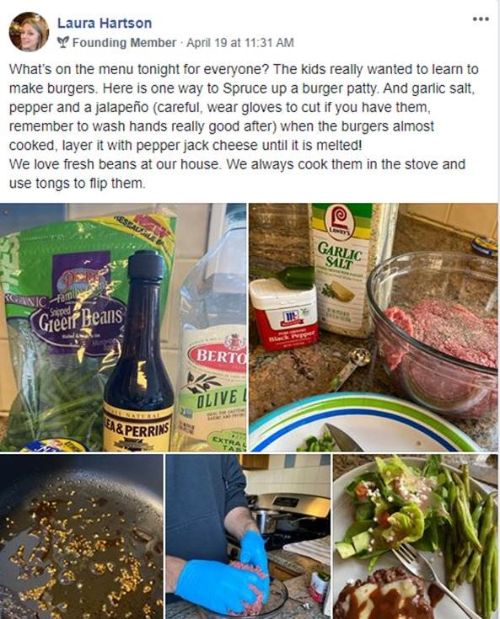 During the unprecedented COVID-19 pandemic and social distancing restrictions, Michigan State University Extension volunteers are finding new, unique and creative ways to reach youth. Michigan 4-H is excited to spotlight a few of these volunteers and their efforts, as well as provide tricks, tips and tools other volunteers can apply in their own support of 4-H youth.
Since the spring of 2018, Laura Hartson has been a Wexford County 4-H volunteer. While her tenure might not be long, her impact on the youth of Wexford County runs strong. Hartson began volunteering because of her passion for youth and her desire to help them learn and grow, especially in cooking and baking.
Hartson began her volunteer role with a 4-H SPIN (SPecial INterest) club named Manton Cooking/Baking Club. It was quickly met with success as over 30 youth joined the club to learn from Hartson's baking and cooking skills. Due to the abundance of youth interest and the club's success, Hartson is developing a year-round 4-H club named All Kids Cook: Simply Delicious. She is also recruiting additional volunteers to help her. In addition, Hartson has revised the structure of the group to smaller workshops so more youth can participate with fewer volunteers needed, despite the fact this structure will require more of her time.
During our current challenging times, Hartson has found ways to support the 4-H youth and their families through virtual platforms. In her club's private Facebook group, Hartson regularly posts about a variety of cooking and baking techniques. Some are simple skills for kids to try, such as how to peel an egg, while others instruct kids on how to put together a dinner using leftovers from a previous meal. Hartson's creativity encourages families to interact by seeing if youth can remember the name of a recipe as she posts the ingredients.
Hartson grew up learning to cook from her mother and her grandmother. Her favorite memory of cooking with her mom was seasoning the baked potatoes. She knew that when she had children of her own, she wanted to teach them and cook with them just the same way she did with her mother. As a 4-H volunteer, she uses a lot of the basic things she learned from her mother and grandmother to teach 4-H youth.
Brandie Sigler, 4-H program coordinator for Missaukee and Wexford County MSU Extension, shares that, "Laura is an asset to the Wexford County program. When you see her interacting with youth, you can see what a passion she has for what she is doing. The kids just soak up everything she is instructing them on because she makes learning so much fun for them."
There are so many tips and tricks Hartson shares with youth and their families that connect directly to cooking during these challenging times of limited resources at home. Many of the ideas she shares focuses on using common resources at home to last longer or using them for multiple purposes. Some ideas she has shared and encouraged youth to try include:
Bread recipes that don't include yeast.
Preparing breakfast foods and eating them for dinner.
Boiling eggs to eat but also to make egg salad.
Washing, coring, peeling and dicing apples for a snack or adding some cinnamon and sugar then cooking in the microwave.
Baking bacon rather than frying so the kids can more safely be involved.
Additionally, Hartson says that her greatest piece of advice for other volunteers is to let the kids decide because they have so many good ideas. Hartson also gives credit to a variety of techniques that she has used to gain success in her 4-H club. Those techniques can be used by other volunteers, too, and include:
Encouraging 4-H youth to bring friends to 4-H that might not know about it yet.
Including the schools in planning. 4-H can take place in school, after school and even on school holidays.
Schools can help advertise 4-H activities to families.
Be willing to learn from others, including teachers and parents.
Providing spaces where the youth feel important.
Michigan 4-H volunteers play an important role in connecting with 4-H youth during these times. There are many ways that volunteers can connect with youth when they cannot meet in person. Additional resources can be found on MSU Extension's Remote Learning and Resources website.