Michigan grape scouting report – August 3, 2022
Veraison is here. Harvest is coming!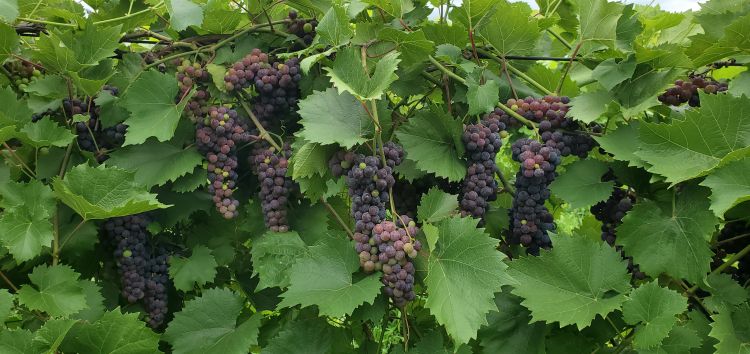 Weather
Click below for detailed seven-day forecasts for various grape production regions.
Southwest

Southeast

Northwest
Last week was cooler in Michigan's grape-growing regions. On average, Michigan picked up 409.5 growing degree days (GDD) base 50 degrees Fahrenheit, which was 100 GDD less than the previous week. Again, southeast AVAs were the warmest grape-growing areas in Michigan, picking 140.5, 38 GDD less than the previous week. The southwest AVAs were the second warmest regions on average and picked up 138 GDD, while northwest Michigan picked up 131 GDD. The Tip of the Mitt AVAs in Michigan, as usual, was the coolest region and picked up 40 GDD less than the previous week.
Southwest Michigan GDD Summary from March 1 through Aug 01, 2022
Southeast Michigan GDD Summary from March 1 through Aug 01, 2022
Northwest Michigan GDD Summary from March 1 through Aug 01, 2022

Enviroweather station

Current GDD 50 F

GDD 50 F last week

Collected the past week

Benton Harbor (SWMREC)

1809

1659

150

Fennville

1633

1501

132

Lawton

1795

1658

137

SW Average

1768

1630

138

Romeo

1673

1524

149

SE Average

1719

1578.5

140.5

Old Mission

1342

1206

136

Petoskey

1303

1175

128

Traverse City (NWMHRS)

1405

1268

137

NW Average

1328

1197

131
Vine growth
In southern Michigan, grape clusters are bunch closure, and early hybrid and some vinifera wine varieties are at veraison (Marquette, Geneva Red, Golubok, and Vanessa) (Photo 1).
In the northwest AVAs, wine grape cultivars' clusters are developing and berries are at buckshot berries and are approaching bunch closure (Photo 2). In the Tip of the Mitt, hybrid cultivar berries are reaching bunch closure on most cultivars. Berries are beginning to soften.
See this chart for grape growth stages.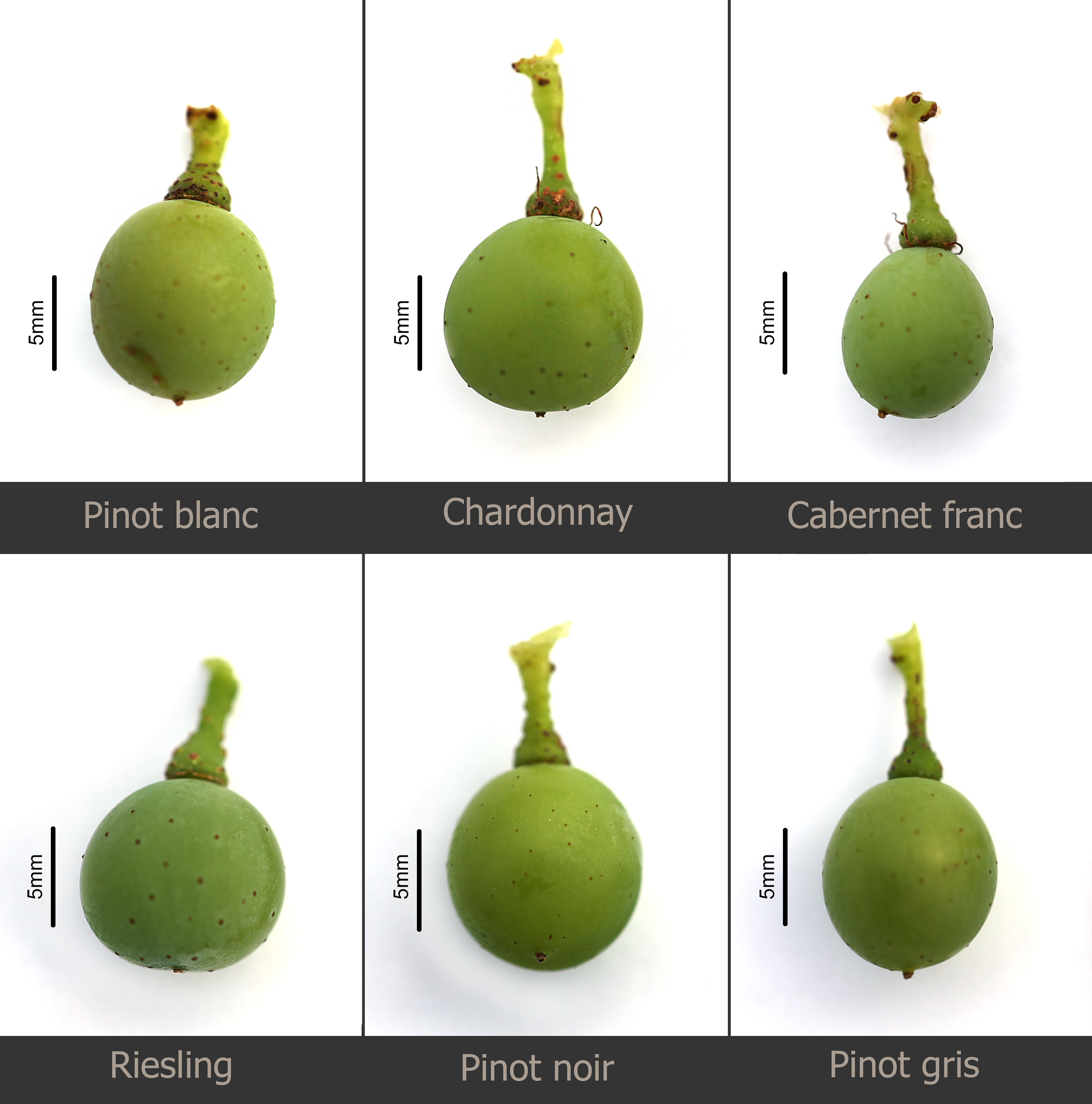 Horticulture
Hedging is going to begin in vineyards in Michigan soon. The main objectives of hedging are to cut back on extra primary and lateral shoot growth on the top and sides of the canopy to avoid shading and shoot entanglement between vine rows to make the vineyard more accessible to workers and tractors. Hedging can further encourage growth by promoting lateral shoot growth in robust vines, even though it indirectly reduces the canopy by removing primary and lateral shoots. Hedging is best done in the early to mid-summer.
Hedging is typically done between fruit set and véraison, when primary and lateral shoots begin to bend (at a 45-degree angle), and it is critical to keep leaves, fruit, and developing buds exposed to enough light in dense canopies with excessive vegetative growth. Hedging too early in the growing season should be avoided because it can lead to increased lateral growth and canopy density.
Over-cropping has been reported in some juice grape vineyards. Crop load management is critical to achieving your desired Brix level. In order to assess your cropload, use the MSU Concord model on Enviroweather and conduct a cluster thinning at 1500 GDD. For more information download this report on the topic.
Diseases
In the southwest, disease management of downy mildew, powdery mildew and botrytis fruit rot are the primary focus currently. The heavy dews we are experiencing means it is important to maintain protection against downy mildew. With tight clustered varieties, this is the last chance to get botrytis bunch rot sprays into the tight crevices of the clusters. In the northwest disease pressure is increasing and a high pressure of powdery mildew has been reported. (Photo 3). In specific areas where black rot is becoming more apparent as well.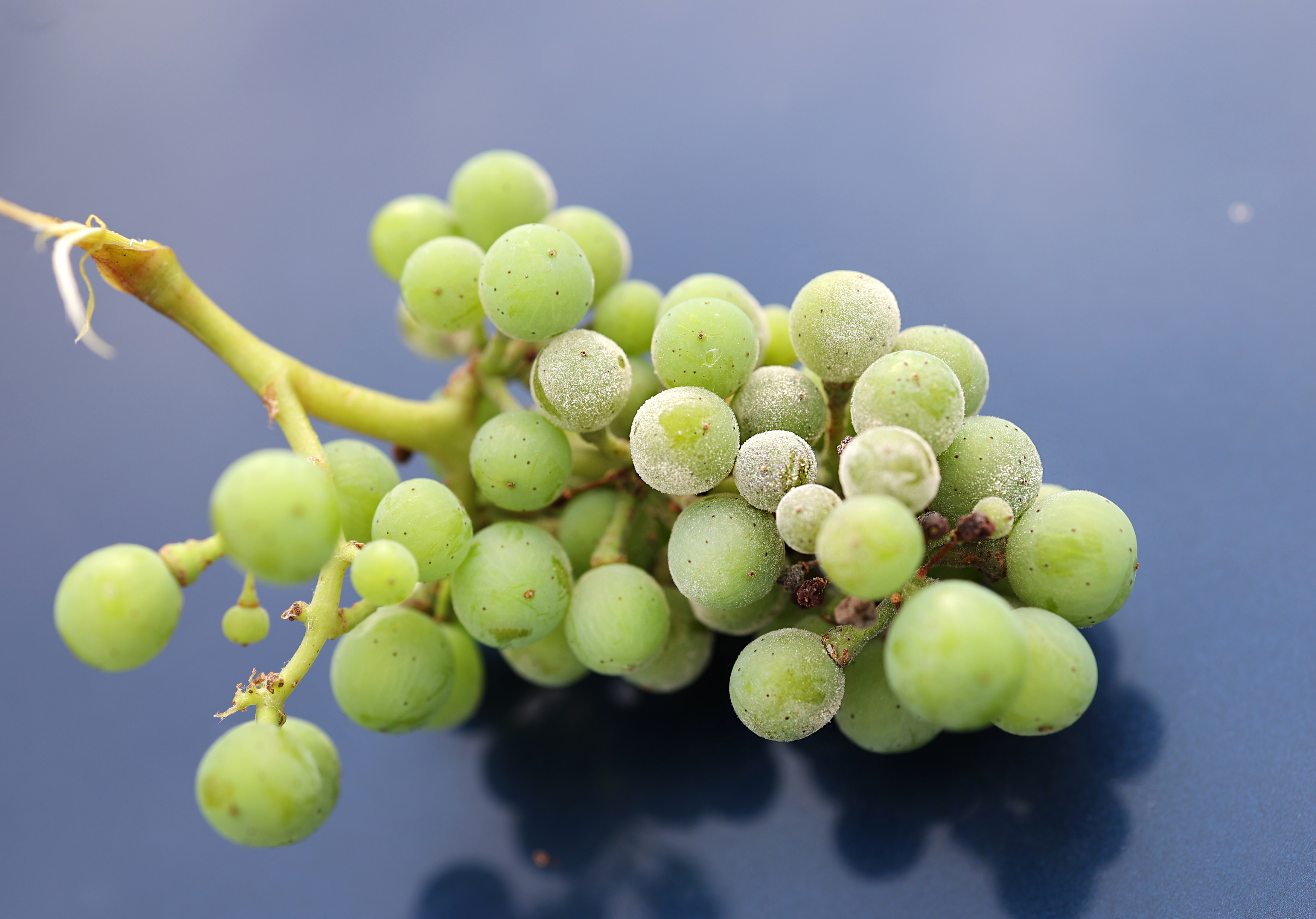 In this growing stage, you should consider choosing fungicides that control all the foliar and fruit diseases. For example with downy mildew we are most concerned with foliar infection at this time and sprays should be timed regularly throughout the season when we experience heavy dews for optimal control. Downy mildew is caused by a fungal-like organism, so many site specific systemic fungicides that target other spring diseases do not work on downy mildew. Effective fungicides for downy mildew include products in FRAC codes 4, 11, 21, 40 and 45 as well as phosphorus acid salts and some biologically-based products.
If powdery mildew is the only concern, there are a number of products that are effective (FRAC codes 3, 7, 11, 13, U8, 50, and U13 as well as sulfur). Combining fungicides from different FRAC classes should also be effective while helping with resistance management.
As we approach bunch closure in the southwest, it is important to consider botrytis management. Several strategies contribute to good botrytis bunch rot management including opening up the canopy, properly applying fungicides, and using resistant cultivars when possible. Good botrytis control depends on getting good coverage. Just before bunch closure is the last chance to apply a fungicide to the inner part of the developing cluster. Fungicide resistance management is also important. The most effective products for botrytis are site specific and prone to resistance development. A Michigan Grape Fact Sheet is available for managing botrytis bunch rot.
Remember as you choose a fungicide, check the guide for potential phytotoxicity of certain sprays on Concord grapes especially (this has been particularly noted for fungicides like Revus Top). Phytotoxicity risk is higher with high temperatures and quickly growing vines. Also, there is a significant phytotoxicity risk with specific contact products such as copper and sulfur for Labrusca type grapes (Concord and Niagara).
Insects
At vineyards in southwest Michigan scouted this week, there was a wide range of grape berry moth (GBM) infestations (Photo 4). Our scouting this week also allowed for examining the effect of treatments on Generation 2 of grape berry moth. The numbers of infested clusters were lower this week than the previous week, with evidence that spraying 10–14 days after the 810 timing provided good protection for most high-pressure sites. At sites where sprays were too late or applied just before rain we were able to find some mature GBM larvae in berries indicating that control wasn't effective. These larvae are protected in berries now but there will be a chance to improve control in the next generation.
The GBM model predicts the start of 3rd gen egg laying (1620 GDD from wild grape bloom biofix) on 8/4, and egg hatch on 8/7 (1720 GDD) in Van Buren County co (Lawton). If using an insecticide with activity on eggs such as Intrepid or Intrepid edge use the 1620 timing. For broad-spectrum insecticides, it is recommended to target as close to the egg hatching time (1720 timing) as possible to control egg hatching. Also be aware of the predicted rain showers over the coming week and avoid application just before rain. For SW Michigan, the window of clear weather on Friday and Saturday look to be good timings for protecting against the early half of the third generation.
At high pressure vineyards, or areas of farms, it is also critical that these applications are followed up with another cover spray to hit the peak of GBM egglaying and larval pressure that will happen 10–14 days later. This should prepare growers for the harvest season with vineyards that can have a lower risk of damage in the pre-harvest window.
After the 2021 experience, we are carefully watching vineyards with weekly scouting and growers should be doing the same to make sure that cluster rots and vinegar flies do not develop to be too much of a challenge. We are already primed for seeing some late-season grape berry moth pressure in SW Michigan given the early start to the third generation, and the long-lead weather forecast also calls for warm evenings. Continue to monitor this as we approach harvest and be prepared to control rots and their vinegar fly vectors with treatments once the berries reach 14 Brix. A future extension article will review our recent results on this topic and recommendations for the post-veraison part of the season.
Upcoming events
Register for Dirt to Glass 2022: Elevating Michigan Wine from the Ground Up. Michigan State University Extension is hosting a new conference for the Michigan grape and wine industry. Dirt to Glass 2022: Elevating Michigan Wine from the Ground Up is the first ever of its kind in Michigan and this year it will take place in Traverse City on August 25-26. This year's Dirt to Glass conference will focus on soil health, soil identification and soil fertility. Each year, the conference chooses a specific area of study based on the results of an annual educational needs assessment survey. Registration by July 10 is required.
Tile Drainage Field Day 2022. Linking Soil Health, Nutrient Management, and Water Management for Improved Water Quality. The event will be hold on Thursday, Aug 25, 2022 at 13000 Bird Lake Rd., Camden, MI 49232
Related articles
---
This work is supported by the Crop Protection and Pest Management Program [grant no 2021-70006-35450] from the USDA National Institute of Food and Agriculture.