Michigan grape scouting report – June 10, 2020
Hybrid and juice grape bloom has started in southern Michigan. The warm weather has increased the number of phomopsis reports around the state.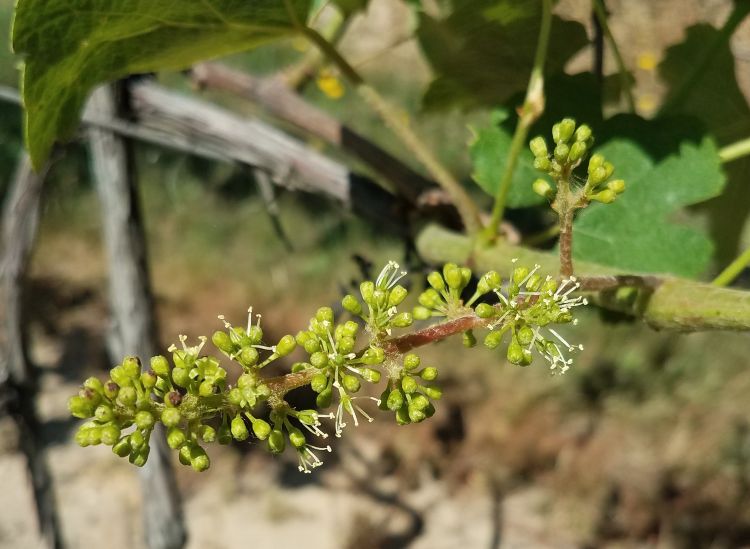 Weather
The past week was mainly warm and dry. Southern Michigan saw highs in the 80s and lows in the 60s. Scattered showers dropped a quarter inch or less of rain across west central Michigan. Saturday and Sunday saw brief cooling from the days before. The heat returned Monday and Tuesday. Northern Michigan saw temperatures 10 degrees cooler than the southern portions of the state.
The remnants of Tropical Storm Cristobal have pushed up into Michigan. This is bringing rain and wind starting Tuesday night, June 10, in southwestern Michigan, moving up to the upper peninsula by Thursday. Widespread rain is expected from this system. Behind this system, the rest of the coming week is expected to be dry and much cooler, with highs in the 60s and low 70s for the next week.
With the warm week, vineyards throughout the state picked up quite a few growing degree days (GDD), 150-190 GDD base 42 and 100-145 GDD base 50. The southwest region is 330 GDD base 42 and 215 GDD base 50 ahead of the northwest region.
Northwest Michigan GDD summary from March 1 - June 8 2020

Northwest stations

GDD 42 F

GDD 45 F

GDD 50 F

Petoskey (Petoskey)

555

438

280

Traverse City (NWMHRC)

618

491

322

Old Mission (Old Mission)

579

455

293

Average for the NW region

609

483

314

Average last week

459

353

218
Southwest Michigan GDD summary from March 1 - June 8, 2020 and southeast Michigan GDD Summary from March 1 - June 8, 2020

South region stations

GDD 42 F

GDD 45 F

GDD 50 F

Benton Harbor (SWMREC)

947

776

538

Lawton (Lawton)

951

776

534

Fennville (TNRC)

846

682

455

Average for the SW region

941

769

530

Average last week

739

588

384

Romeo (Romeo)

858

692

465

Average for the SE region

881

713

483

Average last week

685

537

342
Vine growth
Juice grapes in much of southern Michigan have up to 18 inch shoots. Clusters are elongating and flowers are separating. Most Vitis vinifera cultivars have 12-16 inch shoots with clusters starting to expand. Early hybrid varieties such as Marquette, Frontenac and Chancellor are in full bloom in Berrien County as of Monday, June 8. The first Niagara bloom has been seen in the same area. Widespread wild grape bloom has been reported in the southwest region over the last week. The extreme variability in bloom dates this year emphasizes the need to scout around your fields to determine the bloom date for your farm.
In northern vineyards, shoots are at 8-16 inch of growth, depending on variety. Clusters are elongating but are still pretty tight. Wild grape shoots are about 12-16 inches long. See this chart for grape growth stages.
Diseases
As bloom is starting, sprays to control black rot and downy mildew infections in clusters are critical. With the rain this week, the risk for infection is high. The first few fungicide applications until three weeks post bloom are the most important. Multisite products in the ethylene bisdithiocarbamate (EBDC) group (e.g., Manzate) are a great option for these diseases if bloom has not yet started. Do not use EBDCs in juice grapes once bloom starts.
As bloom approaches, start choosing fungicides that control all the fruit diseases. These include downy mildew, phomopsis, powdery mildew and black rot. These diseases all infect new green tissue as it is exposed. Warm, wet weather promotes this quick growth and increases chances of infection. We have seen phomopsis damage on canes and leaves in grapes from several scouts around the state. For phomopsis on canes, look for necrotic lesions that are dark brown to black. No signs of downy mildew or black rot have been reported yet. For an overview on the general diseases and management options, see early season vineyard disease management and the importance of bloom applications.
Downy mildew can cause fruit infection and late season defoliation. During this time of year, we are most concerned with fruit infection and sprays should be timed prior to bloom and at bloom for optimal control. Fungicides for downy mildew include some strobilurins (e.g., Abound), phosphorus acid salts (e.g., Phostrol) and CAA-fungicides (e.g., Revus), among others. A complete list with efficacy and other details can be found in the E154 Michigan Fruit Management Guide from Michigan State University Extension. Check the guide for potential phytotoxicity of certain sprays on Concord grapes especially. Phytotoxicity risk is higher with high temperatures and quickly growing vines.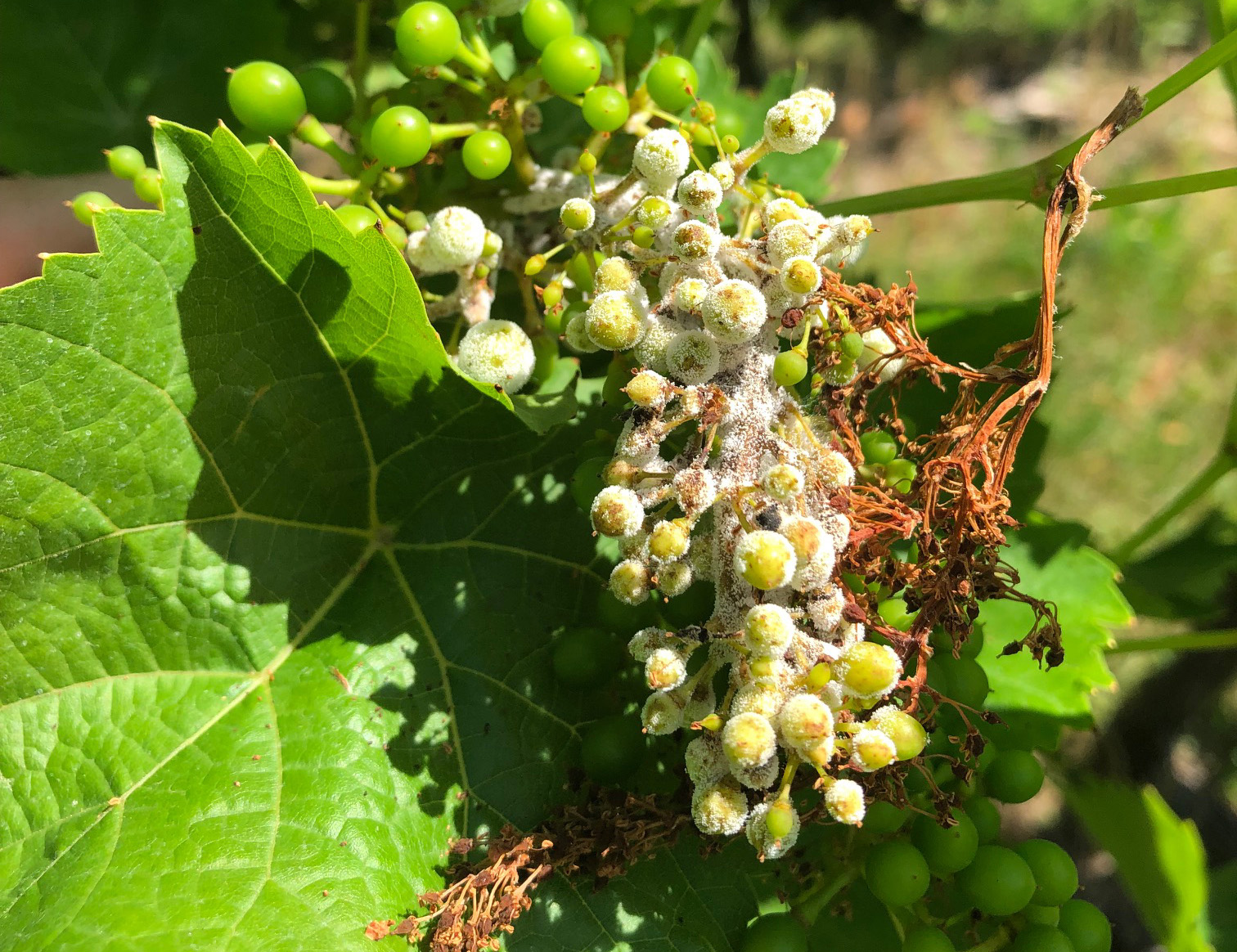 Insects
Note: Thoroughly scout before assuming insects are an economic problem.
Rose chafer and potato leafhopper have both been reported in Van Buren County. Rose chafers can be found feeding on leaves and young clusters. Potato leafhoppers feed on leaves. Some sensitive grape varieties can get yellowed and cupped leaves in response to leafhopper feeding, stunting the growth of young vines. Most mature vines are very tolerant of their damage and control isn't often warranted. Treatment recommendations for both of these insects can be found in the E154 Michigan Fruit Management Guide.
Tumid gallmaker symptoms are becoming more apparent in southern Michigan. They are more common in hybrid grapes, but have also been found this week in Concord grapes in Berrien County. There has also been a report of galls on Old Mission Peninsula. For small vineyards, hand picking and removing infestations can be an effective management technique. Foliar infestations of grape phylloxera have also been reported. Vines can withstand a lot of leaf damage. If there is a high infestation or if clusters are affected, Movento is an effective insecticide for both of these pests. This should be applied at the first sign of infestation. Movento needs to penetrate the waxy leaf surface, so application with a penetrating adjuvant is essential to get control.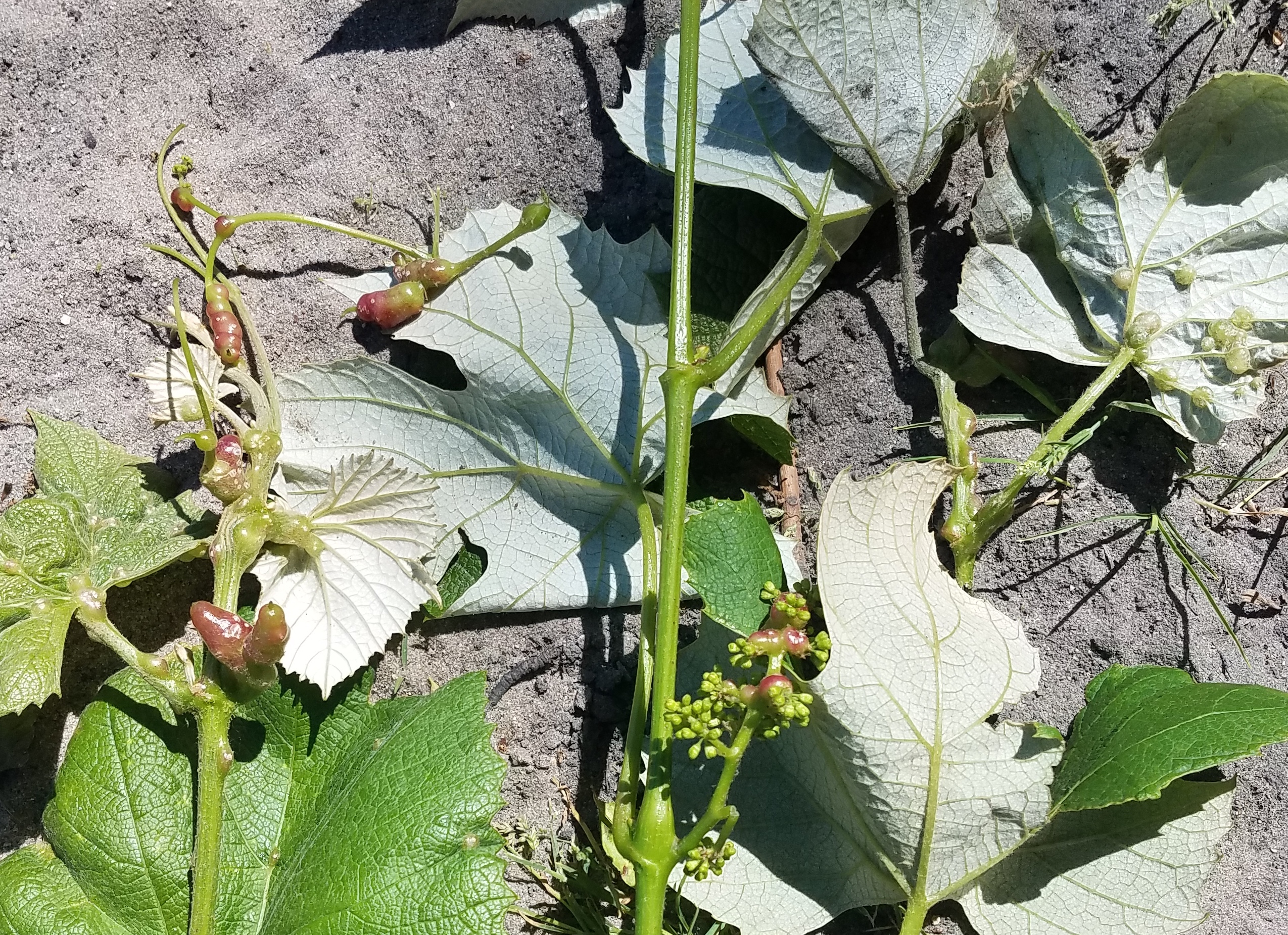 Grape erinium mite has been observed on young leaves at a few vineyards in the Traverse City, Michigan, area. Established infestations are moving slowly. These mites rarely reach economic infestation levels but can be confused with disease symptoms. Grape plume moth larvae have also been found on Old Mission Peninsula. These light yellow, hairy caterpillars fold leaves and create webbing between leaves and stems. Grape plume moths are rarely an economic pest but localized infestations can occur when near a lot of wild grape.
Grape berry moth trap catches have gone up in the past week in southwest Michigan. Targeted management of this moth is generally not recommended until the next generation. This will typically occur late July. Wild grape bloom has become widespread in the past week. Wild grape bloom is used as biofix for grape berry moth models. Record the date when 50% of the clusters on wild grape are at 50% bloom. This date can be entered into the grape berry moth model in MSU Enviroweather to predict when egg laying will start.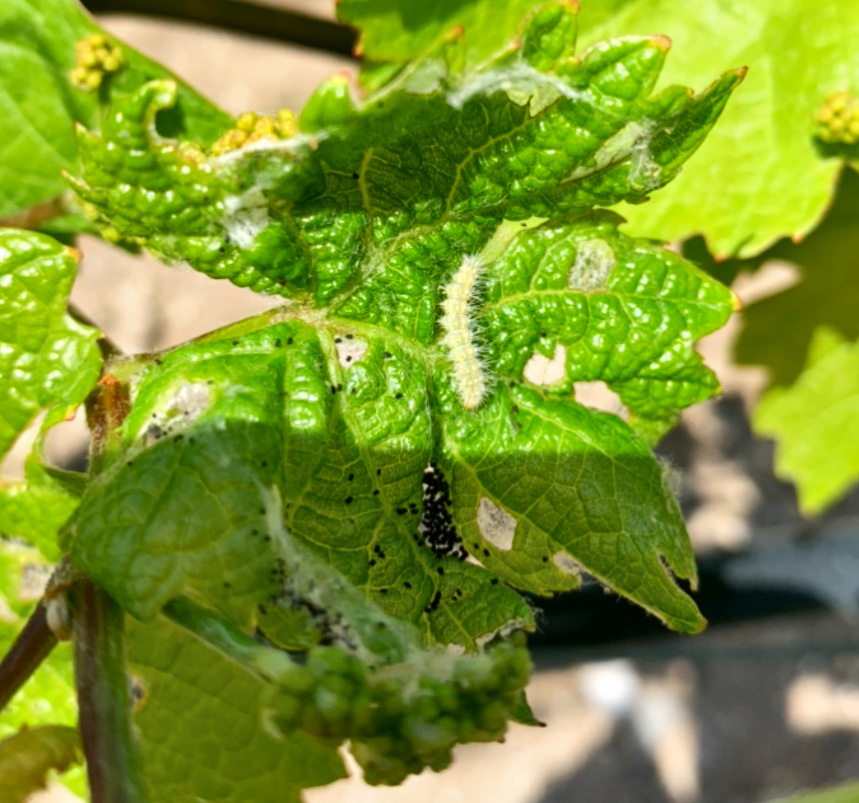 Upcoming meetings
Our grower meetings have moved online. We are using Zoom for our meetings. Here is more information on Zoom.
In place of Viticulture Field Day, we are having Viticulture Field Week online. This will be a week of webinars from 12-1 p.m. during July 27-31, 2020. More information to come.
Related articles