Michigan grape scouting report – June 14, 2023
Most of Michigan will experience a hot and dry week.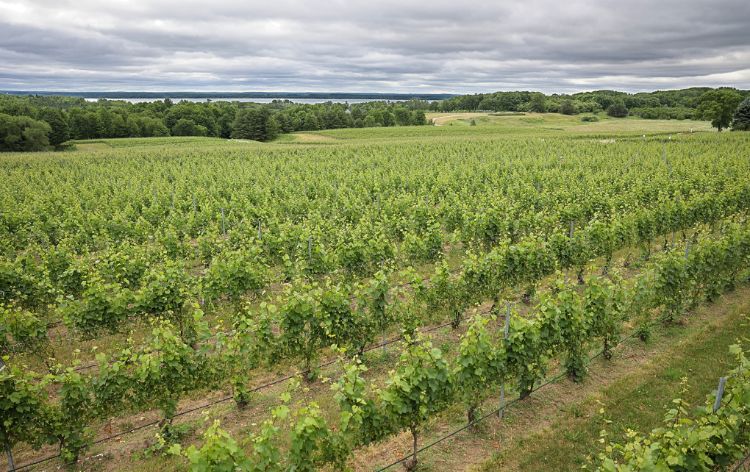 Weather
Click below for detailed seven-day forecasts for various grape production regions.
Southwest
Southeast
Northwest
Report on growing degree days (GDD)
The following table summarizes the GDD 50 degrees Fahrenheit for the current week and the previous week, as well as the accumulated GDD for each location:
| Location | Current GDD 50 F | GDD 50 F last week | Collected the past week |
| --- | --- | --- | --- |
| Benton Harbor (SWMREC) | 699 | 621 | 78 |
| Fennville | 594 | 523 | 71 |
| Lawton | 709 | 624 | 85 |
| Average for southwest Michigan | 671.5 | 592.6 | 78.9 |
| Romeo | 581 | 498 | 83 |
| Average for southeast Michigan | 603.3 | 519.2 | 84.1 |
| Old Mission | 461 | 409 | 52 |
| Petoskey | 492 | 441 | 51 |
| Traverse City (NWMHRS) | 533 | 475 | 58 |
| Average for northwest Michigan | 488.8 | 436.4 | 52.4 |
The GDD data collected for different locations in Michigan over the past week provides valuable insights for grape growers in the region. Southwest Michigan, including Benton Harbor, Fennville and Lawton, exhibited high GDD values, indicating optimal growing conditions for grape cultivation. Similarly, Romeo, located in southeast Michigan, recorded a favorable GDD value while northwest Michigan, represented by Old Mission, Petoskey and Traverse City, experienced slightly lower GDD values but still provided reasonable conditions for grape growth. This information allows grape growers to make informed decisions regarding planting, growth and management strategies tailored to the localized GDD conditions. By leveraging the GDD data, Michigan grape growers can maximize their chances of successful grape production.
Vine growth
In southwest Michigan, juice grapes and some hybrids are reaching the end of their bloom stage. Early hybrid varieties like Marquette and Brianna at the Southwest Michigan Research and Extension Center are approaching the buckshot berry stage. Meanwhile, other hybrid wine grapes and several vinifera varieties are currently in early bloom.
Moving to northern Michigan, clusters are expanding on all vinifera cultivars. The shoot length varies depending on the cultivar, with later budburst varieties ranging from 6 to 10 inches (e.g., Cabernet Franc, Merlot) and earlier budburst cultivars (e.g., Chardonnay, Pinot Noir, Sauvignon Blanc) measuring between 12 and 18 inches. In the Tip of the Mitt region, hybrid cultivars are in the immediate pre-bloom phase, displaying a well-developed inflorescence but not yet showing signs of flowering. Vinifera varieties in the region are in the 10-to-16-inch growth phase.
See this chart for grape growth stages.
Horticulture
Shoot thinning and trunk cleaning should be completed in the southern vineyards and underway in many varieties in the northern vineyards. Shoot thinning plays a crucial role in canopy management, offering multiple benefits such as enhanced air circulation, reduced disease susceptibility, minimized shading, improved spray penetration and ultimately elevating fruit quality during the harvest period. It is advisable to perform shoot thinning when the shoots reach a length of 5-12 inches, ensuring they are still easily breakable from the woody tissues.
For more comprehensive information on shoot thinning and other early season vineyard management practices, refer to the article "Early Season Vineyard Management" from Michigan State University Extension.
Diseases
During this time of the year, the primary diseases of concern for grape growers are phomopsis, black rot, anthracnose and powdery mildew. If you're seeking detailed insights into pre-bloom fungicide options and the effects of rain on disease spread, refer to a grape scouting report from earlier or see this article on early-season disease management. It's worth noting that some growers have recently observed isolated cases of downy mildew infections in vineyards.
As bloom continues in southwest Michigan, start choosing fungicides that control all the fruit diseases. For example with downy mildew we are most concerned with fruit infection at this time, and sprays should be timed prior to bloom and at bloom for optimal control. Downy mildew is caused by a fungal-like organism, so many site specific systemic fungicides that target other spring diseases do not work on downy mildew. Effective fungicides for downy mildew include products in FRAC codes 4, 11, 21, 40 and 45 as well as phosphorus acid salts and some biologically-based products.
With the exception of powdery mildew, these spring disease infections typically require rain events. It only takes 0.1 inches of rain above 50 F to trigger a possible infection. Viticultural practices that reduce canopy wetness such as good irrigation timing, leaf removal and good weed management can reduce many of these diseases in a vineyard. Typically, DMIs (FRAC 3), captan and EBDCs (FRAC M3) are effective for phomopsis, black rot and anthracnose.
Insects
During the current bloom period, grape berry moth continues to lay eggs, resulting in the presence of webbing and larvae on young clusters. Sites with high grape berry moth activity are now displaying signs of larvae forming webbing within the clusters. To scout for this, simply walk along a wooded edge where host-spots were observed last season. By examining a sample of 100 clusters, you can determine the percentage of cluster infestation. If more than 5% of the clusters show infestation with larvae, identifiable by their webbing, treat the affected area with an effective insecticide to reduce populations during this early stage of the season.
Throughout the season, this approach can be repeated in different areas around the farm to monitor grape berry moth development. Selecting various sites at both vineyard edges and interiors provides a comprehensive view of this pest's presence across the entire farm.
At this time of year, it is also important to be vigilant for other pests that start becoming active. Vineyards with a history of grape tumid gallmaker or rose chafer should closely monitor specific vineyard areas that have previously been infested. Some hybrid wine grapes are already experiencing sightings of tumid gallmaker. In the case of tumid gallmaker, applying Movento or Assail at the first indication of gall formation can assist in reducing infestation. Small-scale growers can also physically remove affected shoots and clusters, ensuring proper disposal outside of the vineyard.
Upcoming events
Mark your calendars now for the Northwest Michigan Grape Pre-Veraison Meeting on Friday, July 14. Join us for insights and discussions on pre-veraison practices. The event announcement is coming soon.
The Southwest Michigan Viticulture Field Day will be July 26.
Register for Dirt to Glass 2023: Elevating Michigan Wine from the Ground Up taking place Aug. 24-25. Dirt to Glass aims to connect growers and producers each year and provides information to support the Michigan grape and wine industry in understanding the critical relationship between better farming and world class wine. Experience the pinnacle of collaboration at this groundbreaking event, where MSU, MSU Extension and industry innovators and educators come together. Join us as we share the latest research findings and cutting-edge practical information to elevate your knowledge and expertise in the field.
Related articles