Michigan's first African American, women-owned, vegan and allergen-free ice cream shop opens in Wyoming, MI
With support from the MSU Product Center and many others, entrepreneur launches new location.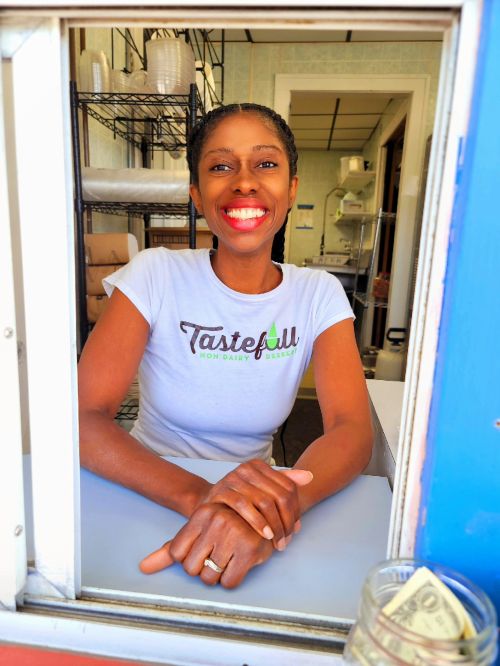 Over the Memorial Day weekend, a new ice cream shop was launched in the Grand Rapids area by Kalene McElveen and her business, Tastefull Vegan Desserts. Kalene has entrepreneurship in her blood. Her grandmother was the first African American woman to own a clothing store in the City of Detroit – Hawkins Apparel Shop. Now Kalene is the first African American woman in Michigan to own a vegan ice cream shop. Tastefull Vegan Desserts is also the first allergen-free ice cream shop in the state.
"It is a dream come true. Growing up, I was a vegetarian and I'm sensitive to dairy, so I always felt left out. Now I own a business where everyone can come and enjoy dessert," said McElveen. "I want to make sure people feel included," she added.
Kalene is also serious about transparency. She provides a binder to customers that lists all ingredients and is vigilant about preventing the top eight allergens from entering her shop.
Kalene launched Tastefull Vegan Desserts in 2019 out of the Incubator Kitchen at the Grand Rapids Downtown Market. She joined the Michigan State University (MSU) Product Center and has participated in many training programs over the years.
Tastefull Vegan Frozen Desserts started by specializing in popsicles and vegan chocolate desserts, which she sells at the Fulton Street Farmers Market and area stores, including: Bridge Street Market, Forest Hills Foods, all locations of Harvest Health Foods and Spun Sugar in Detroit. You can still find her products at these locations.
"When we started our family in 2013, we moved to Wyoming and this was our neighborhood ice cream shop under a different owner. I have always thought about this location for my business and now I am here, and it is a dream come true," said McElveen.
Tastefull has a simple menu to start. Vanilla soft serve with a few toppings and strawberry lemonade slushes. Kalene is also making her packaged food items at the new location.
"It is the slow gradual, consistent steps that make long-term success. If you over promise, and under-deliver, customers won't come back. Slow and steady wins the race. Once I had shelf space in stores, I knew I had to deliver. You can't have empty shelves," commented McElveen.
The market for plant-based foods has continued to increase in recent years. According to Spoonshot.com, the U.S. market for dairy-free ice cream was $456 million in 2018 and is expected to increase to $1.2 billion by 2025. Unilever, the maker of Ben and Jerry's Ice Cream, is working towards a fivefold increase in the number of vegan ice cream products over the next seven years according to Alison Zimmerman's article from The Food Institute.
For those wishing to support a local business, Tastefull Vegan Frozen Desserts is located at 2264 Porter Street SW, Wyoming MI. It is open from 3-9 p.m., Friday through Sunday. You can also provide support by following Tastefull Vegan Frozen Desserts on Facebook and Instagram (@tastefullveganice). If you would like to read more about Kalene and Tasteful Vegan Frozen Desserts, check out these recent articles from WZZM 13, WOOD TV8, FOX 17, and the Grand Rapids Business Journal.
Michigan State University Extension and the MSU Product Center are resources for food processors based in Michigan. The MSU Product Center is an organization that brings together on-campus expertise in the sectors of food, agriculture, and natural resources to help entrepreneurs define and launch businesses and products. Field-based innovation counselors advise entrepreneurs on business planning, regulatory requirements, and product development needs. To access business development assistance, select the "Become a Client" button on the MSU Product Center website or call 517-432-4608.