MSU Entomologists welcome arrival of samba wasp for biocontrol of invasive fruit fly
Researchers hope the new biocontrol agent can be reared to help manage spotted- wing drosophila on Michigan fruit farms.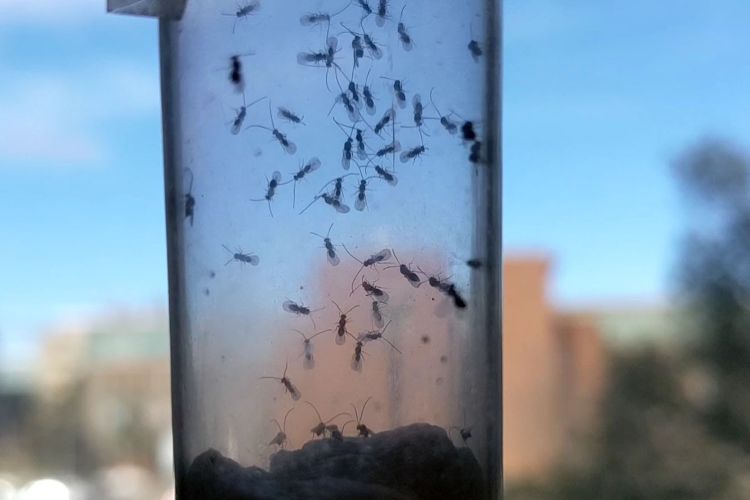 MSU researchers who specialize in fruit crop pests and biological control are excited to receive a new biocontrol agent that could help reduce the damage caused by spotted-wing drosophila (SWD) on their crops. This invasive pest has been one of the top production challenges for berry and cherry growers in recent years since it arrived in the US. The samba wasp (Ganaspis brasiliensis) is a tiny parasitic wasp that lays its eggs in SWD larvae. After years of evaluation and permit review, USDA APHIS and the Michigan Department of Agriculture and Rural Development have approved release of this wasp in regions where it threatens fruit production.
One of the MSU researchers, Juan Huang, recently traveled to the USDA lab in Delaware and received training on the rearing process. She returned with 100 of these insects to MSU to begin mass-rearing efforts. Once sufficient numbers of wasps are in colony, targeted releases are planned this summer at blueberry and cherry farms around the state. The researchers will assess the impact of this new species on SWD populations and their potential for establishment in Michigan's climate.
This program provides hope for improved integrated pest management (IPM) practices on fruit farms across Michigan and the potential to reduce insecticide spraying for this pest.
"Although we don't expect immediate results, the availability of this new biocontrol agent opens up a new chapter in our research on this devastating pest," said Rufus Isaacs, one of the researchers working with this insect and planning for releases in blueberry farms.
Teams from three entomology labs led by Rufus Isaacs, Julianna Wilson and Marianna Szűcs are collaborating to learn more about this new biocontrol agent for the benefit of Michigan farmers.