New Research Explores Halal Food Fraud and its Implications for the Meat Industry
With support from the USDA, Michigan State University graduate student Kelsey Hopkins seeks to improve the rapidly growing halal meat industry.
The halal food industry is growing rapidly in the United States and is estimated to be worth more than 20 billion dollars but concerns about halal meat fraud are growing too. A series of high-profile halal meat fraud cases coupled with limited federal oversight to enforce anti-fraud laws have undermined consumer confidence in halal food products. To help the meat industry improve the halal certification process and to increase consumer confidence in the process, the United States Department of Agriculture (USDA) is supporting a new research project led by Kelsey Hopkins, a Ph.D. Student in the Department of Agricultural, Food, and Resource Economics (AFRE) at Michigan State University (MSU).
In the Muslim faith, certain foods must be certified halal before they can be consumed. The process for certifying meat as halal involves the slaughter process, prayer, and certain cleanliness attributes, but without federal regulation the certification process is done by third-party certifiers, each with differing requirements based on their own interpretations of religious tenets.
Hopkins research project will measure consumers', retailers', and processors' concerns, preferences, and perceptions related to halal meat food fraud, and pinpoint potential solutions and anti-fraud efforts. The project will also focus on how consumers determine which products to trust and why, and will identify consumers preferred channels of communication about certification. Hopkins believes, "the knowledge gained from this analysis has the potential to improve certifier-consumer, certifier- retailer, and certifier-processor relationships, offer insights into viable market options for halal meat markets to grow and meet rising demand, and help consumers make the best purchasing decisions for their needs."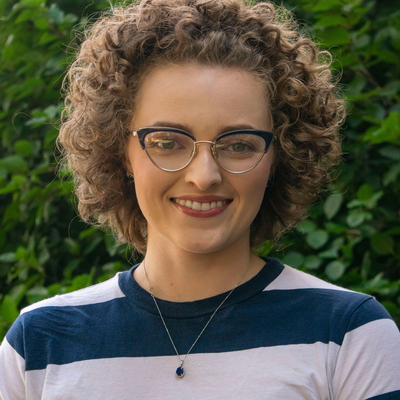 AFRE Ph.D. Student Kelsey Hopkins
Increasing demand for Halal meat is driven not just by the growing population of Muslim consumers in the U.S. but also by a growing number of non-Muslims who perceive consumption of halal certified meats as aligning with their values.
Hopkins believes, "this project can also help supply chain members deduce if consumer willingness to pay for Halal certified foods outweighs the potential costs of adopting new traceability and verification technology to ensure proper certification."
The impetus for Hopkins' research on halal meat fraud came from conversations with her AFRE classmates from majority Muslim countries. From these conversations Hopkins says she, "recognized how big of a problem finding trustworthy halal meat must be for Muslims living in the U.S." For Hopkins, "Diversity of culture is one of America's best assets and ensuring that all Muslims can have access to the food their faith requires supports this diversity."
"Diversity of culture is one of America's best assets and ensuring that all Muslims can have access to the food their faith requires supports this diversity."
Hopkins' study will be completed under the guidance of her advisor, AFRE Assistant Professor Melissa McKendree. The study will use a mixed methods approach that includes focus groups, surveys, and a field experiment with midwestern mosques. Hopkins expects this research "to fill an important gap in the literature and the food industry as halal meat food fraud is not well studied."
Hopkins' research is supported by the USDA's National Institute for Food and Agriculture's Pre-Doctoral Fellowship. USDA-NIFA placed Hopkins' project among its highest priority categories – the top 14% of all applicants. Hopkins is the first AFRE graduate student to ever receive this prestigious award.
Hopkins credits course work from AFRE faculty members, Associate Professor Vincenzina Caputo and University Foundation Professor Thomas Reardon, for helping her to acquire the research skills and tools that this project hinges on and the mentorship of her advisor, Assistant Professor Melissa McKendree. Hopkins says, "Dr. Melissa McKendree, has by far been the most positive and supportive aspect of my time in AFRE. Her encouragement and guidance while I worked on this project proposal was invaluable, and I know she has helped me be to become a better researcher."
Reflecting on the significance of this fellowship for Hopkins, McKendree says, "This award is a not just a testament to Kelsey's hard work in developing a thoughtful and innovative research proposal, but also a reflection of her values and commitment to use the field of agricultural economics to improve the lives of others. I'm so happy for her and can't wait to begin working with her on this exciting new research project."