New USDA grant supports MSU researcher studying prevention of dairy cow diseases after calving
The $642K project is funded by USDA NIFA's Agriculture and Food Research Initiative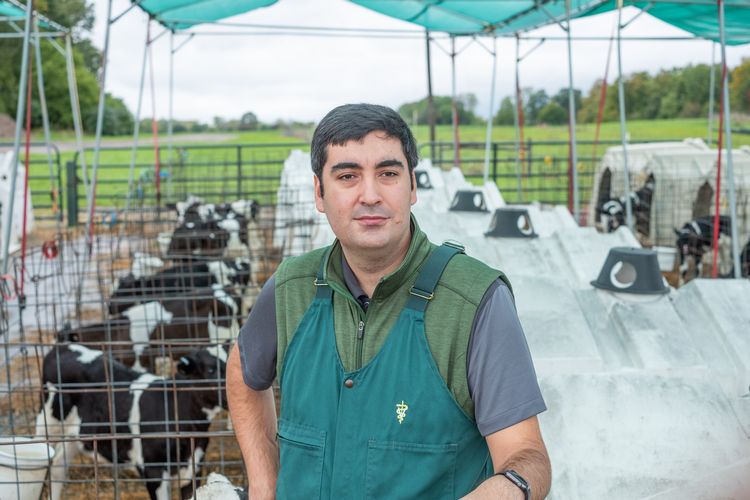 EAST LANSING, Mich. — Angel Abuelo, an assistant professor in the Michigan State University College of Veterinary Medicine (CVM), has received a $642,000 grant to develop diagnostic tools that predict major illnesses during dairy cows' transition from late gestation to early lactation.
The grant is funded by the Agriculture and Food Research Initiative of the U.S. Department of Agriculture's National Institute of Food and Agriculture.
Roughly 75% of diseases in adult dairy cows occur in the first month after calving, with two of the most devastating being mastitis — a bacterial infection of the udder — and metritis, a bacterial infection of the uterus. These ailments can cause a deterioration in reproductive performance, lower milk production, lameness and in severe cases result in death. Mastitis alone costs U.S. dairy producers an estimated $2 billion annually.
Abuelo, who is a member of CVM's Department of Large Animal Clinical Sciences and is also supported by MSU AgBioResearch, is looking to provide disease risk information to producers so they can use nutritional interventions before it's too late.
"The ability to prevent the establishment of transition dairy cow diseases is a significant unfulfilled need of the dairy industry," Abuelo said. "Despite advances in research on prevention and treatment, overall disease incidence has remained stable with few exceptions. There's a knowledge gap we need to fill in terms of being able to identify disease risk so we can be proactive."
Abuelo said that research over the past decade has highlighted oxidative stress as a primary culprit of disease development. Oxidative stress is caused by an event that requires high metabolic demand, such as calving, and the resulting imbalance between reactive oxidative species (ROS) and antioxidant defenses. ROS are present in low amounts in times of minimal stress, but elevated levels of ROS result in cellular damage.
In human medicine, there is an oxidative stress biomarker associated with disease risk assessment called plasma isoprostane. Abuelo and his team hypothesize that examining this same biomarker during late gestation may be effective in predicting dairy cow disease.
In the lab, the team will evaluate blood samples taken three weeks prior to expected calving from 360 cows across eight dairy farms. They will conduct molecular-level analyses, ultimately identifying the critical threshold of plasma isoprostane concentrations that lead to disease. The cows will be selected to represent common U.S. dairy herd demographics, with one-third in their first lactation, one-third in the second lactation and one-third in the third lactation.
Abuelo said that the timing of the blood samples was chosen because that's when cows are usually already sorted and moved to close-up pens, and it would give producers adequate time to implement nutritional interventions to prevent disease development.
Researchers will also test these nutritional strategies to determine the extent to which they affect biomarker concentrations, improve immune function and decrease disease.
"The long-term goal is to improve the health and well-being of dairy cattle during this vital stage in their productive lives using nutritional methods," Abuelo said. "Because we're focused on prevention, this will ideally also reduce the use of antimicrobials and the development of antimicrobial-resistant bacteria."
This new project builds on Abuelo's previous work supported by the Michigan Alliance for Animal Agriculture (M-AAA), a partnership among MSU and the state's animal agriculture industries. The M-AAA grants MSU researchers and Extension specialists one- or two-year awards, and the resulting research findings are often used to leverage larger external funding.
"We have great support across the state, and we're motivated to improve animal welfare and increase the profitability of the dairy industry," Abuelo said. "The M-AAA is an important program that shows federal funding agencies we're invested in finding solutions."