Pandemic Gardening
Without our usual events and without students and faculty on campus, what are our gardens like this year?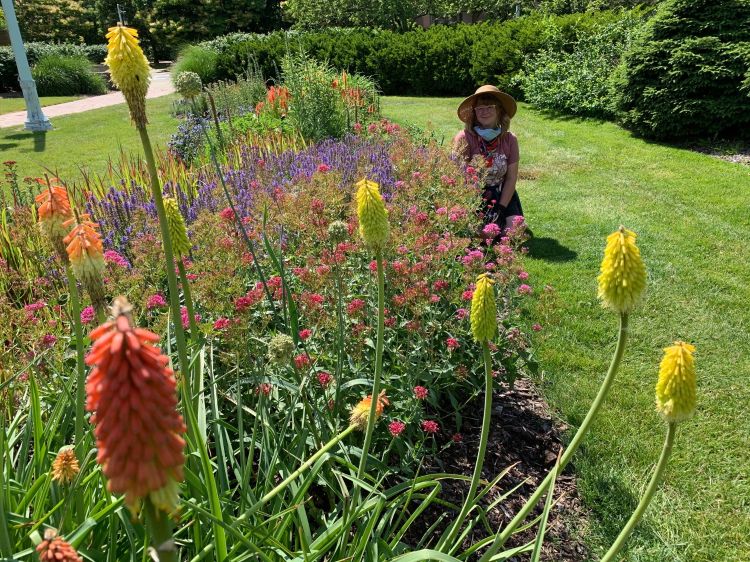 Working with plants, I never would have imagined that we would be deemed essential during a global pandemic. This isn't to say we don't appreciate being here – of course, continuing to have a routine, and being surrounded by beauty on a daily basis is one of the greatest gifts of all right now. And how appropriate to be deemed essential when plants are needed more than ever for people to be hopeful, to escape, to notice and appreciate what is immediately around them.
Without our usual events and without students and faculty on campus, what are our gardens like this year? What have we encountered that we normally don't see? How have we been dealing with volunteer help and with student labor? Continue reading to get a little insider's look on how the MSU Horticulture Gardens are coping during this time.
For one, labor has been an interesting feat. Instead of our normal 15(ish) students, we have around six students. This typically gives us about four students at a time, given days off and schedule changes. Despite this, it feels as if we have been getting more compliments than ever. Patrons, many of which seem new or have never been to the gardens before, are very appreciative of this space, and seek it for comfort and healing. It has been refreshing to know how important the gardens are during tough times within our community. That being said, some of our patrons have an uncontrollable surge of freedom when they enter the gardens – something we deal with on a case-by-case basis. We love your sense of freedom you feel when you enter the gardens. Keep in mind, we have living collections to protect and maintain!
Volunteers have been approved to work with us in the mornings, only three volunteers at a time. This has been very helpful as they rotate throughout different areas of the gardens. It's a change from the normal, of course – there are no delicious snacks to share, and we have to stay distanced and keep proper measures in place to ensure healthy habits. What felt like a hard-working social club has turned into a small team of eager-weeders. Regardless, our volunteers have shown us yet again how dedicated and passionate they are about our community. Again, another blessing we hold dear to our hearts and do not take for granted.
For me, my mind has been fixated on keeping our living collections alive. This means lots of watering and weeding, and not as much mulching and edging. This may prove for more work in the future, but for now we are thankful that our gardens are full, lush, and ready for the public to enjoy. With mostly one student all summer at my side (six feet apart, of course), we have surprisingly planted a lot of perennials, created and dismantled multiple beds, and have had a summer full of learning, singing, and laughter. We hope you have found time to fit this into your lives, as well. If anything, gardening is a friendly reminder of what is important to us when times are hard. That is our community, growth, being surrounded by living things, and appreciating the beauty in every living moment.
Remember – the gardens are here for you during this time. Feel free to come enjoy a walk through our fourteen acres of garden to pass the time, enjoy the sunshine, and learn something new.