Rose McAloon Takes her EEM Reins to Glacier National Park
Rose McAloon, the 2023 Outstanding Senior majoring in Environmental Economics and Management (EEM) is using her passion as a National Park guide to educate others about nature and its value.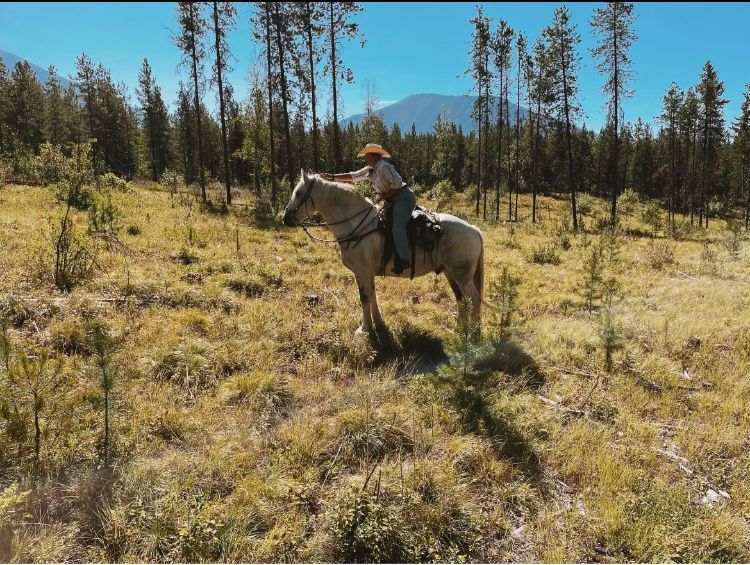 Growing up in the foothills of Virginia's Appalachian Mountains instilled in Rose McAloon a passion for nature. Now the 2023 Outstanding Senior majoring in Environmental Economics and Management (EEM) will use that passion as a National Park guide to educate others about nature and its value.
Long interested in attending Michigan State University (MSU) due to family ties, McAloon started as an Agribusiness Management major in the Department of Agricultural, Food, and Resource Economics (AFRE). She switched to EEM because of a class with Dr. Frank Lupi.
"Frank Lupi was one of my more formative professors," McAloon shared. "His was the first class that I thought, 'Okay, this is real stuff. These are the tools, and this is how you can solve an issue. And this is really valuable information to be learning.' Frank Lupi really helped me think deeper about the environment and my role."
"I've been lucky in the fact that I've also tailored EEM with adding a minor," she continued. "I'm interested in going into parks and rec, land conservancy and tourism. So, I added a sustainable parks and rec tourism minor that adds to and supplements my EEM major."
McAloon has worked each summer since 2020 at Glacier National Park. Her responsibilities included running horseback concession tours, doing trail repairs, and providing informational tours.
She has balanced strong academics with active involvement in student organizations, all while working two jobs. She is a member of MSU's chapter of the National Agricultural Marketing Association as well as the AFRE Department Undergraduate Recruitment Committee. She is a also Resident Advisor for one of the campus dorms, and she works at the MSU recycling plant.
Whether advising MSU students, working the floor of the recycling plant, or leading tour groups in Glacier National Park, McAloon believes her purpose is to help people understand their impact on the environment and to appreciate the resources we have.
"I've just been so lucky to be so involved in my environment growing up. And I didn't realize how connected I had been to it until I moved to a place where people are from places that aren't very connected to it," McAloon said. "I've met friends who are from large cities that didn't necessarily have easy access to nature like I was fortunate to have. So, [I enjoy] teaching people who get to go on vacation to these places about how to protect them so that they can continue to keep coming to them, because these are their parks. Also -- teaching children to take care of things so that they can keep getting better and aren't destroyed is very important to me."
After graduating in May 2023, McAloon will be returning to Glacier National Park to work with Swan Mountain Outfitters Glacier Division. She will be managing a team of five to seven people along with 35 horses. Her team will lead visitors on trail rides and provide educational sessions on the environment. McAloon's long-term goal is to become director of one of America's National Parks.
---
Name: Rose McAloon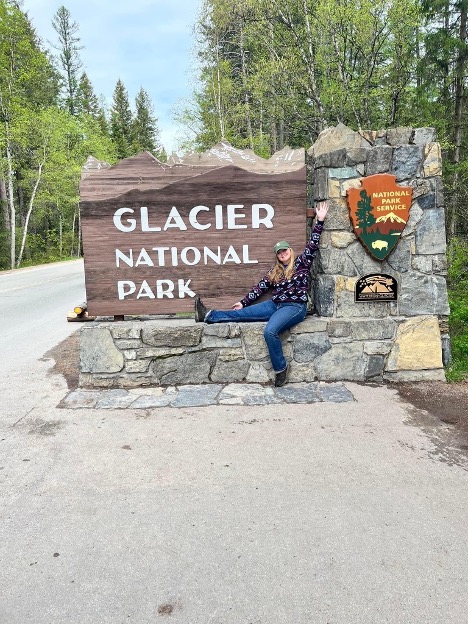 Hometown: Lexington, Virginia
Major/Concentration: Environmental Economics and Management (EEM)
Expected Graduation Date: May 2023
Why did you choose your major and why MSU?
I chose MSU because my grandfather came here for school as well as my two great uncles. However, I wasn't sure if I wanted to be a business or journalism major, but I wanted it to be in the agricultural field. MSU is great in those areas, so I figured it was a pretty good choice to make.
Who or what inspired your interest in the major you selected?
When I was a freshman, I started in ag business management. Then the pandemic happened in March of 2020. I went home and for that whole year I was taking classes, but I also worked at an equine hospital. I worked outside the entire time, and I was like, "I don't really want to sit in an office all day. I can't really do that, but I'm very passionate about the earth."
So, my junior year when I came back to in-person classes, I switched to environmental economics. The summer during the pandemic and the summer of 2021 before we came back to school, I also went and worked in Glacier National Park for an outfitter out there that ran horseback concession tours. That experience really motivated me to change into environmental economics.
What has been one of your best experiences within AFRE?
I really liked when we did the Ag Olympics in fall semester of my freshman year at the pavilion with all the other College of Agriculture and Natural Resource clubs. That was really fun because I had been part of the National Agri-Marketing Association, but I hadn't really done anything outside of the classroom with the club yet. So, Ag Olympics is where I met some of my best friends that I still keep in touch with today. The college keeps doing it every single year and every year it's really fun.
What do you want others to know about this major?
EEM courses have given me the actual tools I need to solve the problems that face us in the world today. So yes, there's the grand picture of things. Things are not amazing in our environment right now. And we can talk about all the problems, but it's not worth anything if we can't solve them.
So, EEM gives me the toolbox I need to be able to go into the world and solve those issues. It's a very practical major which adds a lot of value to both your education and resume.
What are your future plans?
After graduation, I'll be working in Glacier with an outfitting company, a concessionaire in the park. I'll be giving horseback ride tours again. I'll also be managing this year, so I'll be managing about five to seven people and about 35 horses. But I'll also be an assistant to the GM of the company as well. So, on certain days, I'm in charge of 35 people and nearly 200 horses.