Southeast Michigan vegetable update – August 12, 2020
Harvest continues for a wide variety of crops. Opportunistic bugs and diseases are taking advantage of tomatoes and peppers with physiological issues.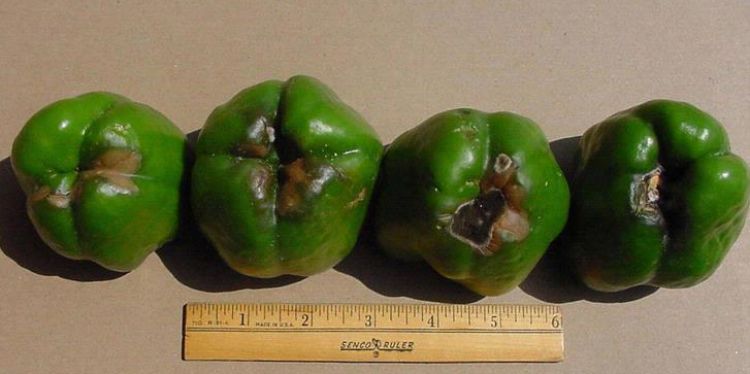 Weather
The derecho event that struck southwest Michigan and other parts of the Midwest thankfully ran out of steam by the time it reached our area, with most growers reporting some winds and sprinkles. We still need rain, with all of our area being categorized as being abnormally dry by the US Drought Monitor, and the most southeastern portions experiencing moderate drought conditions.
The rest of the week we are looking at sunny, dry conditions. Next chance of precipitation comes when the next weather front moves through late Saturday into Monday. A Canadian-origin air mass will move through, bringing cool temperatures for the start of next week.
The table below shows rainfall totals for the Michigan State University Enviroweather stations in southeast Michigan, as well as degree-days calculated using the Baskerville-Emin Method. Degree-day average for Commerce and Hudson is over five years, while Deerfield is over four years. Rainfall is in inches. For a refresher on degree-days and how to get this information in your area, see "Accessing growing degree days with Enviro-weather" from MSU Extension.
Rainfall and Degree Day Totals as of August 12th

Station

Degree Days (Base 42)

Degree Days (Base 50)

5-Year Degree Day Average (Base 50)

Rainfall since April 1st

Commerce

2757

1854

1817.9

11.12 (+0)

Deerfield

2970

2025

2066.6

10.09 (+0)

Hudson

2755

1848

1898.5

13.43 (0.06)
General notes
Many of our summer annual weeds are reaching the flowering and seed development stages. If you have any patches you suspect are resistant to herbicides, reach out. If you have fields where you have sporadic weed escapes, manual removal is very beneficial in the short and long run. If you have fields that are harvested, get those disced up remove weeds, as well as reduce areas for pest insects and diseases to build their populations. Michigan's most problematic weeds can produce thousands of seeds, which can be as obvious as the seed head of marestail or more subtle, as in the case of eastern black nightshade, where each berry can contain 100 seeds. See the table below for information on some common summer annual broadleaf weeds and information about their seeds. I think it highlights how even one escaped weed along the field edge can become a bigger problem. Information is from the MSU Weed Science Program.
Table 2. Common name, average seed production per plant, and the half-life (time it takes 50% of a year's seeds to be non-viable) of the seedbank for assorted weed species. Half-life of seeds in soil seedbank varies by depth of seed burial, soil microbial activity, and environmental conditions (light, moisture, temperature). Generally, the deeper seeds are in the soil, the longer they will be viable.
| | | |
| --- | --- | --- |
| Weed | Average Seed Production/Plant | Seedbank Half-Life |
| | 72,500 | 12 years |
| | 3,500 | <1 year |
| | 10,000 | 5 to 8 years |
| | 1,900-5,500 | <2 years |
| | 200,000 | Unknown |
| | 13,000-36,000 | 3 years |
| | 2,000-9,000 | 2 years |
If you don't grow or rotate with brassica crops and are interested in using brassica cover crops, we are in the window where those should be planted to get good biomass.
Crop reports
As pepper fruit continue to size up and ripen, there have been issues with fruit discoloration and rot. There have been some off-color fruit, for example, banana peppers with purple streaking. As long as the off colors you are seeing aren't in circular, mosaic patterns (which is indicative of a virus), this is likely the result of weather fluctuations.
If the areas you are seeing are more mushy and fuzzy, it can be tough to drill down on if this is physiological damage that has been infected by opportunistic pathogens, or if the original cause of the problem is an aggressive pathogen that can infect fruit on its own.
Start off by looking at where the affected areas on are on the pepper. If damage is concentrated on the lower portion of the fruit, especially at the very bottom, the original issue is likely blossom end rot. If the damage is located elsewhere on the pepper fruit, look at how the damage and the pepper itself were oriented on the plant. Is the leaf canopy thick and protecting the whole fruit, or were there windows in the canopy where sunlight could have reached the developing fruit? Sunscald happens every year, and is easy to diagnose after it first happens, but as time passes, it becomes more cryptic. Areas that started off as obvious sunscald (tan, smooth) become infected by opportunistic molds and fungi. Think of it like flies in roadkill: the flies didn't and couldn't kill the raccoon themselves, but are happy to feed on it now that its already dead.
Potato and tomato growers should note that late blight has been detected in Adams County, Wisconsin (just north of Wisconsin Dells). The Late Blight Disease Forecast tool suggests we have weather that puts our region at medium risk. When scouting for late blight, start at the areas with the most moisture. This could be low spots, or places along the edges of the field that might get more shade, thus staying wet longer. If parts of your field border a woodlot, that's a good place to start as the shade and potentially limited air flow will both increase the amount of time it takes for leaves to dry. Lesions can start on stems, where affected areas will be darkly colored and greasy. On the leaf, it tends to infect the outer edge of the leaves first. It can be hard to differentiate from other plant diseases, feel free to reach out with anything you have questions about or look suspect. See Identifying and Scouting for Late Blight on Farms
Sweet corn pest pressure remains low. My Monroe County corn earworm trap was out of commission this week, my Lenawee trap is averaging less than one moth a night. One area of weather luck we've had in our region this year is minimal south to north airflow/weather fronts, which has so far minimized the amount of corn earworm migration we've had.
Tomato plants can look pretty rough at this point in the year, as multiple harvest passes are made and fungicide applications windows stretch out. Diseases like early blight and Septoria leaf spot are widespread. With late blight in the Great Lakes region, keep your eye out for symptoms. See above section for scouting note.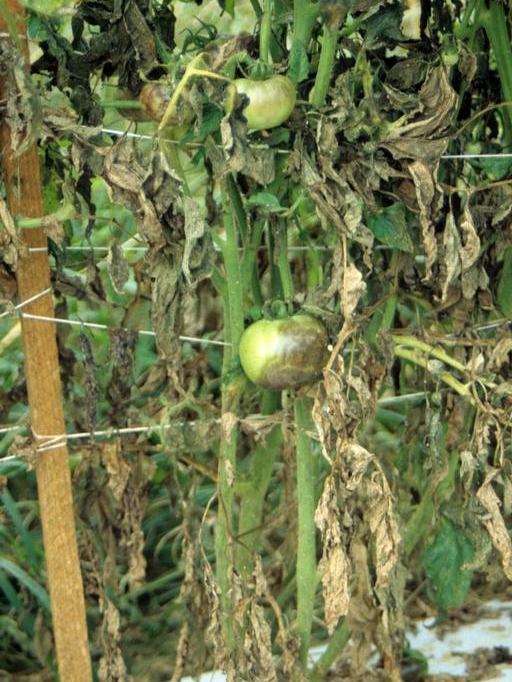 Bacterial canker has also been found on tomato fruit, but I haven't seen too many cases where this disease is severely stunting the plants themselves. In most cases, the plant looks alright and just the fruit have the symptomatic lesions (a raised dark area surrounded by a white ring). MSU plant pathologist Mary Hausbeck says this likely reflects the initial bacteria load when the plant was transplanted. While bacterial tomato diseases can overwinter, they need plant tissue to do so. Make sure plants are being well buried after the season is over and reasonable rotation is happening to assure the plant tissue has broken down before tomatoes are planted to the area again.
As bacterial canker can be seedborne, transplant production is a key time to manage this disease. Copper and streptomycin applications in the greenhouse, coupled with aggressive rogueing, can reduce the number of infected plants that make it out of the greenhouse. It may also reduce the number of bacteria going out on plants that don't yet appear symptomatic. Plants that go out with a higher number of bacteria seem to stunt and have the bacterial symptoms in the stem, while those with a lower bacterial load seem to stave of the disease to grow normally, though bacteria may still be present in high enough numbers during flowering and fruit set to produce fruit with lesions. Depending on your market, these may still be salvageable. Make sure to follow-up the season with a thorough cleaning and sanitizing of the greenhouse and trays where the tomato transplants were produced.
Some growers of heirloom varieties are running into issues with sap and picnic beetles. Sap beetles are attracted to the smells produced by damaged and rotting fruit. They can become a problem in heirloom varieties, which are prone to cracking. Avoid dropping culls in production areas, these culls will be highly attractive to sap beetles and allow them to build their numbers. They can then spill over into damaged but marketable fruit. Remove culls and dispose of them outside of row middles.
Reach out
Please contact me at schuhmar@msu.edu or 517-264-5309 with questions, concerns or to schedule a field visit. I have the ability to visit fields on a limited basis.
Great Lakes Vegetable Producer's Network
The Great Lakes Vegetable Producer's Network is a live weekly roundtable discussion during the growing-season for commercial vegetable producers in the Great Lakes and Midwest region. It is broadcast live via Zoom at 12:30 ET/11:30 CT every Wednesday from the first week of May to the first week of September. Listen live or later. If you have a pressing vegetable production issue that you would like discussed, simply email it, along with your phone number, to greatlakesvegwg@gmail.com.
Next week's topic is "world without Lorsban". Conventional cole crop growers, this one is for you.