Southwest Michigan fruit update – April 14, 2020
Apricot bloom has begun in southwest Michigan. Cold, windy weather could cause freeze injury to the most advanced flowering fruit crops.
Weather
We had a freeze last Monday, April 6, followed by mild temperatures with highs in the 60s and 70s with lows in the 40s. Thursday and Friday, April 9 and 10, were colder but the weekend was warm and mild. Plants developed quickly and buds are opening. Soils are moist and soil temperatures are averaging 50 degrees Fahrenheit. Most of the rain last week fell Tuesday, April 7, with about a half-inch across the region.
Colder, windy conditions arrived with a cold front Monday, April 13. This air mass will drop high temperatures into the 30s and 40s for most of the week. Lows are forecast to be in the mid- to high 20s for several days. The windy conditions preclude any effective freeze protection measures.
We picked up 58 growing degree days (GDD) base 42 and 27 GDD base 50 last week. With the warm week, we are several days ahead of last year in plant development but still a little behind our long-term average.
Southwest Michigan GDD summary from March 1 – April 12, 2020

Station

GDD 42 F

GDD 45 F

GDD 50 F

Benton Harbor (SWMRC)

154

108

54

Lawton (Lawton)

157

110

54

Fennville (TNRC)

120

79

34

Average for the SW region

153

107

53

Average last week

95

62

26
Frost/freeze information
Bud development has moved quickly in these last few warm days. As the buds develop, they become less cold-tolerant. For more information see, "Freeze damage depends on tree fruit stage of development." During bloom, temperatures below freezing can kill the flowers. Currently, there is a wide range between the temperature that would cause a little damage and colder temperatures that would kill most of the flowers. I have also posted reference tables of the critical temperatures that can cause damage to different fruit. This table is also available as a PDF file.
Current fruit growth stages in southwest Michigan and the temperature range that causes slight to severe damage

Crop

10% Loss

90% loss

Apricots are blooming

27 F

22 F

Japanese plums are blooming

27 F

23 F

Peaches are at calyx red

23 F

9 F

Sweet cherries tight cluster

26 F

17 F

Tart cherries green tip

26 F

22 F

Apples 0.5-inch green

23 F

15 F

Apples tight cluster

27 F

21 F

Blueberries bud burst

20 F

--
We are a few days ahead of our normal bloom dates for tree fruit. Normally, tree fruit are blooming in sequence from mid-April to the last week of April for stone fruit and the first week in May for apples in the Berrien county region.
Tree fruit
Cool and dry conditions allowed growers to make good progress pruning. Soils have begun to dry out making fieldwork and spraying easier. For those interested in putting up mating disruption for moth species, this is a good time to get started. You have a couple more weeks before predicted oriental fruit moth biofix and a few more for codling moth and leafrollers.
Apricots are blooming. At this stage, the flower buds would be hurt by temperatures below 28 F. Apricots are the first stone fruit to bloom. The normal bloom date for apricots in southwest Michigan is about April 18. Brown rot management is especially important when warm temperatures and moisture occur together during bloom.
Peach and nectarine buds are at calyx red and some pink is visible in early blooming varieties at the Southwest Michigan Research and Extension Center. At this stage, the flower buds would be hurt by temperatures below 23 F. Low levels of copper before bloom suppress bacterial spot populations. The average bloom date for peaches in central Berrien County is about April 27.
Cherry buds are swollen. Sweet cherry flower buds are opening and are at tight cluster. These would be hurt by temperatures below 27 F. Normally, sweet cherry bloom begins about April 25. There is a lot of variation in bloom timing for early mid- and late bloom. Sweet cherries and peaches generally bloom at the same time. Montmorency tart cherry buds are at green tip and would be hurt by temperatures below 26 F. Tart cherries bloom at the end of April.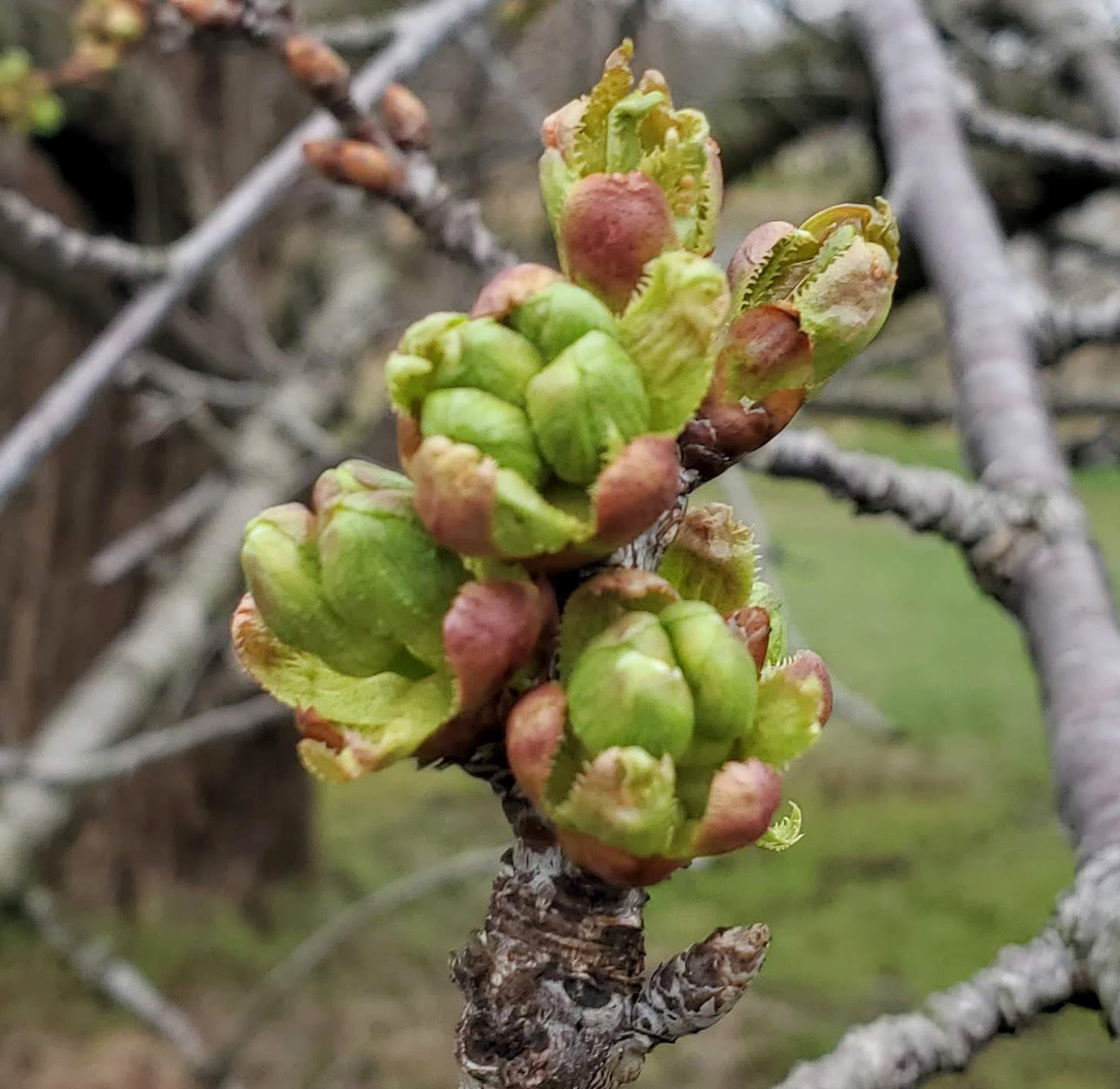 In plums, Japanese plum bloom has begun. Open flowers would be hurt by temperatures below 29 F. Japanese plums bloom averages around April 21. European plum buds are swollen at side white and green tip. These buds should be able to withstand 20 F. European plums bloom later, about April 29. Finish pruning out black knot and dispose of the knots by burning or removing from the orchard. Sanitation is very important in managing this disease.
Apples buds are at 0.5-inch green to tight cluster. At 0.5-inch green, 23 F would cause damage to the king bloom. At tight cluster, the critical temperature is 27 F. Maintain your spray to control apple scab. Scab ascospores are being caught during rains in Berrien County. We are still early in the scab season, only 20% of the spores have matured and about 5% discharged. Apples normally bloom the first week in May in southwest Michigan
Pear buds have burst and are moving to tight cluster. At this stage, temperatures would need to fall to 24 F to cause injury. Pears bloom at the end of April. Pear scab is the primary disease of concern at this time.
Small fruit
Grapes are at early bud swell. At this growth stage, grapes should be able to handle down to 15 F without any injury. When the buds are fully swollen, 22 F will damage them. The buds normally open towards the end of April and leaves unfold in early May. There is still time to apply dormant sprays for early season disease control.
Blueberry flower buds are opening. In 2008, this bud stage withstood 20 F and some were damaged at 18 F. Leaf buds are at 0.25-inch green and susceptible to mummy berry infection. Scout for mummy berry mushrooms (apothecia) and begin applying controls. Fields are very wet. You still have time to apply copper, Sulforix or lime sulfur products to suppress early season diseases. Blueberries normally bloom the second week in May.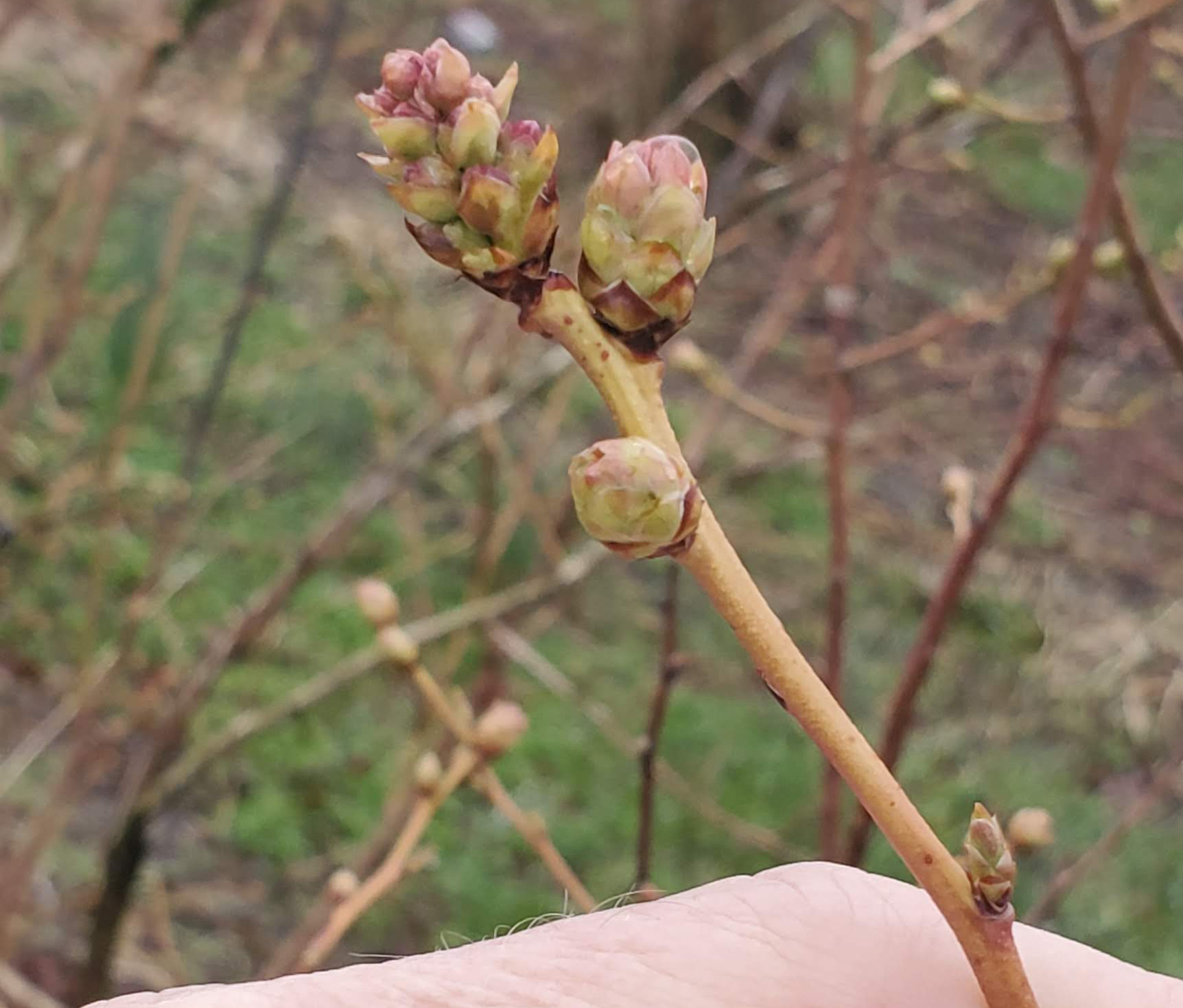 Strawberries have greened up and new leaves are emerging from the crown. The flower trusses are still deep inside the plant. When the flowers are in the ground, they can withstand very cold temperatures. Overwintering mulches should be removed and raked between the rows. Growers are looking at early season herbicides to control overwintering weeds. If the flower trusses are below ground, there is little danger of freeze damage to flowers below ground.
Bramble leaves are beginning to unfold. Reduced rates of lime sulfur for anthracnose can still be applied. If the leaves have begun to unfold the rates need to be reduced to prevent injury.
MDARD RUP testing update
Many growers recertify their Restricted Use Pesticide (RUP) Certification by taking an exam proctored by Michigan Department of Agriculture and Rural Development (MDARD). In-person group exams were canceled following Governor Whitmer's restriction on group meetings. MDARD has announced certification for private agricultural applicators (e.g., farmers applying on their own fields) can be accomplished via an oral fact-finding interview administered by an authorized representative of the department. This interview will consist of multiple choice and/or true and false questions based on content from the National Pesticide Applicator Certification Core Manual. Questions will be read by an MDARD representative, applicants must respond orally and obtain at least a 70% score to pass. This opportunity can only be offered for the private applicator Core exam.
To schedule an oral interview, contact Lisa Graves at 517-284-5653 or GravesL@michigan.gov.
In response to MDARD's oral exam announcement, Michigan State University Extension has created an online review for the private applicators to take prior to the test. The webinar is 4 hours and 18 minutes long and follows the core manual chapters. To purchase the Michigan Pesticide Applicator Core Manual, visit the National Pesticide Safety Education Center website.
Upcoming meetings
Our grower meetings are moving online via Zoom. You will need to register for these meetings. Do not expect to be able to join these meetings just before they start. These meetings will be closed and many will be password protected to prevent their disruption by others.
For information on Zoom and how to join and participate in meetings, the following articles are very helpful: Instructions for fruit growers on downloading Zoom for online webinars and How to join and participate in the spring tree fruit Zoom webinars.
The Spring 2020 Tree Fruit Webinar Series began Monday, April 13, and will continue this week and next with short, virtual meetings for tree fruit growers during the noon hour. Growers must register to attend these virtual meetings. These webinars are free and one pesticide applicator credit is available for each meeting.
Our regular southwest Monday Fruit IPM Updates are available online. Our next meeting is Monday, April 20, at 5:30 p.m. You do need to register to receive the login and password for these meetings. The webinars are free and one pesticide applicator credit is available for each meeting. Our April 13 meeting had 57 attendees.
The 2020 Grape Kickoff meeting will be Thursday, April 23, 1 to 4 p.m. We are building the agenda and will open registration soon.
A pre-bloom blueberry meeting is planned for May 5.
Related articles