Southwest Michigan fruit update – April 2, 2019
With warmer weather in March, snow has melted and plant growth has started. Buds are swollen.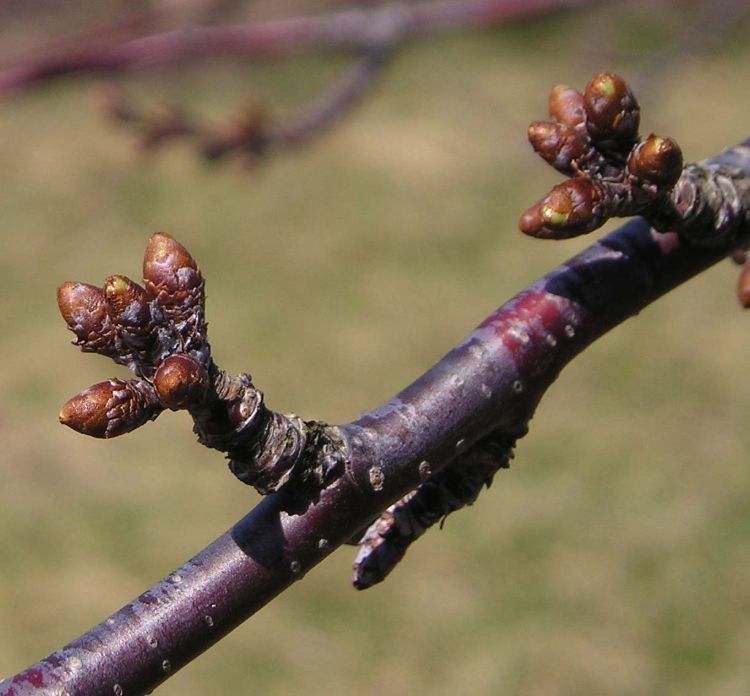 Winter
The winter of 2018-2019 started mild in December with moderate temperatures and little snow. January brought cold weather and snow. A cold radiation freeze on Martin Luther King Day brought the coldest temperatures of the year. Lows temperatures in the lower, colder spots were down to -25 degrees Fahrenheit or colder. The traditionally warmer sites, located on the tops and sides of hills, were only about -10 F. This event caused concern for blueberry, grape and peach growers located away from Lake Michigan. These crops typically are damaged by winter temperatures below -10 F.
A polar vortex event with strong winds from the west occurred in late January. The coldest temperatures were on Jan. 30-31. Temperatures dropped to around -18 F across the region. Because of the winds during this event, the temperatures for most sites were similar with the high sites dropping to same low levels as the lower sites. This event was confined to southern Michigan. The wind coming from the southwest did not cross Lake Michigan, removing the Lake Effect of the warm water on the cold air. Temperatures in Michigan north of the southern tier of counties were much warmer.
These two cold events caused the traditionally cold areas to drop to around -25 F and the traditionally warmer fruit sites to below -15 F. For a more complete explanation of these winter cold events in Michigan, see "Recent extreme cold events produced varied temperatures with varied results in Michigan's viticulture areas." Because January and February were generally cold, plants were at their maximum cold hardiness for both events.
Growers report these winter cold events caused significant damage to wine grapes and peaches. We also see damage in juice grapes and blueberries. We expect to see some damage in young trees and weaker older trees, which tend to be more cold tender than healthy mid-aged trees.
We did not see warm weather until March. Little movement occurred in early March with temperatures rarely exceeding the 42 F temperature above which many fruits grow. After mid-March, warmer temperatures melted the snow and plants began to color up. Currently, southwest Michigan is ahead of areas just a few miles to the north where no bud movement has occurred.
Below are the growing degree-days (GDD) for the Southwest Michigan Research and Extension Center (SWMREC) near Benton Harbor, Michigan, for the last 18 years. There are two tables, one from Jan. 1 to March 31 and the other from March 1–31.
Growing GDDs from Jan. 1 to March 31 at SWMREC for the last 18 years.

Year

Base 42 F

Base 45 F

Base 50 F

Ave

124

88

48

2019

54

31

11
The GDD totals for January through March are similar to those for just March alone indicating how cold January and February were. Compare the 2019 numbers to the average for the last 19 years.
Growing GDDs from March 1–31, 2019, at SWMREC for the last 18 years.

Year

Base 42 F

Base 45 F

Base 50 F

Ave

94

69

40

2019

40

25

10

2018

18

8

1

2017

97

66

33

2016

165

122

67

2015

42

27

13

2014

25

15

7

2013

21

12

4

2012

372

313

223

2011

36

22

11

2010

112

76

36

2009

113

81

42

2008

29

17

7

2007

192

149

94

2006

81

60

35

2005

52

38

22

2004

117

85

47

2003

124

92

50

2002

42

27

12

2001

22

9

1

2000

174

132

79
March weather
Temperatures for most of March have been cool with lows at or below freezing. Bud movement began in mid-March. The table below shows how cool March was. Normally, we would pick up 100 GDD base 42 and 60 GDD base 50 in March. In 2018, we received about 40 base 42 and 10 GDD base 50. We are about a week to 10 days behind normal, but this could easily change depending on how quickly we warm up.
Southwest Michigan GDD summary from March 1–31, 2019

Station

GDD 42 F

GDD 45 F

GDD 50 F

Benton Harbor (SWMRC)

40

25

10

Lawton (Lawton)

40

24

9

Fennville (TNRC)

31

20

6

Average for the SW region

41

25

10
The forecast for the upcoming week is for warming days with highs climbing into the 60s. Nighttime lows will climb from freezing into the 40s and 50s. The weekend highs should climb to near 70. The following week should see a return to warmer (more normal) weather.
Tree fruit
Temperatures well-below zero in January caused damage to peach flower buds in most areas of southwest Michigan. Generally, the cold was not enough to damage the tree themselves unless they were weak and less cold hardy. Growers are generally encouraged by the slow start to the season. A slow start delays bud growth, reducing the risk of a damaging spring freeze. Tree fruit crops are only in the early swollen bud stage. It would require very cold temperatures down near 10 F to cause damage. See "Freeze damage depends on tree fruit stage of development."
Except for peaches, and perhaps some sweet cherries, tree fruit crop potentials are generally good. Cold and dry conditions for the last month held back tree fruit development and allowed growers to make good progress pruning. Soils have only just begun to dry out making fieldwork and spraying difficult. Check blocks for evidence of San Jose scale on branches to determine the need for oil sprays.
Apricots are in bud swell.
Peach and nectarine buds are beginning to swell. Dead flower buds are starting to fall off. Dormant sprays of copper or other appropriate fungicides will reduce peach leaf curl. Low levels of copper also suppresses bacterial spot populations.
In cherries, sweet cherry buds are at early swell. Montmorency tart cherry fruit buds are still relatively tight. We are still in the window when copper sprays can be applied to sweet cherries. Copper applications may reduce bacterial canker in cherries.
In plums, Japanese plum varieties are at swollen bud. European plum are relatively dormant. Thorough pruning out of black knot and disposal of the knots by burning is an important step in managing this disease.
Apples generally show little or no bud swell. The current cool temperatures will allow scab ascospores to mature so that more spores will be available in the early stages of apple development. Copper sprays will be going out soon for early scab control and fire blight suppression.
Pear buds are at very early bud swell.
Small fruit
Grapes show little movement, but the sap is up in the vines. There is considerable concern over winter low temperatures. Growers who have checked buds report numerous dead primary buds in both wine and juice grapes. In wine grapes, there is also concern over damage to the wood in the trunks and cordons. Juice grape growers have lost some primaries but many still have secondary buds and the potential for a good crop. It is still too early to estimate crop. Crop potential and crop damage will become apparent as growth is well developed in May.
Blueberry flower buds are only slightly swollen. Leaf buds do not appear swollen. Fields are very wet. Growers still have time to apply copper, Sulforix or lime sulfur products to suppress early season diseases.
Strawberries have greened up but few new leaves are not emerging from the crown. Strawberries were under a thick layer of snow during the cold weather, which protected them from the cold. We expect little if any winter damage. Remove overwintering mulches and rake them between the rows. Growers are looking at early season herbicides to control overwintering weeds.
Brambles show little movement. Dormant pruning should be completed soon. In summer bearing raspberries, head (cut back) last year's primocanes to the desired height and remove any remaining floricanes from last year. Cut or mow to the ground fall bearing raspberries. Lime sulfur treatments for anthracnose can still be applied.
Upcoming meetings
Our regular Monday fruit IPM meetings will start April 15 at 5 p.m. at Fruit Acres Farms, 2559 Friday Rd, Coloma, MI 49038. These meetings are free and open to all. We review the current conditions in fruit crops and discuss pest control options with growers. Two Michigan RUP applicator recertification credits are available at these meetings.
Related articles