Successful businesses and an equitable, sustainable local food value chain
In this update, we share how we and our partners are supporting businesses and documenting the impact of the local food value chain.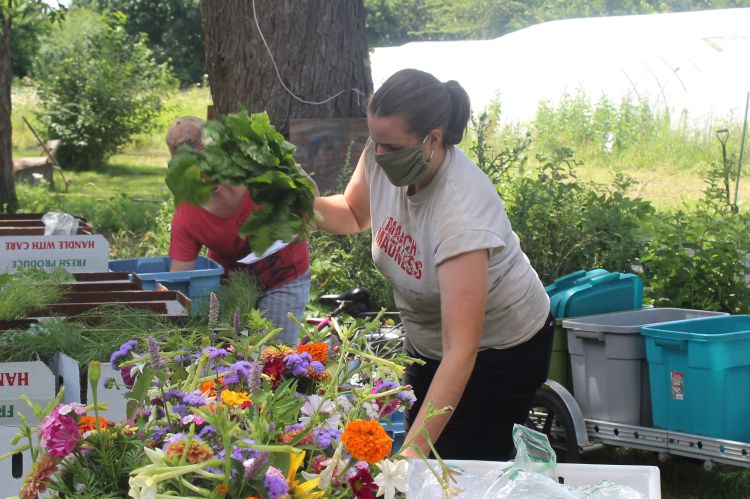 Entrepreneurs are at the heart of our local and regional food systems. Small and midsized food businesses reflect the people, cultures, and geographies that shape communities. They bring to life the vision of healthy, green, fair, and affordable food systems.
We hope you enjoy these brief updates on how we and our partners are supporting businesses and documenting the impact of the local food value chain.
Thanks for reading!
Andrea Weiss & Lindsay Mensch
MSU Center for Regional Food Systems Communications Team
---
Michigan
On April 27, we are hosting a live online Michigan Good Food Fund Pitch Competition in partnership with Lake Trust Credit Union. Two businesses will give their pitch and receive either a $5,000 first place or $2,500 second place award:
Alita Kelly, co-owner, South East Market | Grand Rapids. The South East Market sells locally grown and produced healthy foods with an emphasis on buying from Black-owned businesses.
Marushka Baoh, Baoh Blaze | Detroit. Baoh Blaze was started to bring Cameroonian spicy flavor to palettes around the world. Marushka uses natural and fresh ingredients from local Detroit farmers of color.
The competition is part of the MSU Product Center's Making it in Michigan Conference, Michigan's premiere food product conference and trade show that connects entrepreneurs with educational sessions and opportunities to meet with buyers. The MSU Product Center team has worked hard to shift this annual conference and trade show to an engaging virtual setting!
By pioneering a new approach to healthy food financing, the Michigan Good Food Fund has produced useful learnings for the industry, shared in the recently released five-year report.
Building on our role with the Michigan Good Food Fund, we are launching a USDA-funded collaboration to grow equitable local economies in Southwest Michigan and the Upper Peninsula. A team of 22 partners will boost existing efforts to address barriers to entrepreneurship and root causes of food insecurity, with a focus on racial equity.
Local organizations we're collaborating with include:
To wrap up our Michigan updates, we want to share two short stories about how businesses are creatively navigating the pandemic. One features a group of Detroit childcare centers that is sharing a CSA subscription, and the other is about a Lansing-area farmer who found that a simple solution is what works best for getting orders from her customers.
Not yet receiving updates from us? Subscribe and keep in touch.
National
The pre-pandemic snapshot provided by the Findings of the 2019 National Food Hub Survey, published late 2020, confirms that the food hub sector:
was thriving and maturing,
still valued farm and food supplier viability,
and continued to pursue social and environmental goals.
The 2021 National Food Hub Survey, launching this fall, will focus on how food hubs are making regional economies more resilient and how hubs are addressing racial equity in their operations and communities. We are happy to continue collaborating with the Wallace Center at Winrock International for this fifth biennial survey.
Metrics are foundational to demonstrating impact and successes. That's why we're part of the National Farm to Institution Metrics Collaborative, a team dedicated to documenting how institutional food service can positively impact local farms and food businesses by sourcing and serving local food.
Offering local products in food service and food retail stores takes a little extra planning and effort. That's why we created an introductory guide to help food retailers get started with offering local food. This guide was created for the national Nutrition Incentive Hub.
---
Would you partner with us to boost the efforts of diverse healthy food entrepreneurs?
Please give to our crowdfunding campaign and help us spread the word!
---
More from CRFS