MSU Center for Regional Food Systems awarded grant to strengthen local food partnerships in Battle Creek and the Upper Peninsula
A new project will connect food and farm business owners with networks and partners that can help them prosper.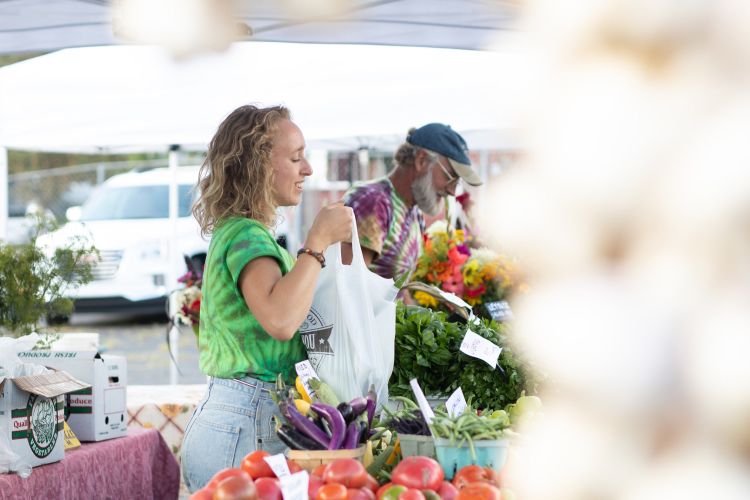 Contact: Jamie Rahrig
---
A new project led by the Michigan State University Center for Regional Food Systems will build upon existing partnerships to better connect food and farm entrepreneurs with the resources they need to help their businesses thrive.
The project, "Strengthening Public and Private Partnerships for a More Resilient and Just Food System in Rural & Urban Communities Across Michigan," was awarded $746,480 from the United States Department of Agriculture's Regional Food System Partnerships (RFSP) program.
A major goal of the project is to help create jobs and improve access to locally grown foods in Battle Creek and Michigan's Upper Peninsula by developing lasting partnerships between farmers, food businesses, and food system support organizations.
"This award from USDA will allow us to create a more cohesive collaboration infrastructure to better support urban and rural communities in Michigan. We will expand the reach of the Michigan Good Food Fund to assist local food and farm entrepreneurs who bring healthy and affordable foods into Battle Creek and the Upper Peninsula," said Jamie Rahrig, the project lead.
Cultivating deeper relationships with existing partners is a key reason for the focus on the Upper Peninsula and Battle Creek/Southwest Michigan region.
Rahrig said, "For the past couple of years I've been partnering with the City of Battle Creek and Battle Creek Unlimited to support food businesses in the city."
Parker Jones, the project lead for the Upper Peninsula and a MSU Product Center innovation counselor, was exploring the idea of proposing a project with a group of partners when Jamie approached him to collaborate.
Jones said that there is lots of great food systems work happening in the Upper Peninsula that could be strengthened with additional collaborations.
"You'll hear of things happening in certain areas, but they're disconnected from each other," Jones said. "What's great about this program is that the whole emphasis is partnership. We can weave together this great work that everyone is already doing."
Some of the planned project activities include training on food safety, food processing, and business financials as well as networking opportunities to connect food and farm entrepreneurs with new sales channels.
"We're hoping to have networking events within the communities to bring in community leaders, business owners, incubator kitchens, food hubs, lenders, and other stakeholders," said Rahrig.
One of the project partners is Sarah Monte, the outreach director of the Marquette Food Co-op and the central contact for the U.P. Food Exchange. In years past, she helped coordinate food summits throughout the Upper Peninsula. Now, she is excited that this project will support more convenings across the region, especially where connections could be strengthened.
"There were economic barriers to the work we wanted to do," Monte said. "Now we have the money to hold the food summits in the future."
Monte also hopes that the project can support network development through the U.P. Food Exchange.
She said, "The more we can understand about each other's roles in the food system, the stronger we are all together."
The project aims to provide training and technical assistance to at least 120 food and farm businesses in these two regional food systems.
"I think it's really important that we as MSU Extension and MSU Center for Regional Food Systems respond to the needs of our partners," said Jones. "The better we can align what we're doing with what they want and need will really pay dividends toward having a successful project."
Building relationships with entrepreneurs and communities of color in the U.P. and Battle Creek is one way that the project is prioritizing racial equity.
Particularly, the team wants to connect Black and Indigenous entrepreneurs with the regional business networks. The project team aims to equip 40 new Black and Indigenous entrepreneurs with the resources they need to start small processing businesses and expand their local food economies.
Both project leads hope that this work will spark new collaborations with existing and emerging partners.
"I'm really excited to see how strengthening partnerships and investing in food and farm businesses changes the economic viability of these communities," said Rahrig.
Collaborators on the project include MSU Product Center, MSU Extension, Battle Creek Unlimited, City of Battle Creek, Bay Mills Indian Community, Keweenaw Bay Indian Community, Sprout, Cherry Capital Foods, Hunger Free Calhoun, Second Muse, U.P. Food Exchange, Marquette Food Co-op, Food Start U.P., W.K. Kellogg Foundation, Northern Initiatives, and Greenstone Farm Credit.
The project is funded from September 2020 through September 2023.
---
The Regional Food System Partnerships (RFSP) program supports partnerships that connect public and private resources to plan and develop local or regional food systems. The program focuses on strengthening the viability and resilience of regional food economies through collaboration and coordination. In 2020, USDA awarded 23 partnerships in 15 states.