The electronic cigarette epidemic
E-cigarettes are surging in popularity, especially among younger adults. But when it comes to safety and health concerns, what are the facts?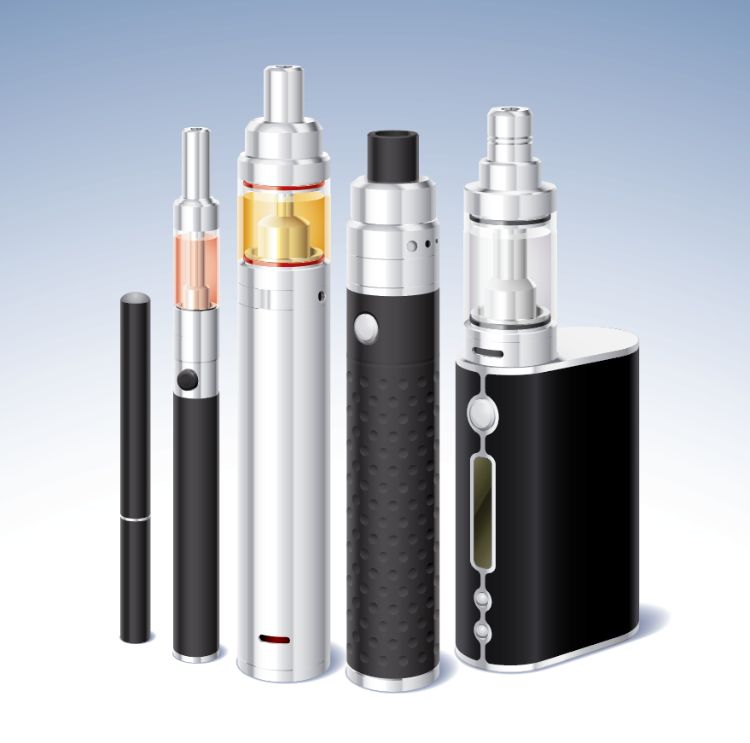 Addiction to electronic cigarettes, also known as e-cigarettes, has reached epidemic status, according to the National Youth Tobacco Survey (NYTS), administered by the Food and Drug Administration (FDA). The survey showed e-cigarette use has grown over 78% for high-school students from 2017 to 2018. Much is unknown on the long-term health effects of e-cigarette use, also known as "vaping."

Several myths about e-cigarettes likely contribute to an increase in use, including that e-cigarettes are not harmful for your health, they are not addicting and they are helpful for smoking cessation. A recent Surgeon General report concluded e-cigarettes are marketed toward youth and young adults by promoting flavored products and using a wide variety of media channels and approaches that have been used in the past for marketing conventional tobacco products.
What are e-cigarettes?
An electronic cigarette is a battery-powered device that heats nicotine (extracted from tobacco), flavorings and other chemicals to create an aerosol that is inhaled. While nicotine is the common drug used in e-cigarettes, marijuana and other drug products can also be used in the device.
Why are e-cigarettes popular among youth?
Flavored products are the top choice among most youth users. According to the 2018 NYTS, the evidence is clear that flavored e-cigarettes have fueled this epidemic — 97% of youth e-cigarette users report using a flavored product in the past month, and 70% cite flavors as the reason for their use. The 2019 NYTS also showed that youth use of menthol and mint flavors in particular has skyrocketed. The percentage of high-school e-cigarette users who reported using mint and menthol flavors increased to 63.9% in 2019, from 42.3% in 2017 and 51.2% in 2018.
What do e-cigarettes look like?
E-cigarettes come in many shapes, sizes and forms. Some e-cigarettes are made to look like regular cigarettes, cigars or pipes, and some resemble pens and other everyday items. E-cigarettes are known by many different names, such as "e-cigs," "e-hookahs," "vape pens," and "electronic nicotine delivery systems" or "ENDS." "Juuling" is another word in reference to e-cigarette use; "JUUL" is a specific brand name of an e-cigarette, and closely resembles a USB memory stick.
What are the health effects of e-cigarettes?
Most e-cigarettes contain nicotine, which is addictive, may harm brain development and could lead to tobacco use among youth. A dramatic increase in lung disease has caused alarm from parents, public health officials and community leaders statewide. In some cases, the Centers for Disease Control (CDC) has linked e-cigarette use to death. The cause is still unknown. The CDC reports people affected have reported the following symptoms:
Cough, shortness of breath or chest pain
Nausea, vomiting or diarrhea
Fatigue, fever or abdominal pain
Some people have reported that their symptoms developed over a few days, while others have reported that their symptoms developed over several weeks. In addition to nicotine, e-cigarette aerosol can contain chemicals that harm the body, such as cancer-causing chemicals and tiny particles that reach deep into the lungs and cause irreversible lung damage. These chemicals have been linked to lung disease that causes coughing, wheezing, shortness of breath similar to the symptoms of chronic obstructive pulmonary disease or (COPD) and asthma, according to the American Lung Association. Increased rates of asthma have also been linked to e-cigarettes in part due to the aerosol irritation in the lungs.
Do e-cigarettes help people quit smoking?
Until we know more, the CDC recommends that people consider stopping using e-cigarette or vaping products; the CDC also doesn't recommend using e-cigarettes as a quitting method. Recommendations for those trying to quit tobacco use include:
Contacting your healthcare provider if you need help quitting tobacco products, including e-cigarettes
Accessing My Life, My Quit, a free youth quit-tobacco and vaping program that offers real-time coaching sessions via live text messaging, online chat, or phone. Teens can sign up at mylifemyquit.com or text "Start My Quit" to 855-891-9989.
Calling the Michigan Tobacco Quitline at 1-800-QUIT-NOW (784-8669)
Using evidence-based treatments, including counseling and nicotine replacement products approved by the FDA.
How can I find out more about e-cigarettes?
Educational resources for educators, parents and youth can be found on the Michigan Department of Health and Human Services' website.