The Agrarian Adventure helps Ann Arbor students grow and enjoy the fruits of their labor
The Agrarian Adventure and their community partners help to connect over 3,000 students in Ann Arbor, Michigan and the surrounding area to their food, communities, health and environment.
November 7, 2015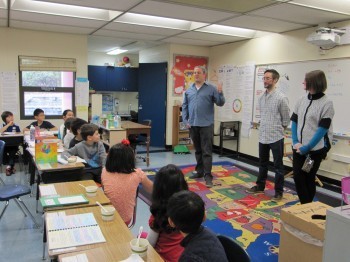 By Sam Loscalzo, Michigan Good Food Charter Graduate Assistant and Liz Gensler, MSU Center for Regional Food Systems
The Agrarian Adventure (TAA) helps to connect over 3,000 students in Ann Arbor, Michigan and the surrounding area to their food, communities, health and environment. As part of its mission, the non-profit works to empower students to "transform their lives and food culture in positive ways." TAA President, Lise Anderson, believes Michigan students should "know and have a voice in where their food comes from."
The Farmer in the Classroom program is one of TAA's many programs that teaches students about their food. Last year, nine farmers and food stewards visited 38 classrooms. Students learned about farming as a career, sampled local fruits and vegetables and learned about how they are produced.
TAA also assists schools in starting and maintaining programs like school gardens, farm to cafeteria and afterschool food and garden clubs. Anderson explains that community partnerships and collaboration among school administrators, teachers, parents and students are "essential ingredients to creating sustainable programs in the schools."
Tappan Middle School in Ann Arbor is one of the schools TAA works closely with. Through the school's garden and cooking club, "students have the chance to cook with food champions, chefs and community leaders," says Anderson.
The club has had guests such as "chef Alex Young from Zingerman's, Jesse Raudenbusch from Starr Valley Farms and Joet Reoma from Project Grow," explains TAA board member, Emily Canosa.
Last spring, Tappan Middle School students and nine other middle and elementary schools worked with TAA to grow about 2,500 seedlings that were distributed to school gardens throughout Ann Arbor. TAA also worked at the University of Michigan's Matthaei Botanical Gardens to grow an additional 500 seedlings.
Martin Luther King, Jr. Elementary School received some of these seedlings, with all eighteen of its classrooms participating in the school garden last spring. Over the summer months, families signed up to care for the garden for a week or more. The school partnered with Mani Osteria, a local Italian restaurant, this fall. After students harvested their produce, Mani's chef Brandon made the ingredients into a "King Learning Garden Harvest Soup" which students enjoyed on October 30.
Neha Shah, a fifth grade teacher at King Elementary and TAA consultant, said, "It's a great connection to see our food that we have grown, harvest, and be made into a finished product. It epitomizes the notion of farm-to-table. They're not just growing food and eating it, but they love seeing the fruits of their labor."
Chef Brendan explained that "Different classes are involved at different stages." Some students collect compost, while others work in the lasagna garden, focus on pollinators or harvest the vegetables. "We cook it up so that all the students can experience the end product."
Shah sees "Impacts everywhere" as a result of the school garden. Some students have started gardens in their yards. Another student on Shah's Compost Team "went home and created a three bin compost system at home."
This year, Shah hopes to have a farmer or food steward visit her class through TAA's Farmer in the Classroom program. She explains, "It's really neat because they actually see a community member coming in and teaching what is happening on their farms. It's a nice exchange, too, because students can go to the market and see the vendor and support them locally." Shah looks forward to the "rich discussions" with her students about local food, farming and the environment that come from such interactions.
TAA will be partnering with Chef Chris Chiapelli to hold a "Farm to Table Brunch" fundraiser on November 15. To find out more about the organization's work or the event, you can visit TAA's webpage here: http://www.agrarianadventure.org/