Students from all three of AFRE's student organizations took a trip to a local cider mill this October to learn about their processes and practices.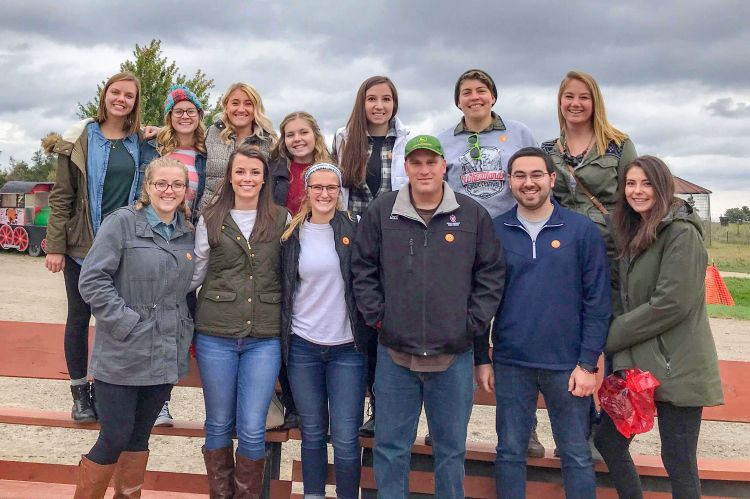 Undergraduates from all three Department of Agricultural, Food, and Resource Economics (AFRE) student organizations got a behind the scenes look at a local cider mill this October, learning about the mill's agricultural processes, sustainability practices, and business activities.
13 students from AFRE visited Country Mill in Charlotte, with representatives from the Food Marketing Association (FMA), the Sustainable Business Association (SBA), and the National Agri-Marketing Association (NAMA) joining the trip.
The trip acted as an educational session as well as a social event for students from SBA, NAMA, and FMA. First, the group got a tour of the mill's apple processing facilities. The owner of the mill, Steve Tennes — an MSU College of Agricultural and Natural Resources alumnus himself — showed AFRE students the apple fields, where the apples are stored, washed, cut, and turned into applesauce, apple cider, hard cider, wine, donuts and many other assorted baked goods.
"Steve really spend a lot of time telling us about the value added process that he and his team does," said Sarah Lokey, FMA Vice President of Communication. "Country Mill has a hand in many apple products so that they can sell shelf stable products all year round, and even does both organic and standard apples."
"It was so inspiring to see an MSU grad share his story and how he works everyday to make his business sustainable," said SBA member Miranda Graleski. "It really just goes to show that if every business does their part we can truly make a difference as far as organic farming and environmental practices."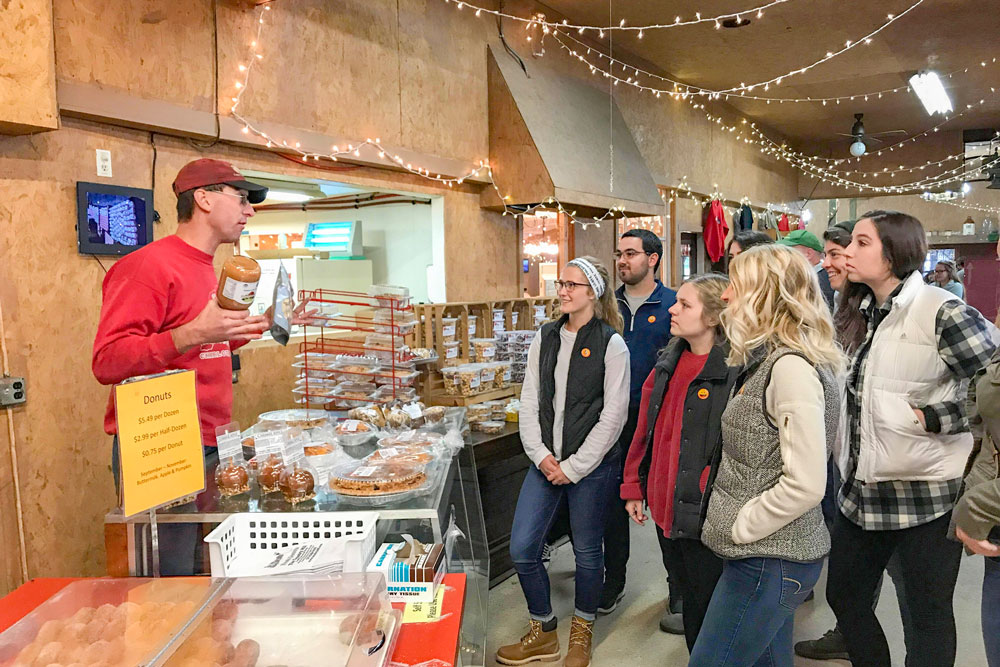 The students also got a look at some emerging technology at the mill, in the form of temperature-regulating crates. "Country Mill was the first company in the U.S. to use crates from France that keep the apples at a certain temperature and ratio of oxygen to ensure that the apples can stay fresh longer," said Lokey. "With this technology, they're able to sell apples all year round to satisfy the demand of consumers."
On top of their expert-guided tour, the students hopped on a wagon ride, picked an apple and pumpkin from the fields, and had apple cider and donuts.
"Touring the cider mill was a great opportunity for us to see how many of the apple products we find in the store are made as well as how a small orchard, like The Country Mill, is able to market those products to local businesses," said Jacob Stehlik, FMA Vice President of Finance.
"It's really important to go on trips like this and see how things we're learning in class are actually applied in the real world," said Lokey. "And it's great to see that those real-world applications can be as fun as apples, cider, and donuts!"
Learn more about the Food Marketing Association (FMA), the Sustainable Business Association (SBA), and the National Agri-Marketing Association (NAMA).