Using technology to address global farming needs
David Kramer hopes to use technology to modernize worldwide agriculture for a planet rapidly changing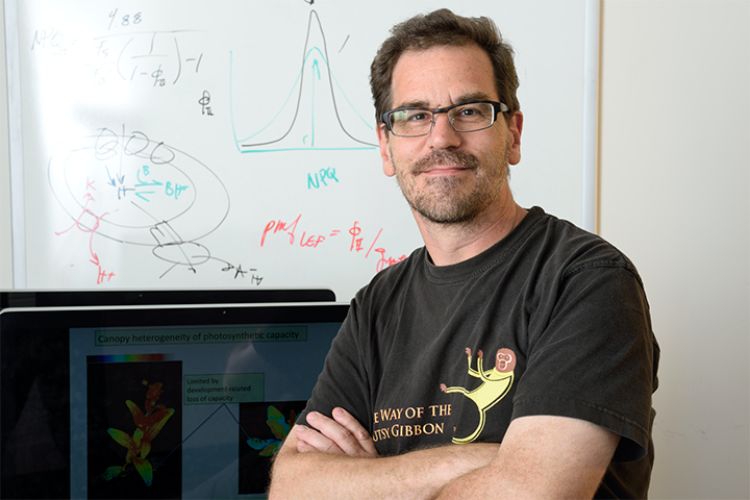 David Kramer, Michigan State University Hannah Distinguished Professor in Photosynthesis and Bioenergetics, is working to bridge the gap between plant sciences and technology.
Early in his career, Kramer said he felt a calling to apply his research focused on photosynthesis mechanisms to help modernize worldwide agriculture for a planet rapidly changing.
"I came to a realization that my son was going to grow up in a world that was completely different from mine," Kramer said. "When I started my career, I was a 100% basic research scientist.
It soon became clear to me that I had to try to see if my work could go beyond basic research, and I knew then that climate change and other changes were clearly going to impact us and it was time to look at the big picture."
Kramer and researchers in his lab are the creators of PhotosynQ, a worldwide web-based platform that uses community data recorded from sensors placed on crops to learn how different plants react to their environments and stresses.
"The big concept is to understand how plants work in the real world and then learn how to use that information," said Kramer, a professor in the MSU Department of Biochemistry and Molecular Biology.
"We want to improve the way plants work. Our goal is to understand, in much more detail, what is actually going on inside the plant and how it varies across genotypes and the variations that control plant reactions in the real world as opposed to in a greenhouse or growth chamber.
"In the lab, most of the genes in the plant are not really all that critical if you knock them out one-by-one. But out in the real world, each of those genes is doing something, and the only way to find out is to see them in action under real world conditions."
One of his goals is "to bring the lab to the world" – not just the environmental world, he said, but the global agricultural community as well.
"There are a lot of people out there who are very smart and well-educated but they don't have access to the best equipment, and even when they do, they don't have a connection to worldwide data. They can't access the expertise and aggregated data sets to understand what is going on (with their crops)," he said.
PhotosynQ sensor data combined with Dynamic Environmental Photosynthetic Imager, or DEPI, helps bridge the gap between the laboratory and the field. DEPI is a growth chamber created in Kramer's lab that can simulate changes occurring in natural environments and continuously monitor the photosynthetic performance of plants in high throughput tests.
The ultimate goal of the technology is to help farmers make management decisions and breeders make genetic decisions to produce high quality yields.
"The change in climate and social structures is happening so fast, our cropping systems have to keep up," Kramer said.
Kramer said access is another key component of maintaining food security.
"A lot of the tools being developed for precision ag applications are being developed for massive farms, and that is a very small fraction of the world's farms. The kind of tools we are developing can be applied much more rapidly on smaller systems and more targeted systems, for example in what we call specialty crops," he said.
The sensors PhotosynQ uses are about 1% the cost of other commercial sensors, measure a wider range of phenomena and their data is sent to the internet via the cloud.
"Because it has such a low barrier to access we're able to set up standardized ways to exchange the data," he said.
Kramer said he remains fascinated by how nature will adapt and what researchers, breeders and farmers can learn to stay ahead in a changing agricultural world.
"When we study the machinery of photosynthesis as it's performing in real life, we start to see how nature evolved into this amazingly beautiful system, and understand how it's constrained and how we might modify it to let it work better for sustainable agriculture."
This article was published in Futures, a magazine produced twice per year by Michigan State University AgBioResearch. To view past issues of Futures, visit www.futuresmagazine.msu.edu. For more information, email Holly Whetstone, editor, at whetst11@msu.edu or call 517-355-0123.