Why farm in Michigan's Upper Peninsula?
Low cost land and a laidback lifestyle may seem appealing, but the basics of successful farming in Michigan's Upper Peninsula are the same as everywhere else: careful planning, efficient use of resources, adaptability, commitment and good luck.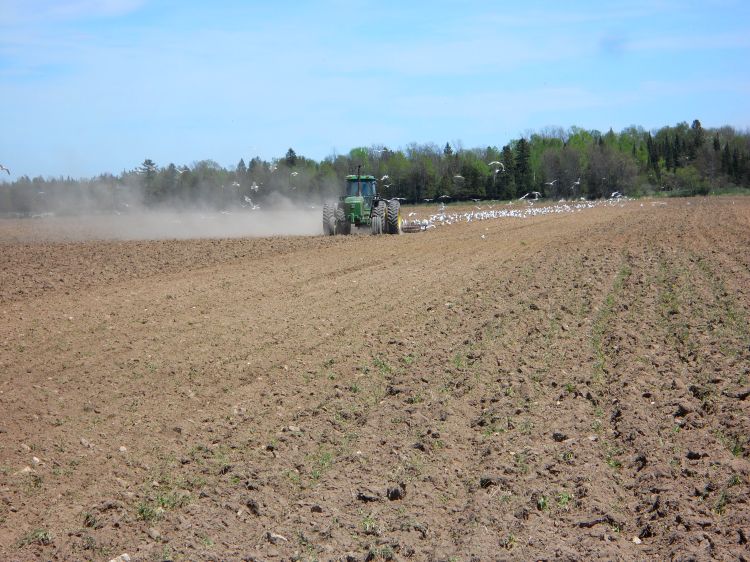 After 25 years of work as a Michigan State University Extension educator with farms of various types and sizes in Michigan's Upper Peninsula, several things have become clear.
The environment here, including weather, soil types and the short growing season, makes successful farming a challenge.
The distance to market often adds expense and complication to profitable agriculture production.
The number of traditional farms is decreasing.
The infrastructure serving Upper Peninsula farmers (businesses supplying seed, fertilizer, lime, equipment, etc.) is adequate, but often distant.
Many farmers have few farming neighbors to work with and depend on.
Some farms do not have an upcoming generation to take on the agricultural business.
Relatively small fields and equipment make large-scale crop production difficult.
These and many other factors, most of them similar to agriculture throughout Michigan, make up Upper Peninsula farming. But there are some unique aspects, primarily weather, soils and access to markets, that give a special twist to farming here.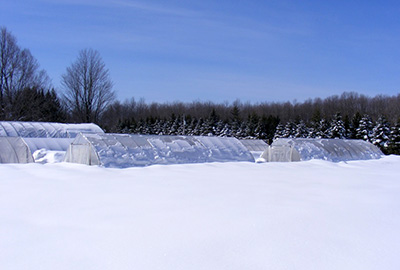 And the people…
Those who love farming in the Upper Peninsula are not necessarily natives of the area, but only the tough ones stay. There is a certain kind of understanding among farmers who have to blow over 200 inches of snow out of the barnyard over the winter to let the milk truck in, or get the livestock fed. Again, this quiet pride among farmers is not restricted to the Upper Peninsula, but there are some unique features. Like the calculated risk that the plastic on your hoophouses will hold up to the snowload until you can get out with your snowblower to cut out the pile along the bottom. Or that enough snow will melt off the fields so you can get your small grains and hay seeding in by the second week of May, or negotiating with the milk hauler to keep your isolated farm on the route.
Every year, I am contacted by a few people wanting to come to the Upper Peninsula to farm. Some are beginners, maybe dreamers, and others are experienced people looking for different opportunities. Here are a few of the things I tell them.
Land price for purchase or rent is relatively cheap, with rent for cropping land around $20-40 per acre in many areas.
What will grow here?
For commodity-type farms: grass, mixed hay, pasture, alfalfa in some places, corn (mostly for silage), small grains including oats, barley and wheat, potatoes, and canola. Some of the areas with more moderate climate will support dry beans. Forages are the backbone of Upper Peninsula agriculture.
For smaller scale, local food producers: cole crops or Brassicas, shorter season and cold hardy vegetables, sweet corn, and with season extending hoophouses, just about anything.
What can I produce that will make money? Maybe cover the land costs? Ah, that's really the tough question. This is where careful, realistic planning is a must. Do you have the finances, labor resources, willingness to assume risk, and dedication that it will take? The time-tested and proven sustainable farms, environmentally and economically, include:
Dairy farms.
Beef cow-calf farms (selling weaned feeder cattle).
Beef farms (buying feeder calves and selling as larger feeder cattle).
Potato farms.
Specialty fruit and vegetable farms, for example U-pick strawberries and pumpkins. Location near a major town is critical for success.
Newer to the farming community, but showing promise, are the small, diversified farms supplying smaller volumes of fresh produce, poultry and meat products locally. These farms often utilize hoophouse technology to extend the growing season. Very few are certified as organic, but many use organic production techniques. They are marketing through farmers markets, community supported agriculture shares with customers, on-farm stands, and, increasingly, into restaurants and institutions. An Upper Peninsula food hub is under development to stimulate growth in this sector.
Numerous small, part-time farms specialize in single commodities, such as horse hay or raising feed pigs for local sale, even cold-tolerant fruit orchards.
Here's a quick peek at a few selected field crop acreages in the Upper Peninsula, compared with the total for the state of Michigan.
Field crop acreages in the Upper Peninsula compared with Michigan total
| | | | |
| --- | --- | --- | --- |
| Crop | Upper Peninsula acres | Michigan acres | Upper Peninsula as % of Michigan |
| Perennial hay | 133, 938 | 940,000 | 14% |
| Barley | 5,300 | 8,000 | 66% |
| Oats | 6,500 | 50,000 | 13% |
| Potatoes | 2,225 | 46,000 | 5% |
| Corn | 13,180 | 2,600,000 | 0.5% |
| Wheat | 2,160 | 630,000 | 0.3% |
| Dry beans | 1,450 | 175,000 | 0.8% |
| Soybean | 1,300 | 1,900,000 | 0.07% |
If you're interested in farming in Michigan's Upper Peninsula, take a couple of weeks to tour around, visit the various pockets of agriculture in the region such as Delta and Menominee counties, Bruce Crossing/Ontonagon, Engadine/Germfask, Chippewa County, and other places. Visit with local farmers if possible, MSU Extension people, local agriculture supply companies, vets, USDA staff and others. Learn everything you can. Then think it over – carefully.