Winter Markets Spice Up Locavore Lives
Who says Michigan can't do local food in the winter?!
November 1, 2012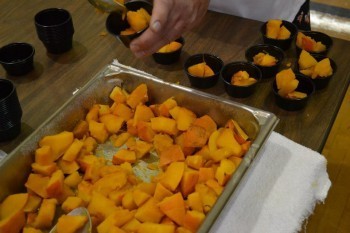 Who says Michigan can't do local food in the winter?!
One indicator of seasonal ingenuity among Michigan farmers and local food buyers is the growing list of farmers markets that head indoors for the colder months, offering a surprising range of products throughout the winter.
From Menominee in the Upper Peninsula to Monroe in southeast Michigan, more and more farmers markets are keeping local food sales and supplies going with year-round outlets.
The availability of fresh greens at Michigan's winter markets, for example, is a real possibility now, given the increasing number of farmers that are extending their growing season with passive solar greenhouse technology, or hoophouses.
In addition the list of typical products at winter markets is varied and large, including: root vegetables like onions, potatoes, beets, and winter squash; frozen and dried fruits and vegetables; maple syrup; breads and other bakery products and dry mixes; other value-added products like jams, jellies, syrups, pickles, and sauces; and a full range of eggs and dairy and meat products.
Shoppers can check for winter markets in their area via the Michigan Farmers Market Association's statewide search engine. MIFMA has also compiled a list (see below) of those winter markets that are able to process Bridge Card purchases.
Winter markets that accept Bridge Cards:
Upper Peninsula
Menominee Historic Downtown Farmers Market (Menominee)
West-Central Lower Peninsula
Fulton Street Farmers Market (Grand Rapids)
Holland Farmers Market (Holland)
Muskegon Farmers Market (Muskegon)
Sweetwater Local Foods Market (Muskegon)
East-Central Lower Peninsula
Flint Farmers' Market (Flint)
Central Lower Peninsula
Bath Farmers Market (Bath)
Lansing City Market (Lansing)
Meridian Township Farmers Market (Okemos)
Southern Lower Peninsula
City of Springfield Farmers Market (Springfield)
Downtown Jackson Grand River Farmers Market (Jackson)
Southeast Lower Peninsula
Ann Arbor Farmers Market (Ann Arbor)
Detroit Eastern Market (Detroit)
Monroe Farmers Market (Monroe)