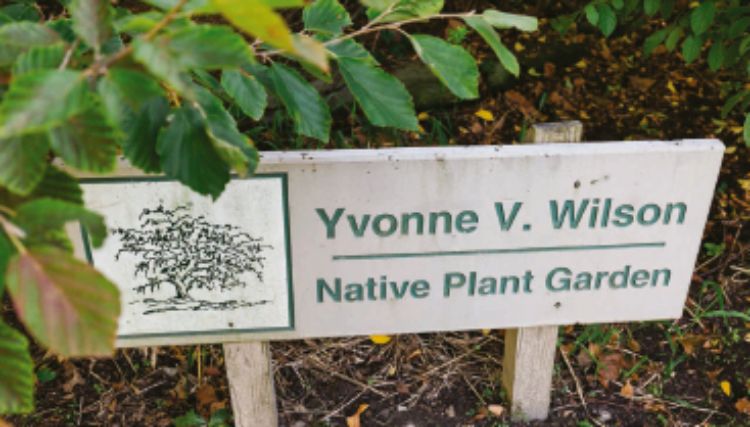 Yvonne Wilson was a 1952 Michigan State University mathematics graduate. She had a longtime career in mathematics and early computer science at Chrysler Corporation. She retired in 1995 and passed away in October 2018.
She loved to spend time in the MSU Horticulture Gardens, a place she spent considerable time volunteering and beautifying.
"Yvonne Wilson was very committed to MSU – her love of Michigan State, the gardens, and joy and appreciation for working with students," said Bob Schutzki, associate professor in the MSU Department of Horticulture. "She would often talk about her time at MSU as a student. She tutored athletes and would talk about math based on everyday things – sports or whatever it may be."
A self-taught naturalist and horticulturist, she traveled extensively in North America studying and photographing various plants. On her journeys, she often sought out botany professors to listen to their short lectures.
"She drove to Alaska, Arizona and the Smoky Mountains. She talked about how she'd get off the beaten path and find some new plants," said Schutzki, who is also the curator for the Clarence E. Lewis Arboretum.
Michigan State was no different. Wilson enjoyed coming back to learn as much as she could about plants. She was a regular at Garden Day, an annual event hosted by the Horticulture Gardens for plant enthusiasts to share knowledge and learn through presentations and workshops.
"Her first gift was to the MSU Horticulture Gardens, and then she gave to the Clarence E. Lewis Landscape Arboretum," Schutzki explained. "She started volunteering and working with the students in the arboretum, and she adopted us. She always gave money to support general operations for student labor – she was very supportive of students."
Her gifts also funded the Yvonne V. Wilson Native Plant Garden in the Clarence E. Lewis Landscape Arboretum. Created in 1984, the arboretum was designed as an instructional arboretum for students interested in landscape development. The 6-acre site began as the old campus nursery and as a result, many remaining specimen trees lend a mature appearance. The arboretum continues to grow, providing learning opportunities for students, industry professionals, gardeners and community members.
Some of her earliest gifts qualified for a company match at Chrysler. Gradually increasing her giving, she began to explore other ways to support MSU in addition to cash gifts. In 1994, she established the first of 18 charitable gift annuities, each ranging between $30,000 and $70,000.
"She wanted to give to the university and wanted it to be long lasting," Schutzki explained. "The charitable gift annuity allowed her to have a source of income, and eventually the remainder would come to MSU upon her death."
A charitable gift annuity (CGA) allows a donor to receive a guaranteed income stream throughout his/her lifetime. This amount is based on the donor's age at the time the CGA is established. At the end of that person's life, the remainder of the gift is directed to the donor's area of choosing. A CGA can also provide a variety of tax benefits, including a federal income tax charitable deduction when itemized.
The Yvonne V. Wilson Endowed Fund in the Clarence E. Lewis Landscape Arboretum was established with gift annuities. This endowment provides a perpetual source of funding for general arboretum maintenance. It also supports scholarships and internships for horticulture students.
"Every summer she would come to the arboretum and work with the students," Schutzki said. "She would come for a day, work in the gardens, go to lunch, work some more and leave in time to get home before dark. That happened for years, and in that time she told me multiple times that she wanted the annuity to grow to a million dollars before she died."
Wilson also recognized the importance of estate planning. In 2013, she included a bequest in her estate plans to create a second endowment – the Yvonne Wilson Endowed Fund for the MSU Horticulture Gardens – to be used at the discretion of the garden director. Upon her death, MSU received $500,000.
"This new endowment gives us the latitude to use it for our areas of greatest need, which may change from year to year. Our current plan is to use the endowment earnings to help fund a staff member to manage students and volunteers and to provide for ongoing maintenance in the gardens," Schutzki said. "The impact is tremendous for the future of the MSU Horticulture Gardens."
Wilson made a remarkable impact not only through her generosity but also as a dedicated volunteer and ambassador of the gardens and arboretum.
"It was not just about the gifts, it was about her commitment," Schutzki said. "Yvonne was more than just a donor – she was one of us, and her legacy lives on in the gardens at MSU."
About the gardens
The MSU Horticulture Gardens are educational facilities that support and integrate teaching, research and service by the Department of Horticulture and access for the public. The 14 acres of gardens include the Michigan 4-H Children's Garden, the Clarence E. Lewis Landscape Arboretum, the Judith DeLapa Perennial Garden and the Annual Trial Gardens. Educational tours, programs, field trips, wedding and event rentals attract visitors from all around the world.
This article was published in In the Field, a yearly magazine produced by the College of Agriculture and Natural Resources at Michigan State University. To view past issues of In the Field, visit www.canr.msu.edu/inthefield. For more information, email Holly Whetstone, editor, at whetst11@msu.edu or call 517-355-0123.