Joshua Vander Weide
Department of Horticulture
PhD Candidate
1066 Bogue St, Room A18
East Lansing, MI 48824
Area of Expertise:
Plant Physiology, Viticulture, Fruit Ripening, Flavonoid Biochemistry
---
Major Advisor
Dissertation Title
Impact of early mechanical leaf removal on Merlot physiology, fruit ripening, and quality
Education
(2016-Current) Ph.D. in Horticulture, Michigan State University – Current. Expected Graduation Date: Summer, 2020
(2013-2016) B.E. in Food Science and Human Nutrition, Minor in Fermented Beverages Technology, Michigan State University,
Research Areas
Viticulture Practices
Grape growers employ viticulture practices to adjust crop load or cluster architecture with the goal of producing more optimal growing conditions for fruit. My first research project centered around mechanization of 'early leaf removal,' which is important for cool growing areas. This work indicated that mechanized application increased sugar concentrations in two cultivars (Merlot and Pinot Grigio). In addition, Merlot fruit contained higher levels of anthocyanins and flavonols in response to this treatment.
Merlot grapevines with varying levels of defoliation.
Grapevine Physiology and Fruit Ripening
Early leaf removal often leads to increased fruit quality in red wine grape cultivars. The objective of my more recent research project is to connect the link between vine physiology, phytohormones involved in ripening, and fruit quality parameters.
Flavonoid Biochemistry
The diversity of flavonoid compounds produced by grapes is unmatched by most horticulture crops. These compounds dictate red wine color and tannin astringency, which are integral to fruit and wine quality. Initial results from my Ph.D. program indicated that the profile of anthocyanins and flavonols are intricately regulated by viticulture practices, and I am currently investigating the mechanisms underlying this using genetic analysis and metabolomics.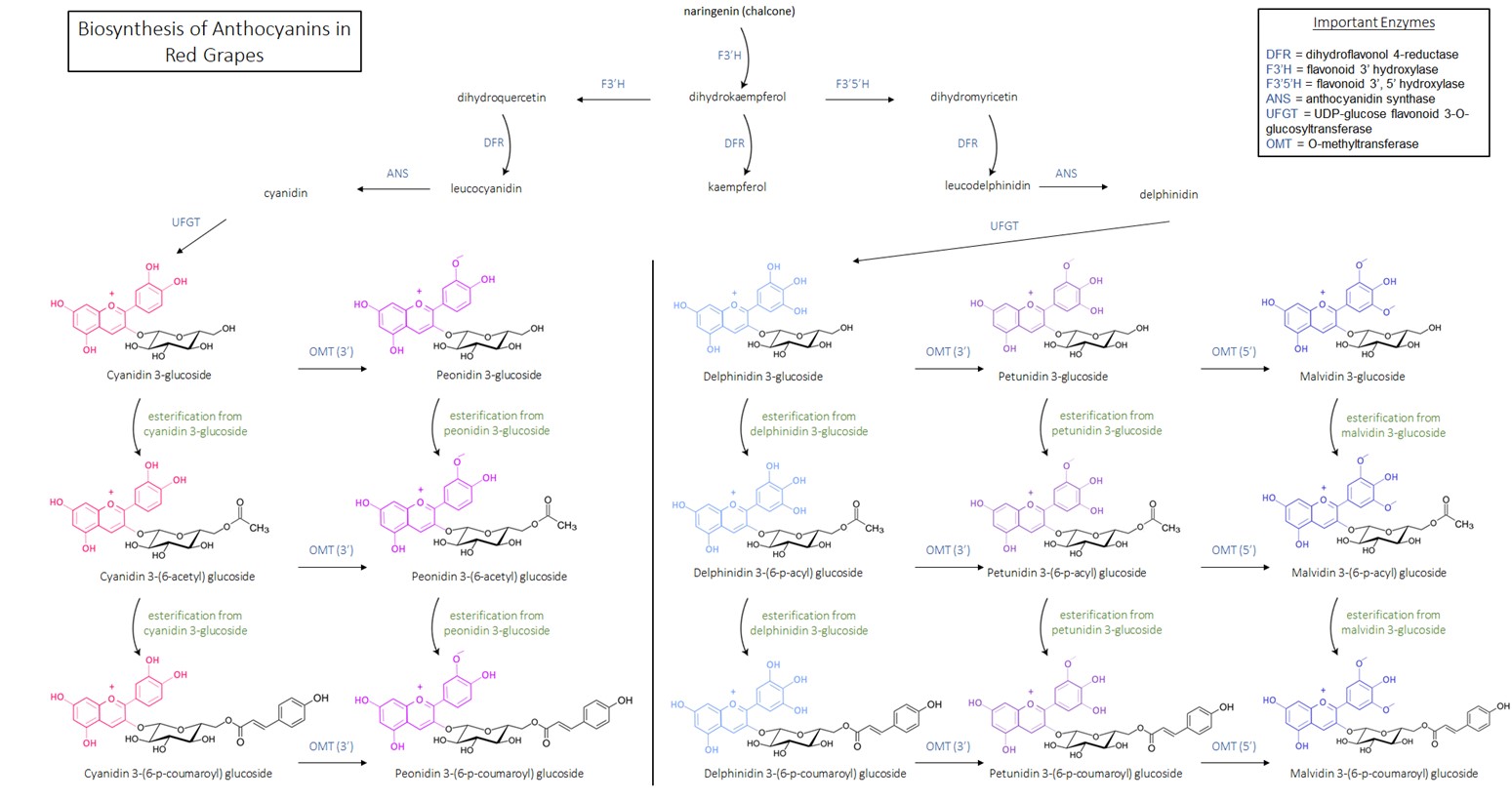 Supplementary Figure 1. Biosynthesis of Anthocyanins in Red Grapes. VanderWeide et al., 2018.
Journal Publications
*Publications can be found via Google Scholar and/or ResearchGate
Rustioni R, Cola G, VanderWeide J, Murad P, Failla O, Sabbatini P. 2018. "Utilization of a freeze-thaw treatment to enhance phenolic ripening and tannin oxidation of grape seeds in red (Vitis vinifera L.) cultivars." Journal of Food Chemistry.
VanderWeide J, Medina-Meza, I, Frioni T, Sivilotti P, Falchi R, Sabbatini P. "Enhancement of Fruit Technological Maturity and Alteration of the Flavonoid Metabolomic Profile in Merlot (Vitis vinifera L.) by Early Mechanical Leaf Removal." 2018. Journal of Agricultural and Food Chemistry.
Silvestroni O, Lanari V, Lattanzi T, Palliotti A, VanderWeide J, Sabbatini P. 2018. "Canopy management strategies to control yield and grape composition of Montepulciano grapevines" Australian Journal of Grape and Wine Research.
Trade Magazine Articles
*Articles can be found via ResearchGate

VanderWeide J, Sabbatini P, Howell S. 2017. Back to the Future: A viticulture perspective on the history of Michigan's wine grape industry. Wines and Vines East. June: 61-64.
Sabbatini P, VanderWeide J, Howell S. 2018. Cold Hardiness of Grapevines: How growers can encourage it given the limits of nature and nurture. Wines and Vines East.
Mertz L. 2018. Shredding research in Midwest vineyards: MSU study finds some benefits in using mechanized leaf removal. Good Fruit Grower.
Awards
(2016) Graduate Office Fellowship, Michigan State University
(2016) Michigan Garden Clubs Scholarship Award
(2016) Michigan State Horticulture Society Scholarship Award
(2017) American Society for Enology and Viticulture – Eastern Section Scholarship Award
(2018) John L. Arend Excellence in Graduate Student Research Scholarship
(2018) American Society for Enology and Viticulture Scholarship Award
(2018) Dr. Ruth Allen Scholarship
(2018) MSU Graduate Office Travel Funds
(2019) John L. Arend Excellence in Graduate Student Research Scholarship