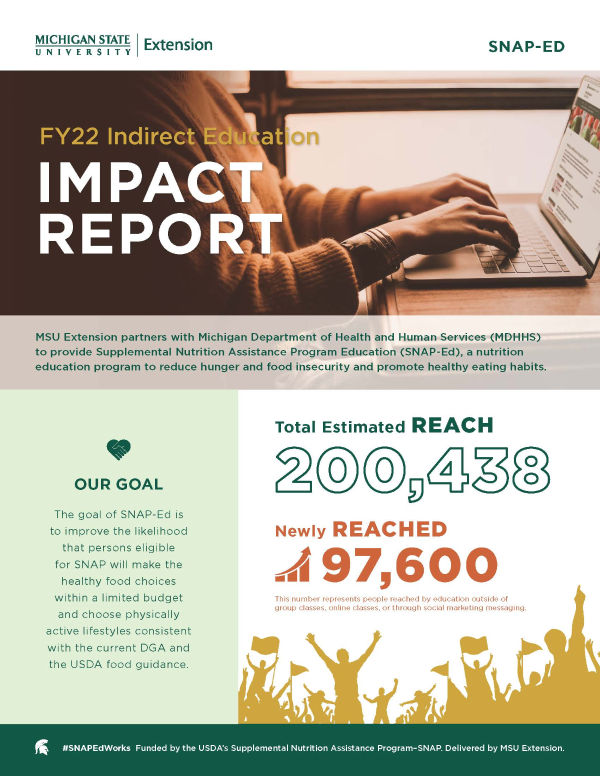 2022 SNAP-Ed Indirect Education Impact Report
DOWNLOAD
March 14, 2023 - Author: Michigan State University Extension
The Big Picture
200,438 total estimated reached.
97,600 newly reached.
This number represents people reached by education outside of group classes, online classes, or through social marketing messaging.
MSU Extension Action
MSU Extension partners with Michigan Department of Health and Human Services (MDHHS) to provide Supplemental Nutrition Assistance Program Education (SNAP-Ed), a nutrition education program to reduce hunger and food insecurity and promote healthy eating habits.
Our Goal
The goal of SNAP-Ed is to improve the likelihood that persons eligible for SNAP will make the healthy food choices within a limited budget and choose physically active lifestyles consistent with the current DGA and the USDA food guidance.
The Impact
Indirect Education Effort by Project
41% Community-Based Projects
37% School-Based Projects
14% Food Access Projects
9% Early Childhood Projects
Estimated Reach by Indirect Education Channel
51,933 Hard copy materials
48,809 Electronic materials
23,824 Nutrition education reinforcement items
21,491 Articles
17,669 Community events/fairs - in which participated
14,484 Radio public service announcement
8,250 Fact sheet
7,440 Radio interview
2,060 Software application
628 Podcast
141 Videos
Top Education Topics
Fruits and

Vegetables

MyPlate and Food Groups for Healthy Eating Pattern
Dairy
Protein Foods
Food Preparation, Cooking, and Food Safety
MI Health Matters Social Media Reach
4,043 Instagram Touches
21,025 YouTube Video Views
8,100 Pinterest Pins
48,315 Facebook Touches