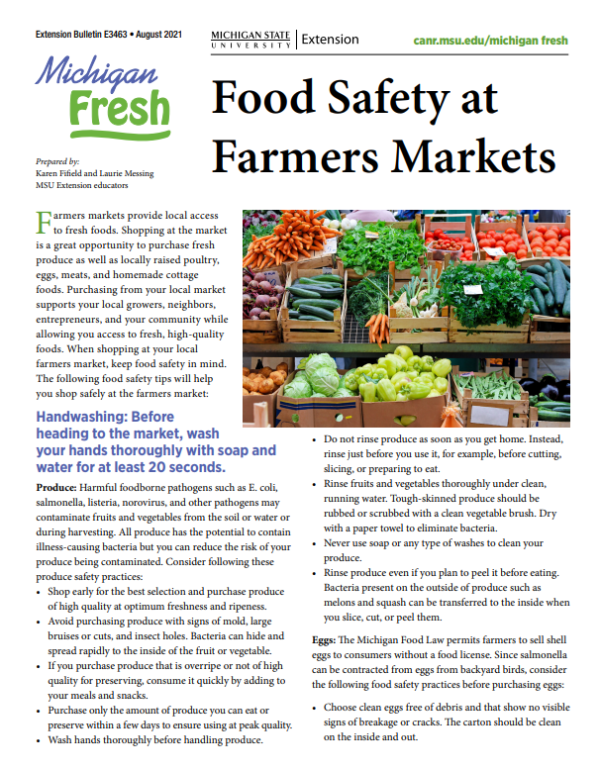 Food Safety at Farmers Markets
DOWNLOAD FILE
September 1, 2021 - Author: Karen Fifield and Laurie Messing
This Document is offered in: English, Arabic, Espanol
Farmers markets provide local access to fresh foods. Shopping at the market is a great opportunity to purchase fresh produce as well as locally raised poultry, eggs, meats, and homemade cottage foods. Purchasing from your local market supports your local growers, neighbors, entrepreneurs, and your community while allowing you access to fresh, high-quality foods. When shopping at your local farmers market, keep food safety in mind. The following food safety tips will help you shop safely at the farmers market:
Handwashing: Before heading to the market, wash your hands thoroughly with soap and water for at least 20 seconds.
Produce: Harmful foodborne pathogens such as E. coli, salmonella, listeria, norovirus, and other pathogens may contaminate fruits and vegetables from the soil or water or during harvesting. All produce has the potential to contain illness-causing bacteria but you can reduce the risk of your produce being contaminated. Consider following these produce safety practices:
Shop early for the best selection and purchase produce of high quality at optimum freshness and
Avoid purchasing produce with signs of mold, large bruises or cuts, and insect Bacteria can hide and spread rapidly to the inside of the fruit or vegetable.
If you purchase produce that is overripe or not of high quality for preserving, consume it quickly by adding to your meals and snacks
Purchase only the amount of produce you can eat or preserve within a few days to ensure using at peak
Wash hands thoroughly before handling produce
Do not rinse produce as soon as you get home. Instead, rinse just before you use it, for example, before cutting, slicing, or preparing to eat
Rinse fruits and vegetables thoroughly under clean, running Tough-skinned produce should be rubbed or scrubbed with a clean vegetable brush. Dry with a paper towel to eliminate bacteria.
Never use soap or any type of washes to clean your produce.
Rinse produce even if you plan to peel it before eating. Bacteria present on the outside of produce such as melons and squash can be transferred to the inside when you slice, cut, or peel them
Eggs: The Michigan Food Law permits farmers to sell shell eggs to consumers without a food license. Since salmonella can be contracted from eggs from backyard birds, consider the following food safety practices before purchasing eggs:
Choose clean eggs free of debris and that show no visible signs of breakage or cracks. The carton should be clean on the inside and out
The carton of eggs should bear a label stating: "Processed in a facility not inspected by the Michigan Department of Agriculture and Rural Development" (Michigan Legislature, 2012).
Ask the farmer when the eggs were gathered and if they have been Purchase eggs that have been washed and kept at 45 °F or below in a clean cooler at the market.
Eggs should not show signs of condensation or "sweating." This indicates they have been out of refrigeration for an unknown amount of time and bacteria may have started to grow
Cottage Foods: Cottage foods are foods created in a home kitchen that does not require licensing or inspection. They do not require refrigeration and must be low risk of causing foodborne illness.
All cottage foods products must have a label that states, "Made in a home kitchen that has not been inspected by the Michigan Department of Agriculture & Rural Development" (Michigan Department of Agriculture and Rural Development, n.d.-a).
Honey and Maple Syrup: A producer must include name, address of processing location, and weight on the honey and maple syrup label. The label must also contain this statement: "Processed in a facility not inspected
by the Michigan Department of Agriculture and Rural Development" (Michigan Department of Agriculture and Rural Development, n.d.-b).
Meat and Poultry: A U.S. Department of Agriculture (USDA) seal of inspection must appear on all packages of meat originating at a USDA plant. Ask your vendor for details.
Packaged meat and poultry may be sold frozen solid or if fresh, must be refrigerated at 41 °F or Handling of unpackaged meat or poultry is not permitted.
Fish: Fish sold at farmers markets must come from a commercial fisher or a licensed distributor. Ask the vendor questions about the fish they are selling. Fish must kept cold at 41 °F or below.
After returning home from shopping at the market, thoroughly wash your hands with soap and running water for at least 20 seconds. Also, wash your reusable cloth shopping bags so they are clean and ready to go for your next trip.
References:
Michigan Department of Agriculture and Rural Development. (n.d.-a). Michigan cottage foods information. Section 3: Cottage food labeling requirements. https://www.michigan.gov/ mdard/0,4610,7-125-50772_45851-240577--,00.html#Labeling
Michigan Department of Agriculture and Rural Development. (n.d.-b). Michigan cottage foods information. E. Michigan maple syrup and honey licensing exemptions. https://www.michigan.gov/ mdard/0,4610,7-125-50772_45851-240577--,00.html#MapleSyrup
Michigan Legislature. (2012). Food law (excerpt):Act 92 of 2000. http://www.legislature.mi.gov/ (S(hamnep0sklt3geohgnn0gyqa))/mileg.aspx?page=ge tObject&objectName=mcl-289-7114
Resources:
Michigan Department of Agriculture and Rural Development. Michigan Cottage Foods Information: https://www.michigan.gov/mdard/0,4610,7-125-50772_45851-240577--,00.html
Partnership for Food Safety Education. Safe Produce: https://www.fightbac.org/food-safety-education/safe- produce/