Southwest Michigan fruit update – May 21, 2019
Warm weather moved fruit quickly. Apple bloom is ending. Blueberries and strawberries are blooming now.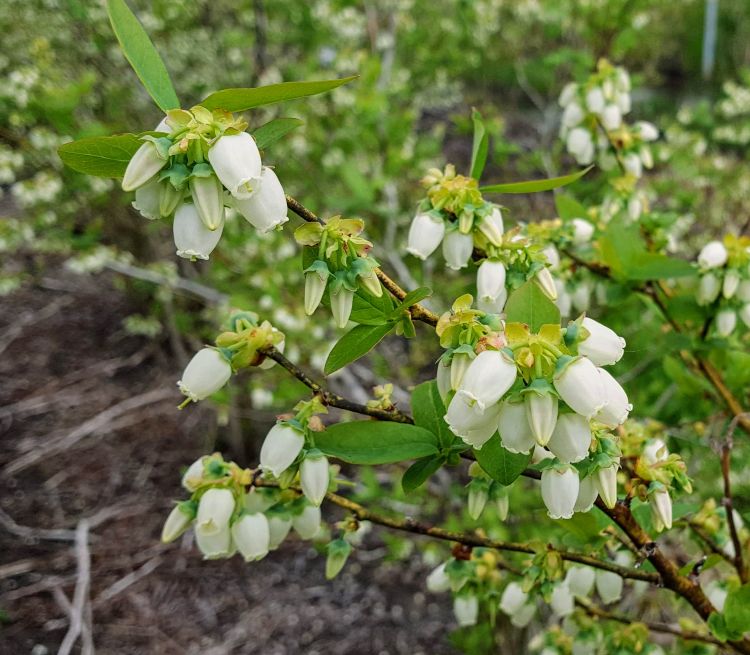 Weather
Last week began cool and warmed up quickly. Daily highs rose from the 50s into the 70s with highs around 80 on Saturday, May 18. A warm front Wednesday brought rain and unsettled weather for the rest of the week. A cold front Sunday brought cooler weather. Clearing Monday night brought fears of a freeze but high clouds raised the temperatures before dawn and there was no freeze. Storms with the passage of frontal systems were followed by scattered showers last week.
Precipitation totals varied from a third of an inch to less than an inch across the region. Generally, wetting periods were warm and varied a lot between sites. Some sites reported only a few short infection periods for apple scab and cherry leaf spot. Other sites had long significant wetting periods and infections for these foliar diseases.
The pattern this coming week is similar to last week. A cool beginning then warmer with scattered showers. A warm front Tuesday, May 21, with warmer wetter weather Wednesday. Highs will return to the 70s with the 80s by the weekend. The warmer temperatures last week really sped up plant development and new leaves are emerging quickly. Soils are warming up; soil temperatures have risen into the 60s.
We picked up a lot of growing degree days (GDD), 114 base 42 and 56 base 50. This is the same heat accumulation as the last total for the two weeks. We continue to lag about a week to 10 days behind normal. The northern counties in the region are about a week behind the southern areas.
Southwest Michigan GDD summary from March 1 – May 19, 2019

Station

GDD 42 F

GDD 45 F

GDD 50 F

Benton Harbor (SWMRC)

459

341

199

Lawton (Lawton)

481

360

213

Fennville (TNRC)

387

281

156

Average for the SW region

471

352

207

Accumulation last week

114

95

56
Check out the new animated weather forecasts from Jeff Andresen, Michigan State University agricultural meteorologist, on MSU Extension's Weather for Fruit & Nuts page. Articles and other regional reports can be found at the New for Fruit & Nuts page.
Tree fruit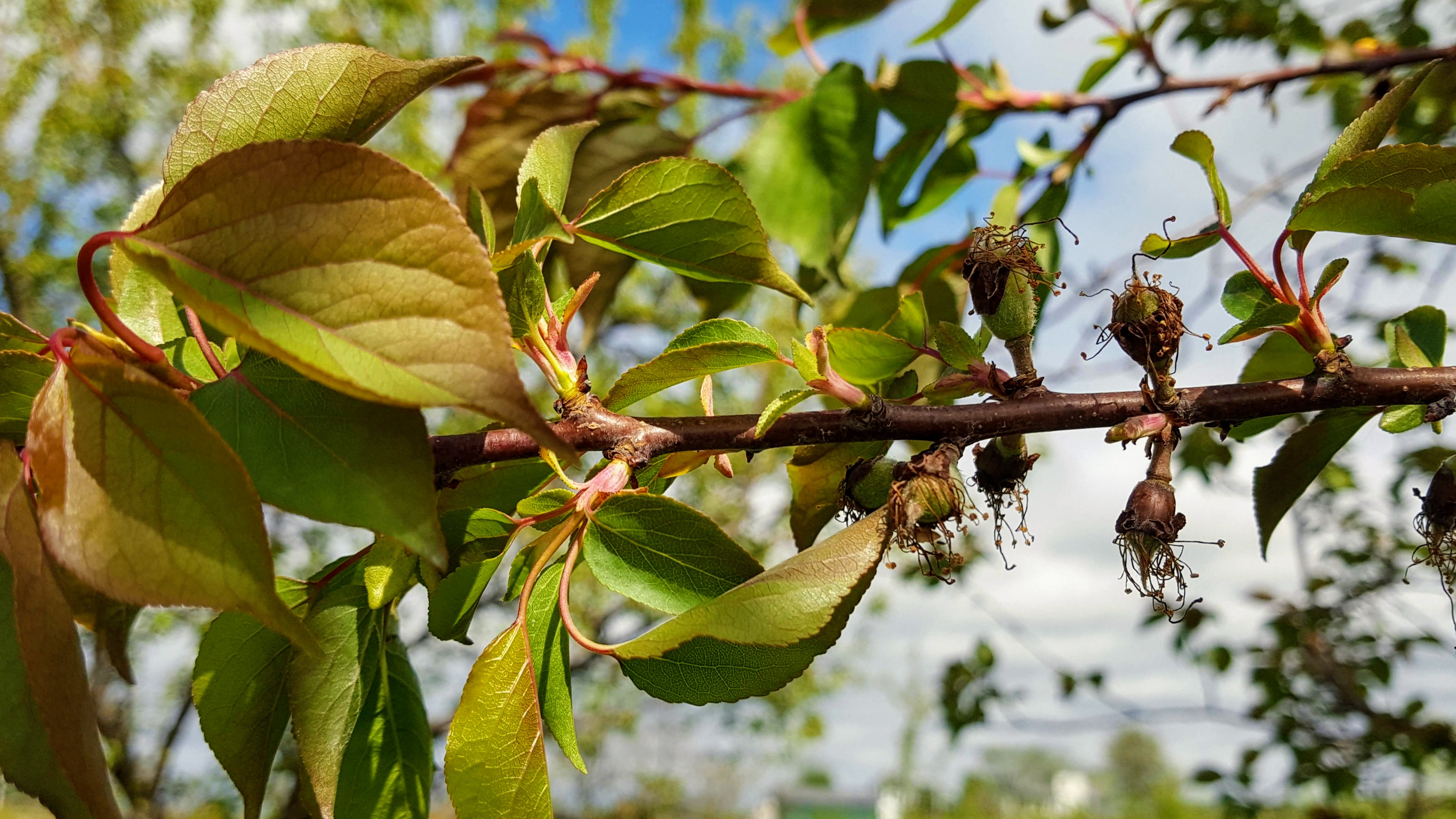 Stone fruit bloom has ended and fruit are in the shuck or emerging from the shuck. Petal fall is underway for apples. There is still a small chance of a spring freeze. At this time, temperatures of 28 degrees Fahrenheit or below would damage flowers and young fruit.
Apricots are at shuck split. The crop is light and spotty due to a poor bloom.
Peach and nectarine fruit are emerging from the shuck and shoots are growing quickly. Some winter damaged trees show poor growth. Peach leaf curl symptoms are becoming easy to see. Leaves are no longer susceptible to infection so there will be no further spread of the disease. Traps for monitoring the first generation of oriental fruit moth and dispensers for mating disruption should be out. First catch of oriental fruit moth in this area was reported by the Trevor Nichols Research Center on May 6, and catch has been ongoing since then. Hatching of larvae are expected soon. Protect newly planted and one-year-old peach and nectarine trees against oriental fruit moth, which attack the shoot tips during the first and second generations.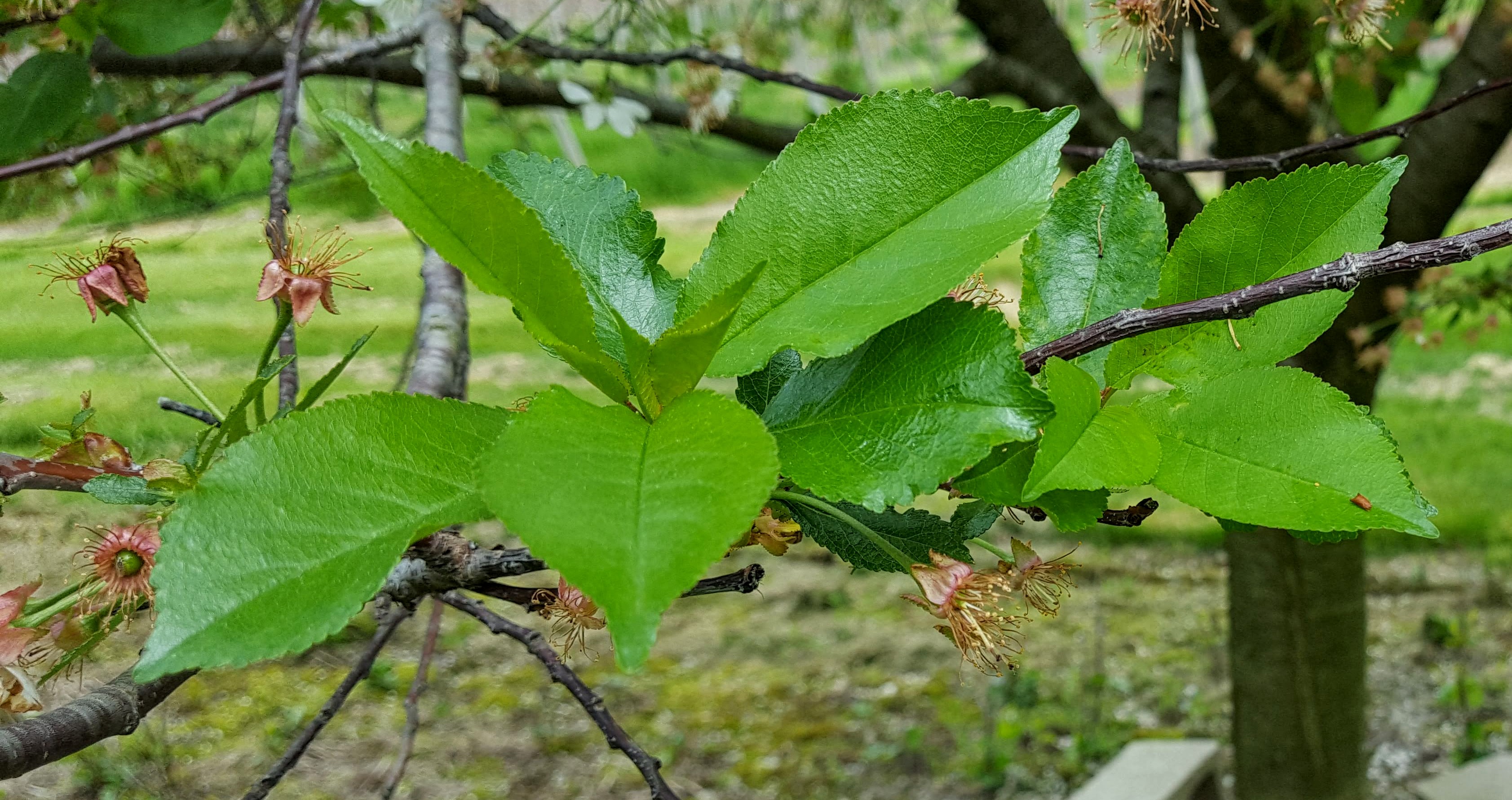 Sweet cherries are emerging from the shuck. Tart cherries are in the shuck. Shoots and leaves are emerging quickly. This is a critical time for controlling cherry leaf spot. Rain events have been scattered over the region, resulting in more infection periods for some locations last week. Cherry leaves need to be protected from cherry leaf spot all season long. Infected leaves turn yellow and fall from the tree. This diseases causes premature defoliation, sometimes before harvest. Cherries are very susceptible to plum curculio when the fruit emerges from the shuck.
Plum bloom has ended. Japanese plums are out of the shuck. Some European plums are emerging from the shuck, but most varieties are still in the shuck. Growers with black knot in their orchards need to protect new shoots from this disease. Black knot ascospores are released from knots from late April to early July with the highest concentrations in May. Now is the time to apply preventative fungicides to protect new shoot growth. Plum curculio is the first significant insect pest once fruit start emerging from the shuck and nighttime temperatures warm up.
Apples range from full bloom to tiny green fruit, depending on the variety and location. There is still bloom in most orchards. Variable temperatures and wetting periods across the area this past week resulted in fire blight infection predictions for some sites but not others. Many growers applied preventative sprays to prevent blossom blight last week ( see the MSU Enviroweather fire blight assist model). Newly planted apples, which are highly susceptible to fire blight, such as Gala and Fuji, gain some protection against the spread of blight after the infection, with low rates of Apogee in the pink and petal fall periods.
April 18 was the first apple scab infection of the year. Some locations had significant infection periods last week. Scab symptoms should be appearing for apples not protected during late April infection periods. Scab ascospore catch numbers have been high during recent rains. Scout for shoot tips infected with powdery mildew. Cedar apple rust and other rust diseases are of concern for susceptible varieties or locations with cedar or junipers nearby.
Redbanded leafroller and spotted tentiform leafminer moth catch numbers are beginning to fall. We will soon be entering the apple thinning window and growers should familiarize themselves with the apple thinning tools available on Enviroweather (see "Updated apple cropload management models are available"). For apple thinning sprays, we want raising temperatures which increase the effectiveness to plant growth regulators. Pay more attention to the weather and growth stage rather than the number of days after bloom.
Pear bloom has ended. Pears need to be protected from pear scab, a disease similar to apple scab. The period of rapid shoot growth after bloom is a critical control window for pear psylla.
Small fruit
Grapes continue to move slowly. Shoots are 3 to 6 inches long with two to four leaves out and flower clusters are visible. Winter injured areas in Concord and Niagara vineyards are easy to see with little new growth visible. As the grape flower clusters are exposed, protect from phomopsis, powdery mildew and black rot. These diseases overwinter on the canes and infect new green tissue as it is exposed.
Blueberries are just beginning to bloom in some fields and almost 50% of the flowers are open in other fields. We see winter injury in a few places—poor growth on some canes in the tops of the bushes as well as poor growth in the lower half of the bush. In general, the overall health of the bushes and number of flower buds looks good and we should have a heavy bloom over the next two weeks.
As wet as the spring has been, protect shoots and green fruit from anthracnose infections. Generally, we focus on mummy berry shoot strikes before bloom and then mummy berry fruit infections during bloom, and at the end of bloom we switch the disease focus to anthracnose fruit rots. The warm rains last week and forecast this week are good anthracnose infection conditions. In wet years, we often have blossom blights and shoot blights, which are generally from anthracnose or phomopsis. Select fungicides that are effective against both mummy berry phomopsis and anthracnose (see "Protect against blossom blights in blueberries").
During bloom, be aware of bees when you spray. Avoid spraying in the middle of the day when bees are actively foraging and pollinating blueberries. Some growers will use gibberellic acid sprays to increase fruit set in blueberries. Cranberry fruitworm and cherry fruitworm will be flying soon.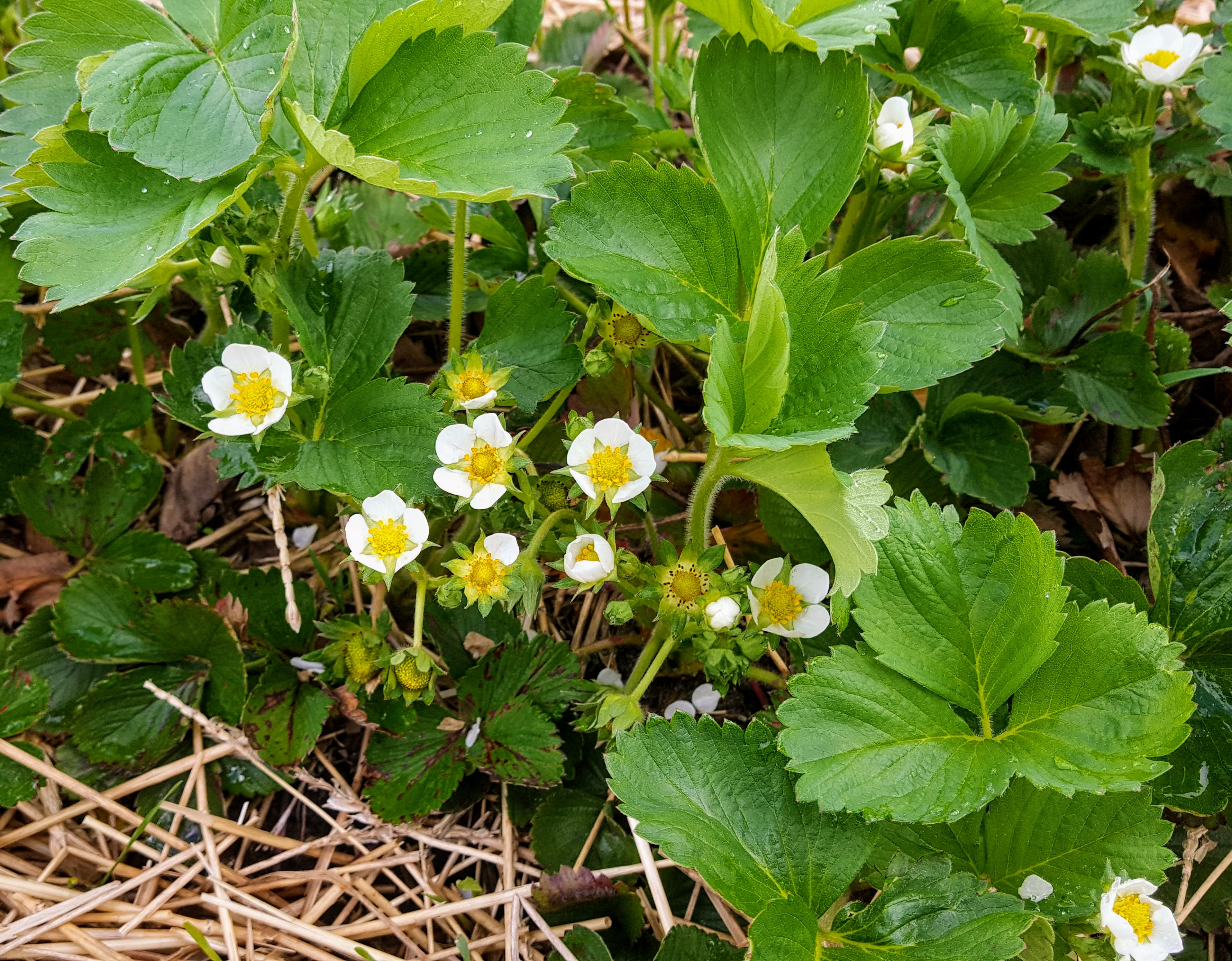 Strawberries are blooming. The primaries have been pollinated in many fields. There has been no frost or freeze injury this spring. Once the flower buds have emerged, they can be damaged by temperatures below 29 F. Remember, it is much colder close to the ground where the strawberry flowers are (see "Using sprinklers to protect plants from spring freezes").
Bramble shoot growth is underway and flower clusters are visible in the growing shoots. Monitor for leafrollers and raspberry sawfly.
Cranberry fields are still not greening up and there is little bud movement. We need warmer weather for cranberries to take off.
Upcoming meetings
Our next Monday fruit IPM meetings will be June 3 at 5 p.m. at Fruit Acres Farms, 2559 Friday Rd, Coloma, MI 49038. These meetings are free and open to all. We review the current conditions in fruit crops and discuss pest control options with growers. Two Michigan RUP applicator recertification credits are available at these meetings.
A Blueberry Pollination Meeting is planned for Thursday, May 23, at the Trevor Nichols Research Center in Fennville, Michigan, from noon to 4 p.m.. The meeting is free but please register for an accurate lunch count.
Viticulture Day will be June 13 at the Southwest Michigan Research and Extension Center near Benton Harbor, Michigan. This event is organized by the Michigan Grape Society and hosted by Michigan State University's very own Paolo Sabbatini.
Related articles
Bees
Crop-specific links: