Southwest Michigan fruit update – May 14, 2019
Cool weather has extended the tree fruit bloom. Apples are blooming now. We expect warmer weather this week.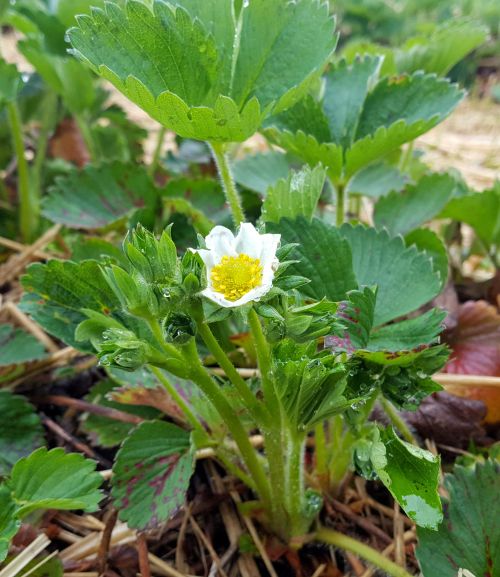 Weather
Last week began dry on Monday, May 6, with widespread rain Tuesday. The passage of a cold front Thursday brought more rain. The weekend was cold and dry, with rain Sunday into Monday. High temperatures were generally in the 50s and lows in the 40s. Precipitation totals were about 1.5 inches across the region. Generally, the rainy periods have been too cold or too short for apple scab and cherry leaf spot infections.
The forecast for this week is for dry conditions Tuesday, May 14, with a chance of showers Wednesday. Another system will come through late Thursday and then rainy into the weekend. Many fields have standing water. We should be south of a cold front that will stall out just to the north of us. Temperatures should rise into the 70s Thursday into the weekend. Low temperatures should be in the 40s and 50s.
We picked up more growing degree days (GDD) than the previous weeks, 61 GDD base 42 and 23 GDD base 50. The cool temperatures for the last two weeks have really slowed down plant development and extended the bloom for fruit crops over a long period. Judging by the bloom of apples, we are about a week behind their average bloom date.
Soils are wet and soil temperatures are generally below 50 degrees Fahrenheit. There was no injury from a light frost Saturday morning. The dew point was about 32 F and most stations stay just above that. There is only a slight chance of a damaging freeze. Less than a 10% chance of a hard freeze (28 F) based on historic freeze dates.
Southwest Michigan GDD summary from March 1 – May 12, 2019

Station

GDD 42 F

GDD 45 F

GDD 50 F

Benton Harbor (SWMRC)

348

250

136

Lawton (Lawton)

361

260

142

Fennville (TNRC)

286

200

102

Average for the SW region

357

257

141

Accumulation last week

61

44

23
Check out the new animated weather forecasts from Jeff Andresen, Michigan State University agricultural meteorologist, on MSU Extension's Weather for Fruit & Nuts page. Articles and other regional reports can be found at the New for Fruit & Nuts page.
Tree fruit
Bloom continues with tart cherries and pears. Apple bloom is well under way in Berrien County and just starting in the northern parts of the region. We are nearing the end for the danger of spring freezes. At this time, temperatures of 2 8F or below would damage flowers and young fruit. Using Retain can help sustain apple, sweet cherry and plum bloom until conditions are favorable for pollination.
Apricots are in the shuck.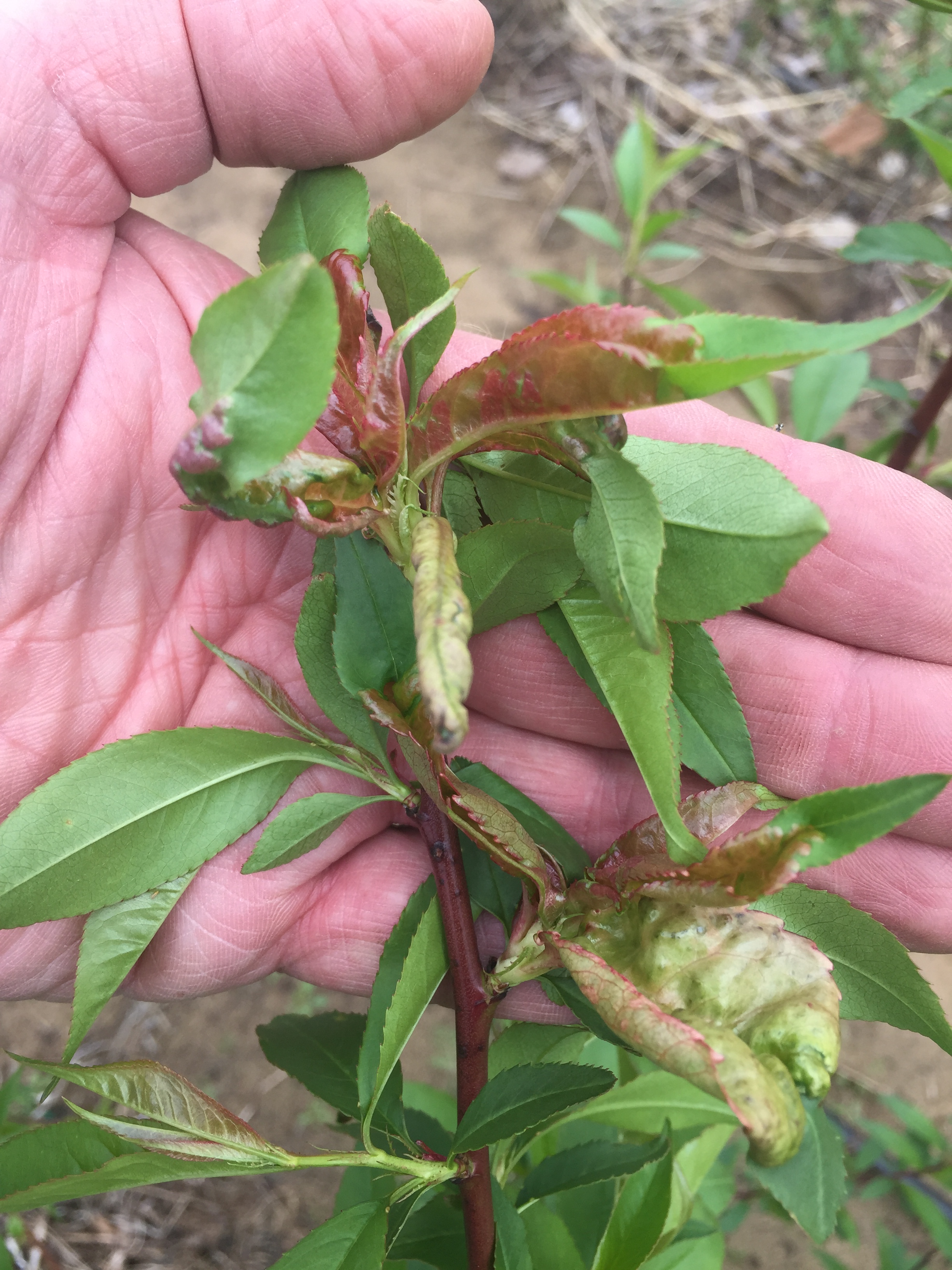 Peach and nectarine are leafing out and it is easier to see damaged trees. We are seeing some peach bloom on better sites. This bloom is from the lower (basal) buds of last year's shoot growth. This bloom is only on certain varieties. Trees damaged by the winter have delayed leaf bud development and some splitting trunks. Peach leaf curl symptoms started showing up over the past week, likely due to an infection period on April 18 with a wetting period of 19 hours, average temperature of 47 F and 0.5 inch of rain. It is too late to treat this disease as the leaves are no longer susceptible to infection, which occurs around bud break.
Traps for monitoring the first generation of oriental fruit moth and dispensers for mating disruption should be out. First catch of oriental fruit moth in this area was reported by the Trevor Nichols Research Center on May 6, and catch has been ongoing since then. Newly planted and one-year-old peach and nectarine trees should be protected against oriental fruit moth, which attack the shoot tips during the first and second generations.
Sweet cherries are in the shuck. Tart cherry bloom continues and petal fall has begun. Bloom has lasted a long time under these cool conditions. Shoot growth has begun and leaves are susceptible to cherry leaf spot. Many growers have put on one or two fungicide sprays.
European plums are at full bloom. Early Japanese plums are starting to emerge from the shuck, other varieties are still at petal fall. Growers with black knot in their orchards should prune out all black knot and dispose of the knots by burning. This is an important step in managing this disease. Ascospores of the black knot pathogen are released from knots from late April to early July, with the highest concentrations in May. Now is the time to apply preventative fungicides to protect new shoot growth. Plum curculio is the first significant insect pest once fruit start emerging from the shuck and night time temperatures warm up.
Apples range from king bloom opening to full bloom. Early blooming varieties such as Zestar are at full bloom to first petal fall. Ida Red is at full bloom. Golden Delicious and many others are at king to 50% bloom. Cool temperatures are not conducive to fire blight development. Generally, the fire blight risk is low if the average temperatures are below 60 F. The warm wet conditions forecast for later this week are expected to be favorable for fire blight infections (see the MSU Enviroweather Fire blight Assist Model). Newly planted apple varieties such as Gala and Fuji, which are highly susceptible to fire blight, can gain some protection against this disease with low rates of Apogee in the pink and petal fall periods.
April 18 was the first apple scab infection of the year. The long wetting period on April 30 and May 2 were apple scab infection periods, with symptoms expected mid-May for apples not protected for these episodes. Scab ascospore numbers have been high during recent rains. Typically, a cold winter will kill overwintering buds infected with powdery mildew.
Scout for shoot tips infected with powdery mildew. Cedar apple rust and other rust diseases are of concern for susceptible varieties or locations with cedar and/or junipers nearby. Redbanded leafroller and spotted tentiform leafminer moth catch numbers are beginning to fall.
Pears are at full bloom. Pear psylla adults are out.
Small fruit
Grape buds have burst. In the most advanced varieties, shoot growth has begun and leaves are unfolding. In general, Concord shows a lot less damage than Niagara grapes. There has been some feeding by grape flea beetle and climbing cutworm. After bud burst, these pests cause little damage. Open grape buds and shoots are injured by freezing temperatures. As the flower clusters on the shoot are exposed, protect from phomopsis, powdery mildew and black rot.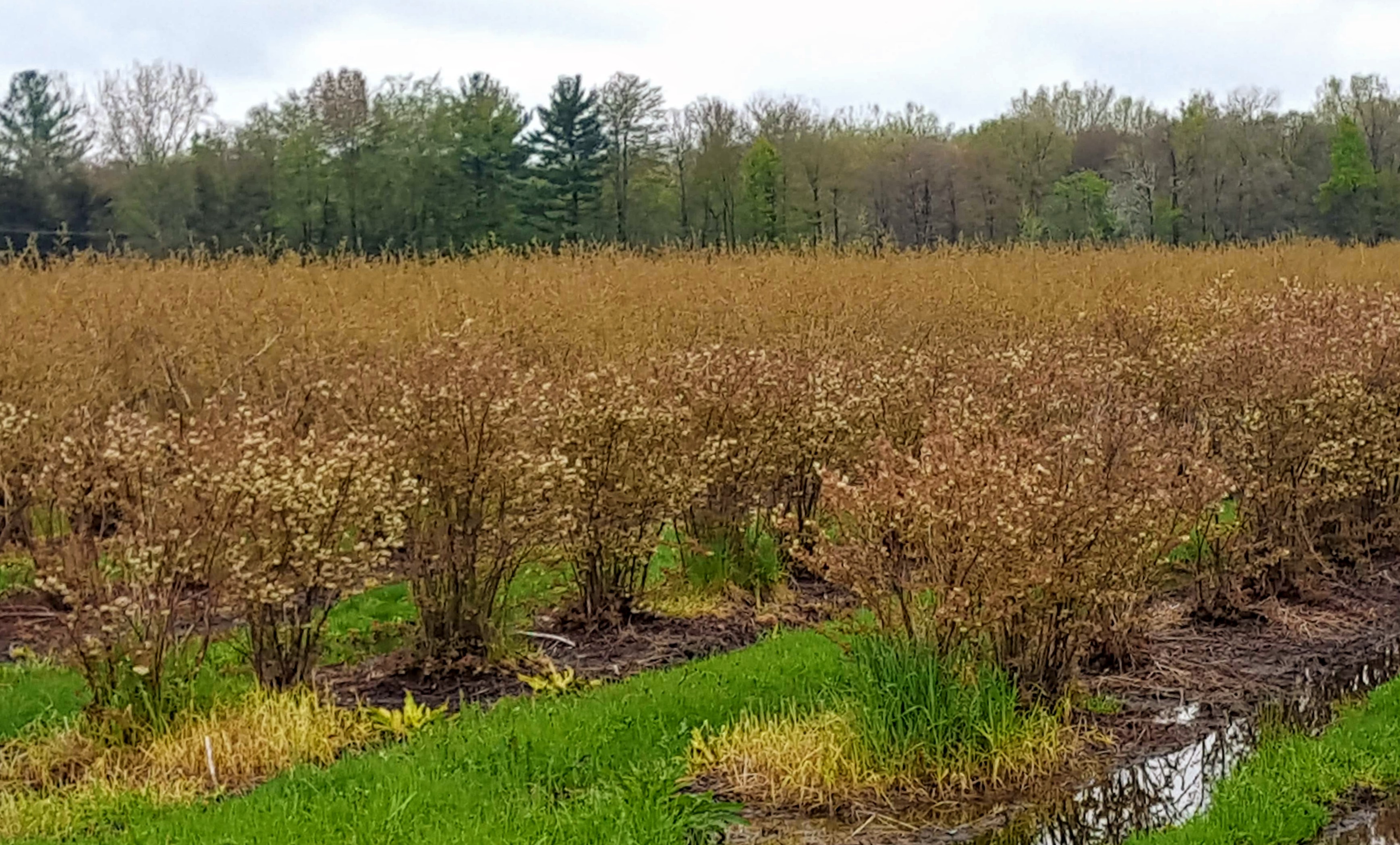 Blueberries have moved slowly this last week and are still at pink bud. Bloom has begun in earliest varieties in the south and away from the Lake. We are beginning to see the effects of the winter cold in blueberries. These effects are scattered and often only affect a few shoots on a bush. At some shoot tips, flowers buds swell and then stop growing before they open while leaf buds below them are growing normally. We are seeing shoot dieback low in the bushes as well. Despite this, the overall health of the bushes and number of flower buds look good and we should have a heavy bloom when flowers open with warmer temperatures in the next two weeks.
With more shoot growth and bloom, it will be easier to quantify winter damage. At late pink bud and bloom, blueberry flower can be damaged by temperatures below 28 F. Leaves are unfolding and shoot growth is well underway. Because of the cool weather, leaves have a red or orange cast, which will go away when temperatures warm up.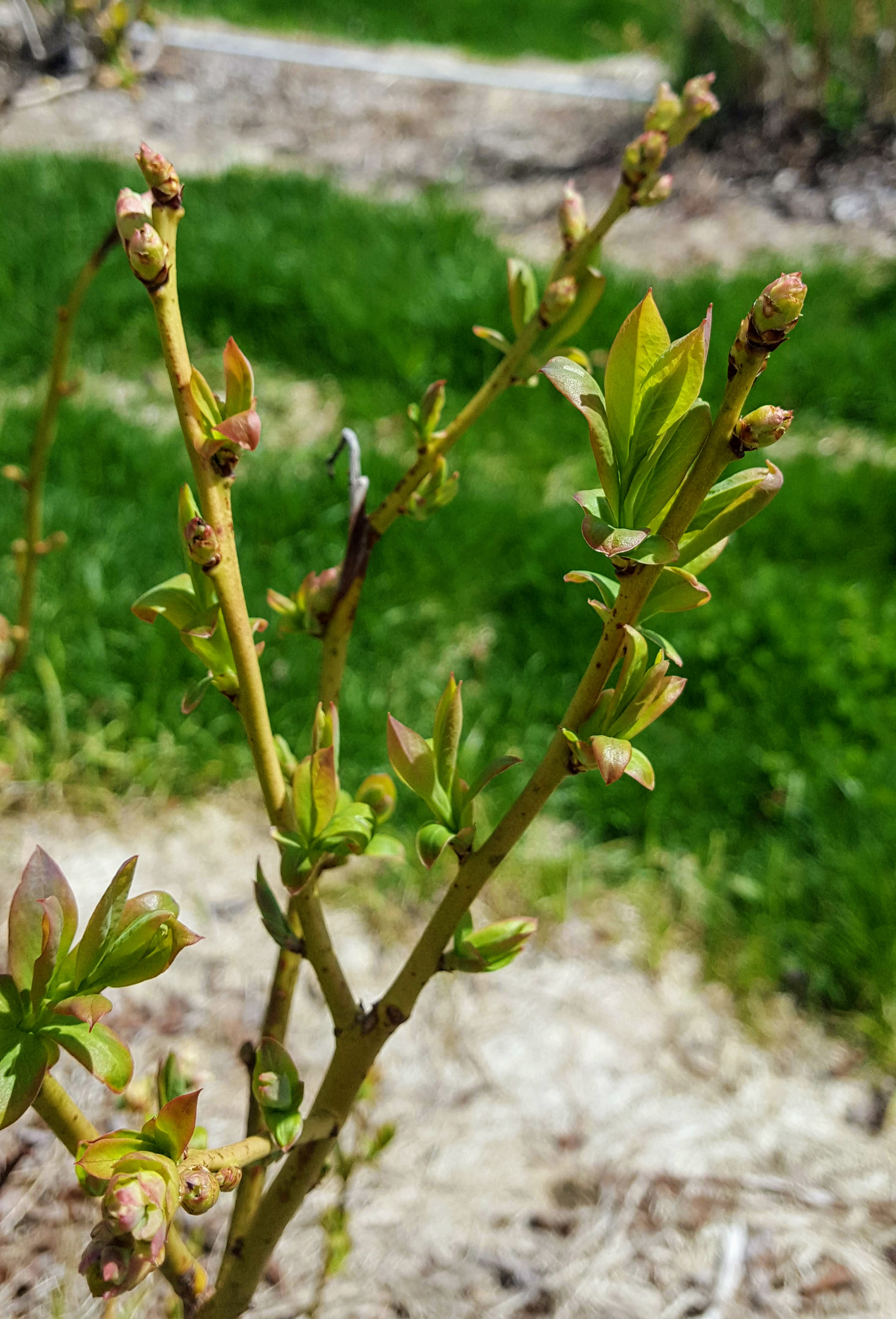 Most of the rains last week were too short for mummy berry shoot strike infections, but rains the previous week were heavy infection periods. Mummy berry has not been a serious disease for several years, but scout for shoot strikes this week to determine the need for bloom fungicide applications. During bloom, be aware of bees when you spray. Avoid spraying in the middle of the day when bees are actively foraging and pollinating blueberries.
Traps for cranberry fruitworm and cherry fruitworm should be out. We should see cherry fruitworm soon. See "Using degree days to predict pest and crop development in blueberries" for more information.
Strawberry flower trusses have emerged from the crown. Southern fields have some open bloom. Once the flower buds have emerged, they can be damaged by temperatures of 28 F. Remember, it is much colder close to the ground where the strawberry flowers are. There were no reports of flower loss from last Saturday's near freeze, but some growers did run their sprinkler systems (see" Using sprinklers to protect plants from spring freezes"). Sprays to control strawberry clipper should be applied as the flower buds emerge from the ground.
Bramble leaves are unfolding. Shoot growth is underway and flower clusters are visible in the growing shoots. Monitor for leafrollers and raspberry sawfly.
Saskatoon bloom has ended. Current bloom is ending.
Cranberry fields are still not greening up and there is little bud movement. We need warmer weather for cranberries to take off.
Upcoming meetings
Our next Monday fruit IPM meeting will be May 20 at 5 p.m. at Fruit Acres Farms, 2559 Friday Rd, Coloma, MI 49038. These meetings are free and open to all. We review the current conditions in fruit crops and discuss pest control options with growers. Two Michigan RUP applicator recertification credits are available at these meetings.
A Blueberry Pollination Meeting is planned for Thursday, May 23, from 1 – 5 p.m. at the Trevor Nichols Research Center in Fennville, Michigan. Registration details will be released soon.
Related articles