Southwest Michigan fruit update – May 7, 2019
Tart cherries are in full bloom. A cool, wet week with a bright sunny weekend is forecasted.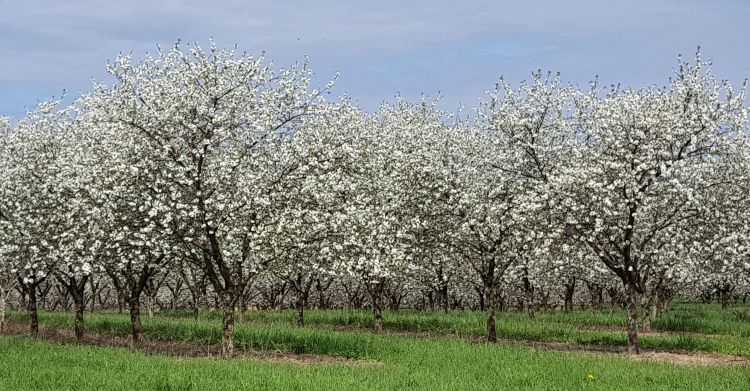 Weather
Last week began wet with rain Monday, Tuesday and Wednesday. This dropped high temperatures into the 50 and lows in the 40s. Precipitation totals were about 3 inches across the region. The three-day rainy period had multiple apple scab infection events. The weekend was warm and sunny with highs around 70.
The forecast for this week is for more rain Tuesday, Wednesday and Thursday with clearing over the weekend. Many fields have standing water. Turf and perennials are greening up and leafing out fast. Temperatures should continue to be cool and mild with highs in the 60s and lows in the 40s.
With cooler temperatures, we picked up less growing degree days (GDD) than the previous two weeks. We picked up about 50 GDD base 42 and 16 GDD base 50. Judging by the bloom of tart cherries, we are about five to seven days behind their average bloom date.
Soils are wet and soil temperatures are below 50 degrees Fahrenheit. For most of the region, there is less than a 10% chance of a hard freeze (28 F) based on historic freeze dates.
Southwest Michigan GDD summary from March 1 – May 5, 2019

Station

GDD 42 F

GDD 45 F

GDD 50 F

Benton Harbor (SWMRC)

289

208

114

Lawton (Lawton)

300

216

119

Fennville (TNRC)

235

165

118

Average for the SW region

296

213

118

Accumulation last week

50

32

16
Check out the new animated weather forecasts from Jeff Andresen, Michigan State University agricultural meteorologist, on MSU Extension's Weather for Fruit & Nuts page. Articles and other regional reports can be found at the New for Fruit & Nuts page.
Tree fruit
Bloom continues with tart cherries and pears. Apple bloom is just starting. We are nearing the end for the danger of spring freezes. At this time, temperatures of 28 F or below would damage flowers and young fruit.
Apricots are in the shuck.
Peach and nectarine leaves are expanding rapidly. Peaches range from pink to first open bloom. A few more bloom, usually basal shoot buds, are showing up on certain varieties and areas closer to Lake Michigan. Trees damaged by the winter have delayed leaf bud development and some splitting trunks. Wood damage from January's subzero temperatures will call for different pruning and fertilizing strategies (see "Cold damage to peaches.")
With little or no peach crop, using copper to suppress bacterial spot populations and protect the fruit may not be needed. Traps for monitoring the first generation of oriental fruit moth and dispensers for mating disruption should be out. The Enviroweather Oriental Fruit Moth model predicted emergence about May 1. The model predicts male emergence at 175 GDD base 45 from April 1. First catch of oriental fruit moth in this area was reported by the Trevor Nichols Research Center on May 6. Newly planted and one-year-old peach and nectarine trees should be protected against oriental fruit moth, which attack the shoot tips in early spring.
Sweet cherry bloom is ending. Tart cherry bloom began last week and tarts are in full bloom. Bloom looks good. Tart cherries do not seem to have suffered much from the polar vortex in January. We had excellent pollination conditions over the weekend. The wet weather during bloom carries a risk of brown rot blossom infection, but it looks like temperatures will be too cool most of the week (see "Considerations for pre-bloom and bloom sprays for American brown rot"). As leaves expand they become susceptible to cherry leaf spot.
European plums are blooming and Japanese plums are in petal fall. We are seeing differences in flower bud numbers from site to site and different varieties similar to those in apricots and cherries. Growers with black knot in their orchards should prune out all black knot and dispose of the knots by burning. This is an important step in managing this disease. Ascospores of the black knot pathogen are released from knots from late April to early July, with the highest concentrations in May.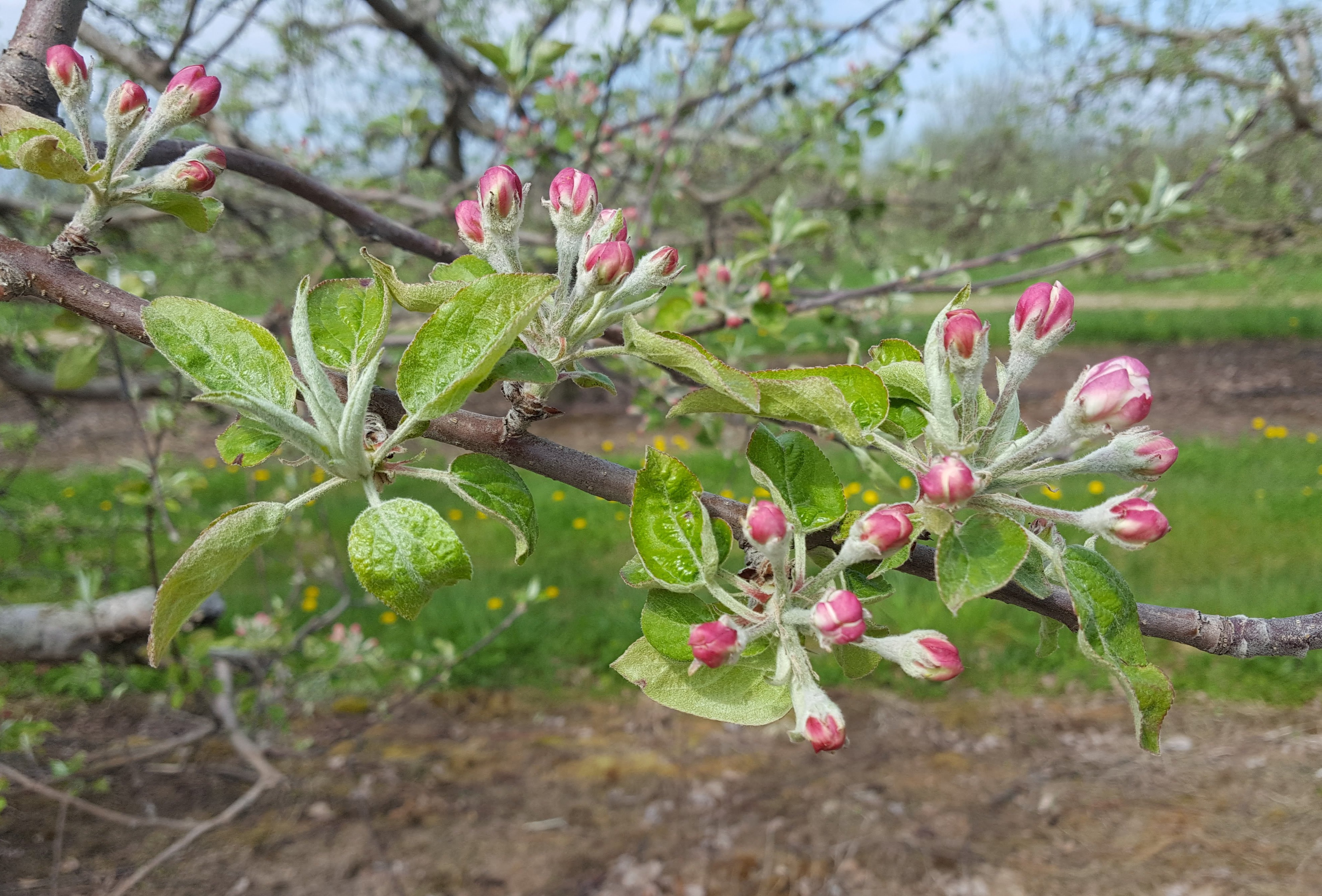 Apples are generally at pink and bloom has begun in some early blooming varieties such as Zestar. Cool temperatures are not conducive to fire blight development. Generally, the fire blight risk is low if the average temperatures are below 60 F (see the MSU Enviroweather Fire blight Assist Model). Newly planted apple varieties such as Gala and Fuji, which are highly susceptible to fire blight, can gain some protection against this disease with low rates of Apogee in the pink and petal fall periods.
April 18 was the first apple scab infection of the year. The long wetting period on April 30 and May 2 were apple scab infection periods. Scab ascospore numbers increased with recent rains.
As we approach bloom, diseases such as powdery mildew and cedar apple rust become important. Typically, a cold winter will kill overwintering buds infected with powdery mildew. Scout for infected terminals with signs of powdery mildew. Redbanded leafroller and Spotted tentiform leafminer numbers are still high.
Pear bloom has begun. Pear psylla adults are out.
Small fruit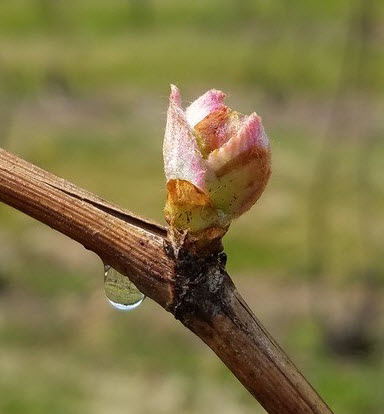 Grapes are at bud burst. We are seeing many buds in vinifera and hybrid grapes with no movement indicating they were killed in the winter. Growers are assessing their vines and cutting back their winter damaged vines. Juice grape growers also report significant lack of growth from cold injured buds in Concord and Niagara grapes. For the actively growing buds we are moving past the point when grape flea beetle and climbing cutworm feeding is a serious problem. After bud burst the grape buds and shoots can be injured by temperatures just below freezing.
Blueberry flower buds are at tight cluster to early pink bud. Bloom has begun in some early varieties in the south and away from the Lake. We are beginning to see the effects of the winter cold in blueberries where flowers buds swell and then stop growing before they open. Other buds seem to have reduced flower numbers. As we approach bloom it will be easier to quantify this damage. There are also many undamaged buds in most fields. At pink bud and tight cluster, blueberries can be damaged by temperatures below 25 F.
Leaves are unfolding and shoot growth is underway. Because of the cool weather leaves have a red or orange cast which will go away when temperatures warm up. Monday's rain was certainly a mummy berry shoot strike infection. Cool, wet conditions are ideal for this disease. Scout for shoot strikes later this week and this weekend. Many growers have struggled to apply fungicides to suppress early season diseases because of the wet field conditions.
Strawberry flower trusses are emerging from the crown. Once the flower buds have emerged they can be damaged by temperatures above 20 F. Sprays to control strawberry clipper should be applied as the flower buds emerge from the ground.
Bramble buds have opened and leaves are unfolding. It is too late for lime sulfur treatments for anthracnose. Monitor for leafrollers and raspberry sawflies.
Saskatoons were in full bloom last week. Currents are blooming now.
Cranberry fields are not greening up fast and there is little bud movement.
Upcoming meetings
Our next Monday fruit IPM meeting will be May 13 at 5 p.m. at Fruit Acres Farms, 2559 Friday Rd, Coloma, MI 49038. These meetings are free and open to all. We review the current conditions in fruit crops and discuss pest control options with growers. Two Michigan RUP applicator recertification credits are available at these meetings.
A Blueberry Pollination Meeting is planned for Thursday, May 23, from 1 – 5 p.m. at the Trevor Nichols Research Center in Fennville, Michigan. Registration details will be released soon.
Related articles