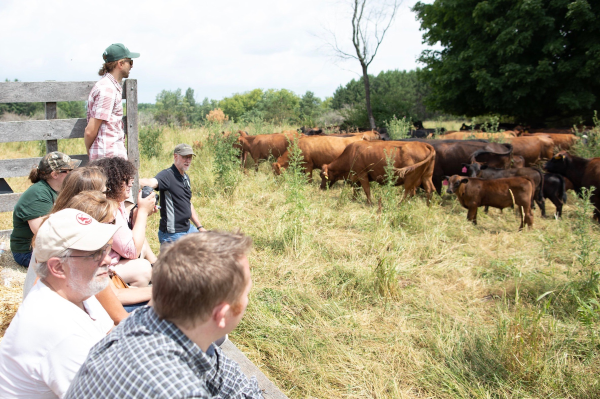 Growing a Local and Regional Meat Industry in Michigan: The Michigan Meat Network as a Case Study of Collective Impact Theory
DOWNLOAD
June 26, 2019 - Author: Judith Barry, Noel Bielaczyc, Mark Lelle
The overall goal of the Michigan Meat Network is to improve business viability for Michigan's livestock producers and meat processors, while helping to meet the rising consumer demand for local and regional meat products. The Michigan Meat Network was developed in response to stakeholder feedback in meetings from 2014-2015 and follow-up interviews with key stakeholders in the meat and livestock industry.
In response to information gathered, the Michigan Meat Network was developed as a business-to-business network to improve communication, as well as support the growth of strategic alliances between farms, processors, and other supply-chain partners, such as food distributors, institutional food service, retail businesses and educators, researchers, and regulators.
The network offered:
Educational and networking events for businesses and individuals along the value chain;
Use of the MI MEAT NET Google group to post questions, seek business connections, make announcements, and share resources and tools;
General business and technical resources for producers, processors, and other meat value chain businesses, including research, webinars, and business tools;
Customized business and marketing support through a market intermediary.
To evaluate network activities, surveys were distributed to the entire Michigan Meat Network and faculty and staff at MSU who were involved in meat and livestock work. Responses were recorded from network participants and Michigan State University faculty and staff. In addition, evaluations on the tours and interviews with project stakeholders were conducted to better understand the outcomes of the network activities.
Topline Findings
Meat processing and business research, educational resources, and networking opportunities were rated the most valuable parts of the network.
Developing trust in a network can be a lengthy process.
Producers need support to achieve business viability. Processors need assistance with labor and regulations.
Long-term funding is necessary to develop a network.
Suggested Citation
Barry, J., Bielaczyc, N., & Lelle, M. (2019). Growing a local and regional meat industry in Michigan: The Michigan Meat Network as a case study of collective impact theory. Michigan State University Center for Regional Food Systems. Retrieved from: http://foodsystems.msu.edu/resources/michigan-meat-network-collective-impact
Download the file to read the full survey findings!