Curricular Special Options
ACUHO-NACUFS Summer Experience
ACUHO-NACUFS Summer Experience
The ACUHO-NACUFS Foodservice Management Internship sponsored by the Association of College and University Housing Officers-International (ACUHO-I) and the National Association of College and University Foodservices (NACUFS) is an eight-week program designed to give students an opportunity to learn and experience one part of the foodservice industry through exposure to a college/university setting.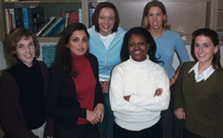 Purposes of the Program
Introduce aspiring young professionals to the many challenging opportunities
available in the profession that has experienced tremendous growth and
exciting technological change.
Provide an on-the-job experience that will better qualify the student to assume
responsibilities related to college and university foodservice.
Make available a program that will attract outstanding young people in sufficient
numbers to meet the demand for professional trained staff in this field, and
to make their final academic year more meaningful.
Who May Apply
All college students in their sophomore, junior or senior year pursuing a program in hotel and restaurant management, foodservice administration, institution management, dietetics or related fields. Students with foodservice experience may also apply.
Dates will be set by the participating schools for the program to coincide with their summer sessions. Accepted applicants may not be assigned to the school that they are attending.
Students from Michigan State University have found the ACUHO/NACUFS Program to be an exceptional experience. MSU students successfully completing this program can substitute the experience in HNF 445 "Foodservice Management Experience."

For an application, visit the NACUFS web page: http://www.nacufs.org/careers-internships.
Independent Study and Practicum Experience
Independent study is available to students in nearly all departments. For dietetics students, the course number is HNF 490, or it can be taken as an honors option under HNF 490H. Independent study allows students to explore interests in a particular area outside of a normal classroom setting. The professor helps with the exploration by guiding and offering expertise to the student. Overall, this experience can enhance an undergraduate program, experiences and references.

Students wanting to obtain professional experience in selected settings and organizations under faculty supervision may enroll in a 494 Practicum course. Students receive a pass/fail in 494 courses rather than a specific grade. For example, in the Department of Food Science and Human Nutrition, students would enroll in HNF 494 and would work with specific faculty.

Meeting with a faculty member is the first step in the process of establishing an independent study or practicum experience. Once the student decides what area to explore and the faculty member agrees to sponsor, the independent study or practicum experience contract is made.
Olin Health Education: REACH Program
REACH is a peer health advocacy program that focuses on promoting a positive campus community that reflects the attitudes, behaviors, and values of a healthy Spartan lifestyle.
REACH is a one-credit academic course typically, but not always, offered in Spring. Students are provided with experiential and didactic learning opportunities on both the philosophies of health education as well as specialized topic areas. At the end of Spring, interested and eligible students will be asked to enroll for 2 more semesters (one-credit each) for the service component of REACH in the next academic year.
For more information or to request an application, e-mail REACH at: msureach@gmail.com.
Dietetics students enroll in HNF 490 in a section designated specifically for Reach advocates. Enrollment requires approval of the Olin health education director, completion of an Application for Independent Study available in the Trout Career Center (106 Trout FSHN Building), and request for an override. The FSHN faculty coordinator for the program is Dr. Lorraine Weatherspoon.
Foodservice Experience
Students may obtain foodservice experience by employment "for pay" in one of the residence halls foodservices on campus, including Brody, Case, Holden, Wilson, Holmes, Akers, McDonel, Hubbard, Owen, Shaw, West Circle (Landon and Yakeley), and Snyder/Phillips. Through this experience, students will be exposed to various aspects of foodservice. This experience in foodservice will lay an essential and excellent foundation for success in HNF 445, the foodservice practicum course. Hardworking students, exhibiting potential and an excellent work ethic, are eligible for promotion to student supervisor in the residence halls foodservices. Apply in the foodservice manager's office at the residence hall of your choice.
Service Learning Center, Volunteer Services
The volunteer services program at Michigan State University is located in the Service Learning Center, Room 27 of the Student Services Building. Volunteer experiences are very important to a student in planning for the future. The more diet-related work experience one has, the better the chances of receiving a dietetic internship appointment. The experience may help students decide if they have chosen the right major. The Services Learning Center at MSU has positions available in hospital and nursing home dietary departments that provide experience in the clinical setting as well as in community programs. Placement in nutrition education programs may also be available.

Students must sign up for volunteer experiences online or in the Service Learning Center at the Student Services Building. Check with the Service Learning Center about sign-up dates. The most popular experiences go very fast.