Other Events
Landscapes EXPO 2016
The LANDSCAPES Convention, is a trade/industry show put on by NALP (former PLANET). It is based on the landscaping industry, and has an amazing equipment expo, in which we are allowed to use and test some. The event features great speakers, educational opportunities and a lot of networking.
Networking Night
Networking Night gives students the opportunity to interact with companies in various areas of the Horticulture Industry. The event follows a speed dating format that allows the students to meet with several companies throughout the night. Every year we invite companies that range from Greenhouse Production, Nursery Management, Floriculture, Marketing, Ladscape Design and more! This event is perfect to connect with possible employers and develope a strong professional profile at the same time!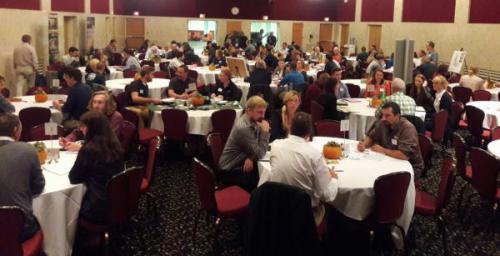 Networking Night 2016
This year's event has taken place on Wednesday November 2nd, 2016 in the MSU Union Ballroom from 6:30-8:30pm. The cost to attend was $10 for non-SHA members; SHA members could attend for free. Please refer to the list of companies attending posted below. This year we had 25 companies confirmed! We encourage you to do some research on the companies attending and opportunities posted on their websites, this will help you decide which companies you are most interested in.
Companies Attended:
Landscaping: Barkman Landscaping (Davison, MI), Bartlett Tree Service (MI & U.S.), Blue Ridge Landscape (Holland, MI), David J Frank (Germantown, WI), Drost (Petoskey, MI), Harder and Warner (Grand Rapids, MI), Landscape Design Services (Holland, MI), Mariani Landscape (Lake Bluff, IL), Outdoor Expressions (East Lansing, MI), Poseidon Ponds (Dexter, MI), Tru North Landscaping (Traverse City, MI), Wiegand's Nursery (Macomb, MI)

Nursery/Greenhouse: American Hort (Columbus, OH), Ball Horticulture (Chicago, IL), Dow Gardens (Midland, MI), Masterpiece Flower (Grand Rapids, MI), Midwest Groundcovers (MI and IL), Raker Greenhouse (Jonesville, MI), Spring Meadow Nursery (Grand Haven, MI)

Vegetable/Fruits: Agro Liquid Fertilizer (St. Johns, MI), BrightFarms (IL, PA, VA), Dow Chemical Company (Midland, MI), Fenn Valley Vineyards (Fennville, MI), Wilbur-Ellis (MI & U.S.), Syngenta (U.S.)
Ag Olympics
Ag Olympics an event that takes place at the end of the fall semester. It is a friendly competition between the various club assiciated with the College of Ag. and Natural Resources. Teams compete in various random events. This year included turkey bowling, sunflower seed spitting, a milk chugging contest, and cheese puff target practice. The event was a success this year and everyone had a great time. Plus this year we got 2nd place!