Cash Composition Contest 2023
March 21, 2023 - April 30, 2023 Contest is open through April 30, 2023.
Registration Deadline: April 30, 2023 - 12:00AM
---
Contact: Katherine Jamieson , Laurie Rivetto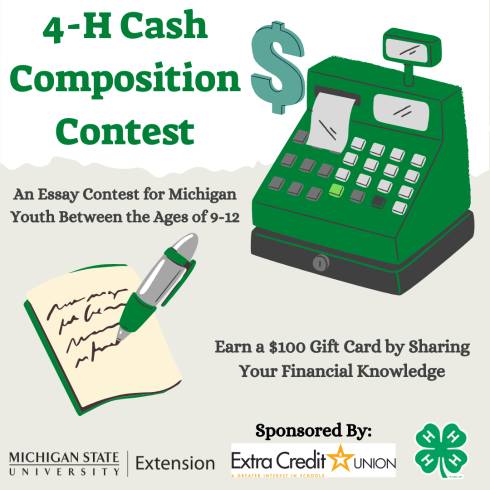 In support of Financial Literacy Month (April), Michigan State University Extension and Michigan 4-H are sponsoring the Cash Composition Contest. Youth residing in Michigan, aged 9-12 years old as of Jan. 1, 2023, are encouraged to answer this year's Essay Question (see below) with an essay of 300 words or less. The top scoring essays will win a $100 gift card thanks to the generous sponsorship of Extra Credit Union.
2023 Essay Question:
What is the difference between a need and want? Discuss how you determine if something is a need or a want. How can you make sure you have enough money to get your needs and still enjoy some of your wants? Share how needs and wants might change throughout one's life.

Essays are scored on:

Quality of Writing
Organization and Information
Grammar and Mechanics

Timeline:
April 30, 2023: Essay Submission due by 11:59 p.m. ET
May 31, 2023: Winners notified by this date
Who Should Enter:
Any youth 9-12 years old (as of Jan 1, 2023) residing in the state of Michigan. Open to both 4-H and non 4-H members. For more information on joining 4-H, check out the Michigan 4-H website.
To Enter:
Youth must have parent or guardian permission to apply and participate.
The application form must be completed by a parent or guardian.
Youth must write an essay (300 words or less) on the assigned topic above.
Essay response will be typed or pasted into the application form on registration page. It is recommended that youth write their essay in Word or a Google doc prior to completing the registration/submission form.
The essay must be the work of the student submitting the essay.
All essays become the property of the Michigan State University Extension 4-H Youth Development Program and may be used by contest coordinators to promote financial literacy.

Sponsor
Thank you Extra Credit Union for sponsoring this year's contest!

Download Contest Flyer

Social Media:

Follow us on Facebook, Instagram, and/or Twitter for additional contests, events, resources and news on youth financial topics.
Related People
---