The 2018 Agricultural & Applied Economics Association (AAEA) conference saw active participation by Department Agricultural, Food, and Resource Economics (AFRE) faculty members, graduate students, research associates, and staff members. More than 50 department members presented, competed, judged, and collaborated at the conference in Washington D.C. from August 5-7, 2018.
"Michigan State University was well represented at the 2018 AAEA conference by the 50 AFRE faculty and students in attendance," said Titus Awokuse, AFRE chairperson. "Our faculty and students were heavily featured in several sessions as organizers, moderators, and presenters, and of course, an MSU faculty member was inducted as AAEA Fellow for the second year in a row."
That AFRE professor was Thom Jayne, perhaps the department's brightest highlight at the conference, as he was honored a 2018 Fellow of the AAEA, the highest honor in the association and profession.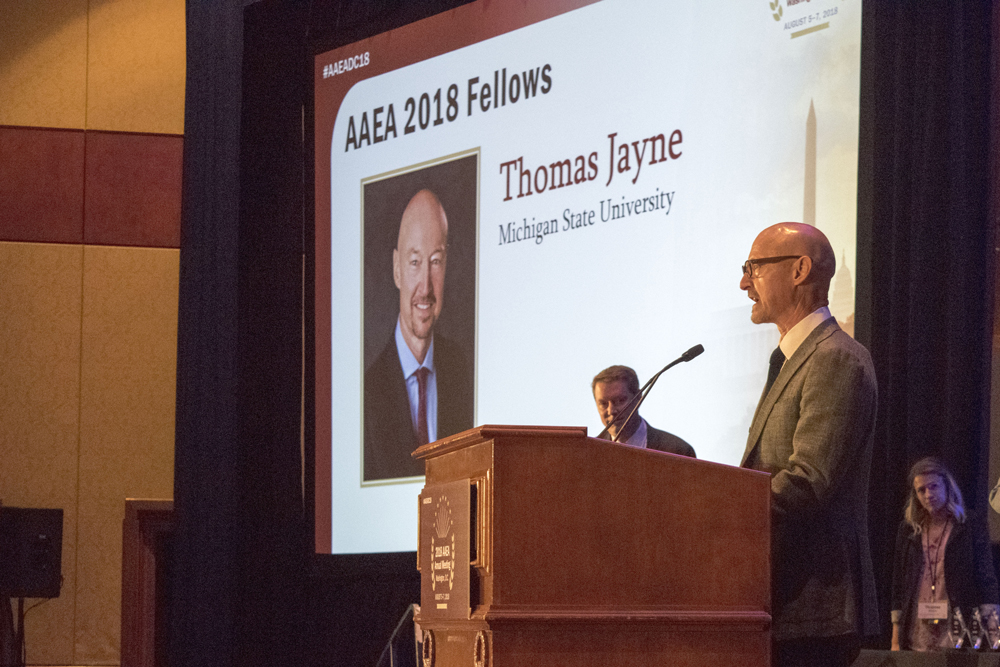 AAEA President and AFRE professor Scott Swinton presided over the conference, and transitioned to "past president," after passing the gavel to David Zilberman at the AAEA Business meeting.
"The annual meeting was a huge success," said Swinton. "A real high point was African Development Bank President Akinwumi Adesina's keynote address. Adesina, who received an honorary PhD from MSU in May, called for applied economists to get involved in the policy process. He praised the work of AAEA Fellow Thom Jayne in building statistical data sets that can inform agricultural policy making in Africa."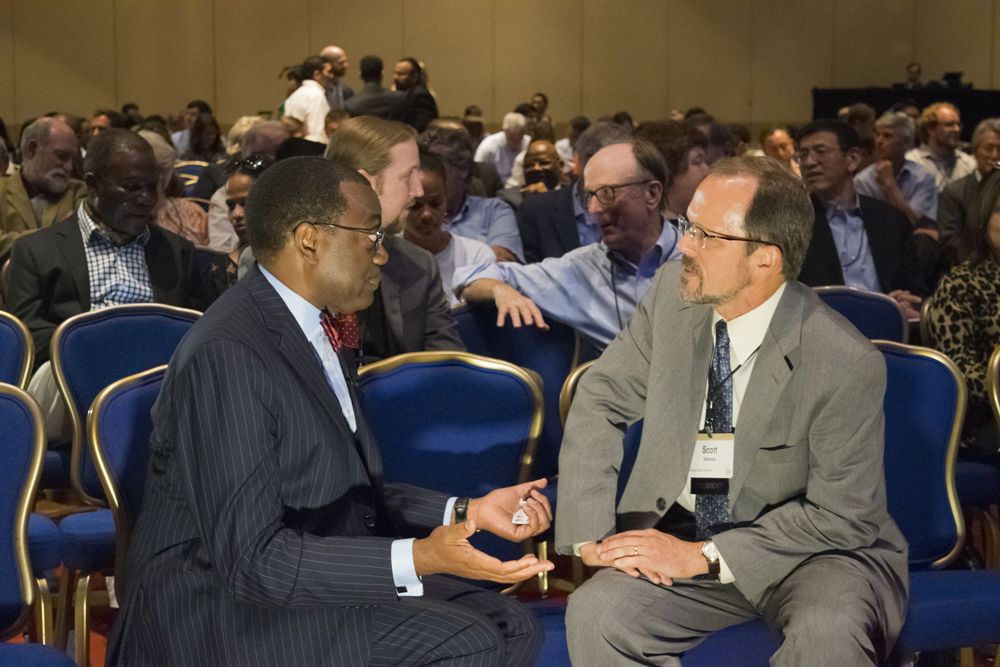 AFRE's graduate students were well represented, as the MSU team won first place in the Graduate Student Case Study Competition, for the second year in a row. Ph.D. students Stephen Morgan, Braeden Van Deynze, Samantha Padilla, who was also on the winning IFAMA team, brought home the win through collaboration and strategic thinking.
"We couldn't have done it without the support of the department," said Padilla. "Now with four case study competition wins in the last two years, we've helped solidify AFRE's spot as a top program."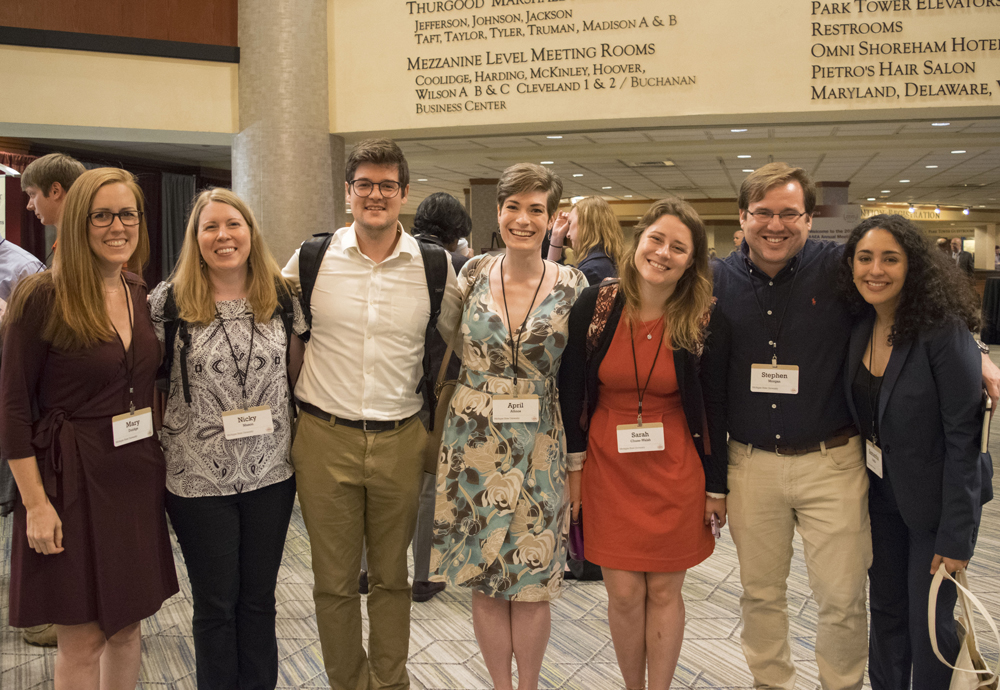 Faculty members and graduate students presented selected papers, served as panelists, and displayed research poster throughout the event, and the department was also represented as an exhibitor, with a booth featuring its programs and centers, including the Feed the Future Innovation Lab for Food Security Policy.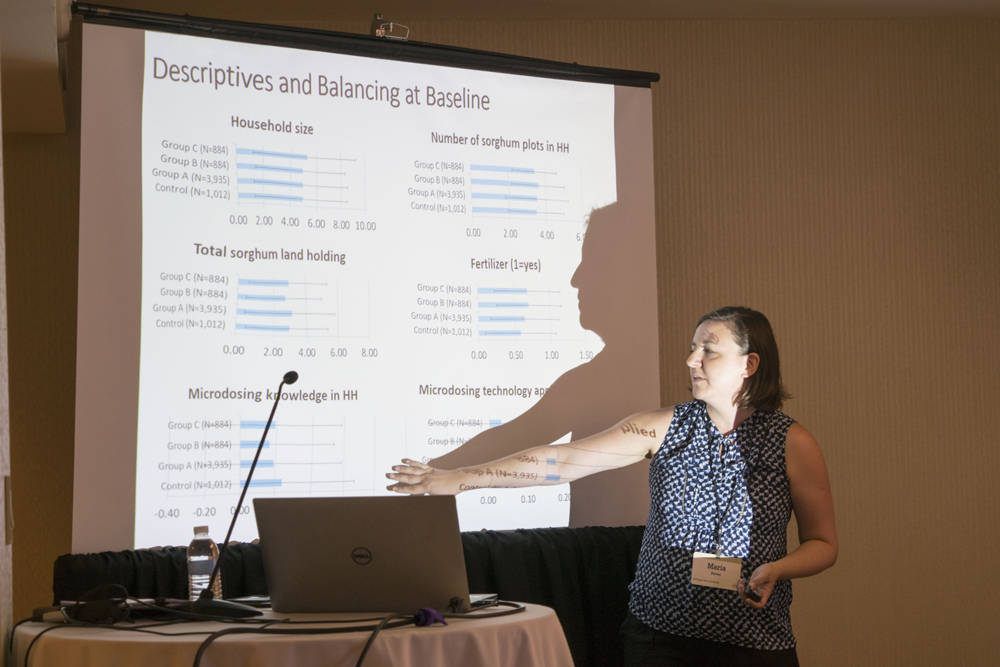 "We're very pleased to have had such a strong showing this year," said Awokuse. "And we're already looking forward to an even better event at the 2019 AAEA meeting planned for Atlanta, GA."