Combating disease for Michigan's wheat industry
Eric Olson is a member of the Wheat Breeding and Genetics Program at MSU developing wheat varieties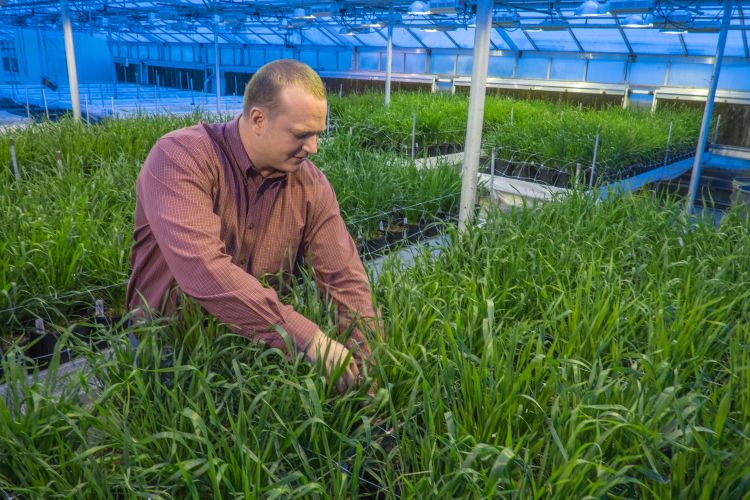 For Michigan State University Plant, Soil and Microbial Sciences (PSM) Professor Eric Olson, food security starts locally by making sure growers are put in the best position to succeed.
"I got into this business to take care of farmers and rural economies," he said. "I grew up in a small farming community in Wisconsin. I lived through the farm crises in the '80s and '90s. Rural economies are really important.
"What we do at MSU, and the methods we are implementing have a global impact and support the bigger picture, but it all comes back to farmers for me. When local agriculture is strong, that reaches everybody."
Olson is a member of the Wheat Breeding and Genetics Program, which develops varieties for the wheat industry of Michigan.
"The goal of our research is to release commercial varieties that are grown by Michigan's farmers and ultimately turn our varieties into food products to feed Michigan," Olson said. "In terms of the traits we work on, grain yield would be No. 1. That represents the economic value for the farmer. The second would be disease resistance and that would be more relevant to secure food resources globally.
"When we face challenges to production, plant breeders are the frontline defense. We are the ones who are able to deliver genetics that have resiliency to these challenges. The near-term impact, the ability to respond to these challenges quickly, is why I became a plant breeder."
Olson partners with the National Wheat Improvement Committee and the National Association of Wheat Growers to stay ahead of problems facing wheat producers across the country. He is working with the U.S. Wheat and Barley Scab Initiative to combat fusarium head blight, a disease getting a lot of recent attention.
"[Fusarium head blight] is really taking the most of our resources right now," he said. "There are many researchers at MSU who are working on this."
Michigan grows primarily soft winter wheat, which is used to produce cereal, crackers, cookies, pastries and pizza dough.
"A lot of our products feed people directly," Olson said.
Michigan wheat is represented in nearly all of the wheat products sold in supermarkets, and Olson takes it upon himself to help ensure people are eating the best possible products.
"If I can improve the nutritional value of Michigan wheat, I can influence what people eat, including in food deserts like Detroit or other major urban centers," he said. "This wheat can provide a safe and abundant food supply that really keeps the cost of food down."
Olson said partnerships with researchers at MSU, through programs like the Plant Resilience Institute, help form a robust and responsive team.
"At MSU, I can tap into all of these intellectual resources, and we can integrate all of these different experts to get to that end result," he said.
Ultimately, Olson has his sights set on significant increases in wheat yield by the end of his career.
"I want to have a raised yield potential in wheat by 50 percent," he said. "That's the goal."
Wheat yield in Michigan currently averages around 75 to 80 bushels per acre each year. In the 1990s wheat yield fluctuated greatly with an average of around 50 bushels per acre for the decade.
For now, Olson is pleased that his soft white winter wheat variety called "Whitetail" is the highest average yield of any wheat grown in the state.
This article was published in Futures, a magazine produced twice per year by Michigan State University AgBioResearch. To view past issues of Futures, visit www.futuresmagazine.msu.edu. For more information, email Holly Whetstone, editor, at whetst11@msu.edu or call 517-355-0123.