East Michigan vegetable update – May 1, 2019
Not much is happening in the fields. Greenhouse growers should manage for temperature and humidity during these wet, cloudy days.
Weather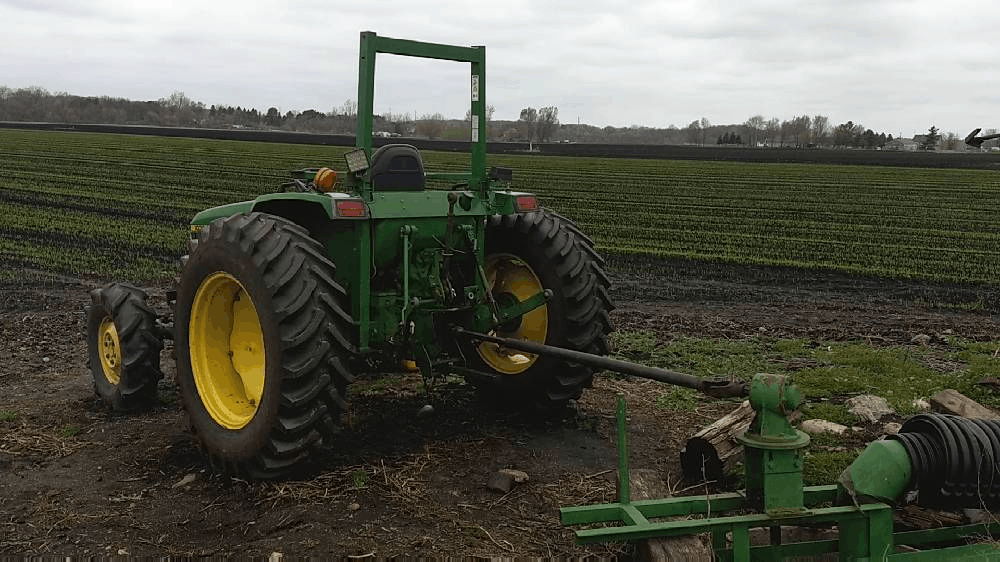 Soil temperatures are averaging low 40s. The rainfall has continued to delay some planting. We will be getting drying conditions by Friday, but with another chance of rain from a weather system coming from the southwest and continued low temperatures for the next eight to 14 days.
You can find more detailed weather information for your area by visiting the Michigan State University Enviroweather station closest to you:
This is a good week to brush up on spring trainings
If you are tired of working in the barn on these rainy days, there are number of things you can do on a computer. Such as…
Register your fields on Driftwatch to avoid herbicide spray or biosolid drifts on your high-value crop, which might be consumed raw.
Watch some MSU YouTube videos about the Food Safety Modernization Act (FSMA). The Agrifood Safety website has a series of videos on the letter of the law and practical compliance.
Prepare for FSMA inspections by signing up for an On-Farm Readiness Review to take place on your farm later this summer. This free, confidential, voluntary program will help you assess where you stand in terms of compliance.
Plan where you will take food safety water samples by using Michigan Ag Water Lab Map.
Review EPA-approved Worker Protection Standard training videos for agricultural workers and pesticide handlers. Employees that will enter areas where pesticides are applied, or who may handle pesticides, will need to view these as they come on board, and their training must be recorded by a certified pesticide applicator (both Private and Commercial Core certification allowed). Videos are in English and Spanish, with and without closed captioning, at the Pesticide Educational Resources Collaborative (PERC) website.
Complete your medical evaluation for using a respirator. At this time, MSU is set up to be able to provide the respirator medical evaluation service for anyone who needs to use a respirator for mixing, loading or applying pesticides with a respirator requirement. Interested individuals will need to complete the Initial Respirator Questionnaire and send it, along with a check for $30, to the address at the end of the form. Each individual submitting the questionnaire will receive a response in writing that will either say: 1) they are medically approved to wear a respirator and for how many years; or 2) they will need a physical examination and/or further testing. MSU can also provide respirator fit-testing. Contact Melissa Millerick-May at 517-432-0707 or melissa.may@hc.msu.edu for more information.
Vegetable crops
Greenhouse management. Damping off is a complex of pathogens that attack the crown of transplants when there is excess moisture. Botrytis (gray mold) can also attack the foliage of flowers and vegetables under similar conditions. These cloudy, wet days can make them more of a threat. Try to keep relative humidity below 85% with good ventilation and supplemental heat. In my travels, I see a lot of dollar store analog thermometers hanging around, and hygrometers I see even less of. These only give you a snapshot of the current conditions inside the house. Keep a look out for battery-operated digital units that can temporarily log the maximum and minimum temperature and relative humidity over the past 24 hours. These are usually no more than $10 at most hardware stores and you get the added advantage of knowing what kind of peaks and valleys your temperature and humidity swing to when you're not inside the house.
Field preparation is on-going as conditions allow. A burndown application of glyphosate for perennial and winter annual weeds could wait until better conditions for uptake into the plant.
Transplanted field lettuce has up to four true leaves.
Garlic could benefit from an application of 40 pounds per acre of nitrogen before the end of first week of May to ensure a vigorous plant before bulbing.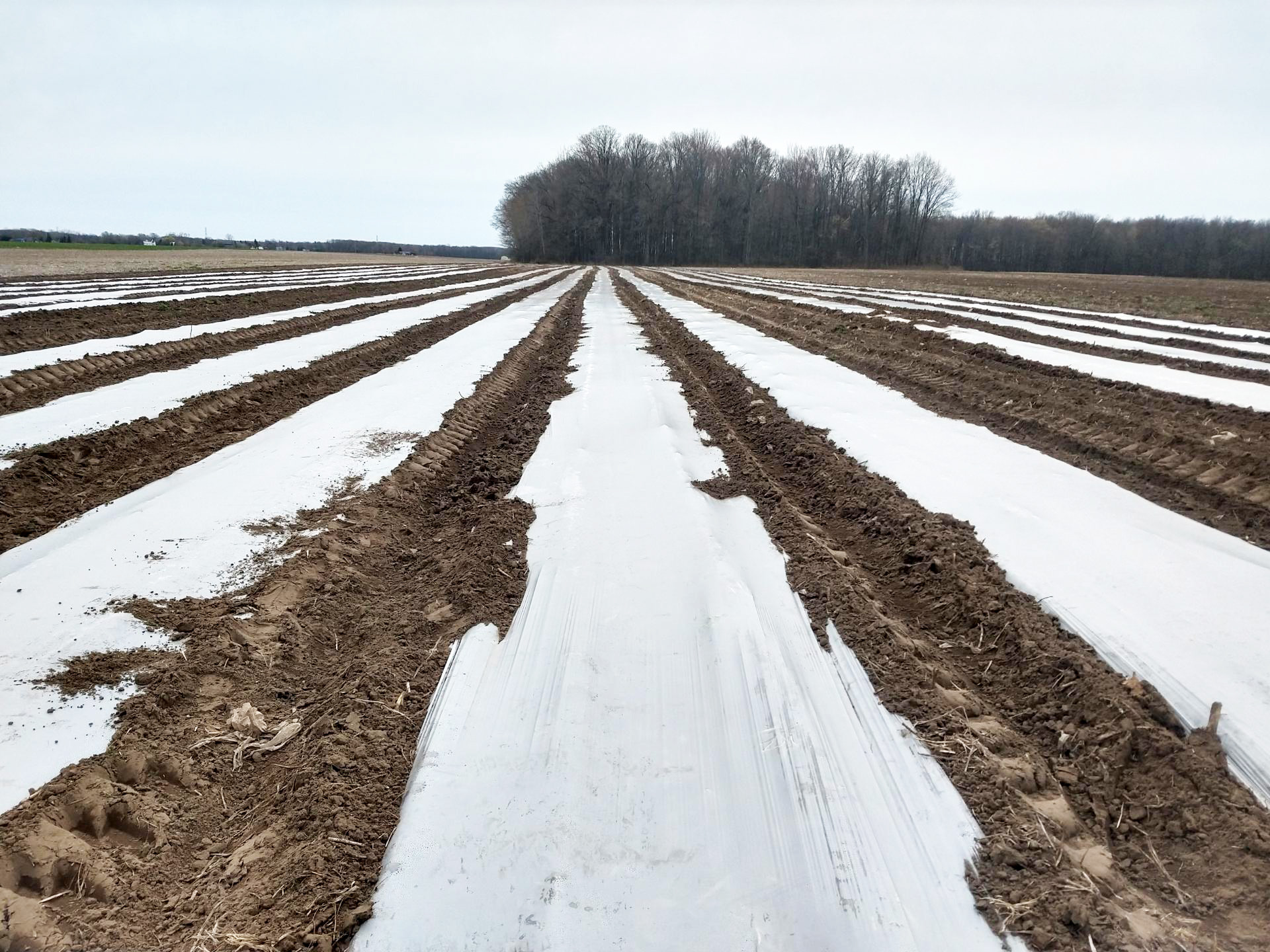 Sweet onion transplanting and storage onion seeding would ideally be finished up by the end of the first week of May, but a lot is still unplanted due to the crummy conditions.
Strawberries are not growing much and neither are weeds. Some growers are holding off on herbicide applications on emerged weeds because of the wet, cold conditions wouldn't facilitate uptake into the weed.
Heated hoophouse tomatoes are growing well this season. A small collective of growers in my region are in their second year grafting Mountain Fresh scions to Maxifort rootstock, and have even expanded from one hoophouse to three this season. So far, they are happy with the results. If you would like to learn more about grafting tomatoes, check out the Vegetable Grafting Portal.
Field tomato and pepper transplants have four leaves. Saw some peppers starting to cook last week in a transplant house that was riding at 100 degrees Fahrenheit. Hoophouses without automation require attention. The transplant stage is also an important time to monitor and manage for bacterial diseases.
Brassica transplants are ready to go at many farms, with some planting underway.
Sweet corn under plastic is up 2 inches in the earliest fields. Other early plasticulture plantings were being tucked in last week as conditions allowed.
Rhubarb field plantings has been delayed by the weather.
Meetings
It is never too early to make accommodations to attend the Great Lakes Fruit, Vegetable and Greenhouse Growers EXPO, Dec. 10-12, 2019, in Grand Rapids, Michigan. Hotel blocks are open and tend to go fast. The combination of grower-focused, research-backed presentations and an exhibit hall featuring a diverse set of vendors make it a can't-miss event.
Please contact me at phill406@msu.edu or 616-901-7513 with questions, concerns, or to schedule a farm visit. You can also send plant materials to MSU Diagnostic Services.