Entomology alumnus Abdulwahab Hafez takes on the challenge of building a pesticide safety system in Saudi Arabia
Based on his experiences at MSU, Abdulwahab Hafez believes a team with diverse international experience will best address his country's crop and food safety challenges.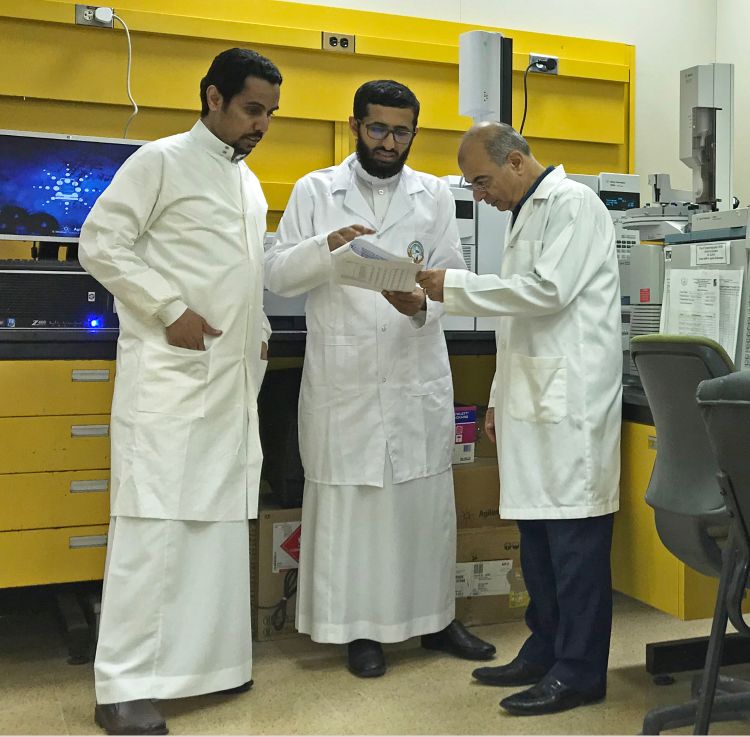 Moving from the date palms, sand and oil of Saudi Arabia to Michigan's Great Lakes, snow and orchards certainly requires an open mind. "The only thing I really didn't like was the snow," said Abdulwahab Hafez about his time with Michigan State University's Department of Entomology.
During a recent video call, Hafez discussed his experiences as a doctoral student at MSU, his work in Saudi Arabia and how he is bringing what he valued most at MSU into his own lab as a professor at King Saud University.
Tell me about what brought you to MSU Entomology? King Saud University (KSU) is the lead university in our region for studies in my field. A high percent of its professors graduated from universities in the United States. I selected several universities and asked around where I should go for doctoral studies. Everyone said apply to MSU. After talking to several MSU Entomology faculty, the best fit for an advisor was John Wise. John's work aligned with some of the challenges I wanted to address at home. We have the Saudi Food and Drug Authority (SFDA) in charge of food safety and they are making significant progress, but there is still so much to do. Alongside research in pesticide toxicology, I wanted to work on areas like building capacity for analytical chemistry in pesticide residue analysis.
At MSU, I worked on resistance of obliquebanded leafroller in apple and cherry orchards. Cherry growers complained that leafrollers were surviving and being found in their crops, especially with the high risk for load rejection due to the USDA zero-tolerance mandate, but no one had researched to understand why. We tested chemical classes of insecticides and did various chemical analyses and bioassays. With that work, we were the first to document that obliquebanded leafrollers in cherry orchards have developed significant levels of resistance to several insecticides used in pest management. Also we were the first to provide a scientific explanation of the unexpected synergistic impact of esterase inhibitor DEF on indoxacarb toxicity in C. rosaceana.
What is your current work? I graduated from MSU in August 2017 and am now an assistant professor of pesticide toxicology in the Plant Protection Department, College of Food and Agriculture Sciences at King Saud University. Similar to tenured positions in the U.S., I teach and am establishing a research lab. I have three technicians, and two master's students and an assistant professor from Pakistan will join my lab soon. I will collaborate with other organizations or businesses including representing the university on the nationwide committee of the Safety of Agricultural Chemicals.
My work also includes two consulting agreements: one with the Ministry of Environment, Water and Agriculture (MEWA) and another with the National Center for Academic Accreditation and Assessment When I met with the MEWA I realized that, MEWA has a whole new approach to work on pesticide issues "from A to Z," everything from pesticide registration, evaluation, application, and recommendations. This is a huge undertaking, which is why I'm building a team with international collaborations. My challenge is to build a system with accurate scientific guidance based on our country's conditions.
Now that you are back in Saudi Arabia, what do you think about your experience at MSU? I had a very good scientific life in the U.S. I learned about preparing proposals for grants and thought at the time it was too much bureaucracy. Now, I miss some of that system. Even though Saudi Arabia has a similar grant/fund system, with big projects it is a quite hard to convince funders about the importance of this area of science. The U.S. government understood the value of our work with pesticides and crops. While in an oil country like Saudi Arabia, agriculture issues do not come first to authorities' minds. It is a challenge to get recognition for the importance of this area of science and policy because there is not a precedence. Along with doing the science, I have to sell" a vision" of what I'm passionate about: crop protection and food safety.
I also noticed when I was at MSU, some people had worked and studied in a variety of countries and had a very open vision about how things could be done. Others had a narrow vision with zero experience beyond the U.S. I am an open-minded guy because I've experienced studying abroad and have collaborated with people from around the globe. That openness means I'm open to more solutions.
One summer in John Wise's lab, we talked about hanging up flags representing our countries, like the United Nations. We were Md Wahiduzzaman Akon (Bangladesh), Zalinda Raja Jamil (Malaysia), Srdjan Acimovic (Serbia), Anthony VanWoerkom and Charles Coslor (USA) and myself from Saudi Arabia. I miss all those people and want to build my lab to be globally diverse like the Wise lab. I believe in that!
Read about our past featured alumni.