Farm stress teletherapy resources expanded to include Michigan's aquaculture and commercial fishers
Michigan fish producers can now engage in online counseling through teletherapy support, thanks to a partnership with Michigan State University Extension and Pine Rest Mental Health Services.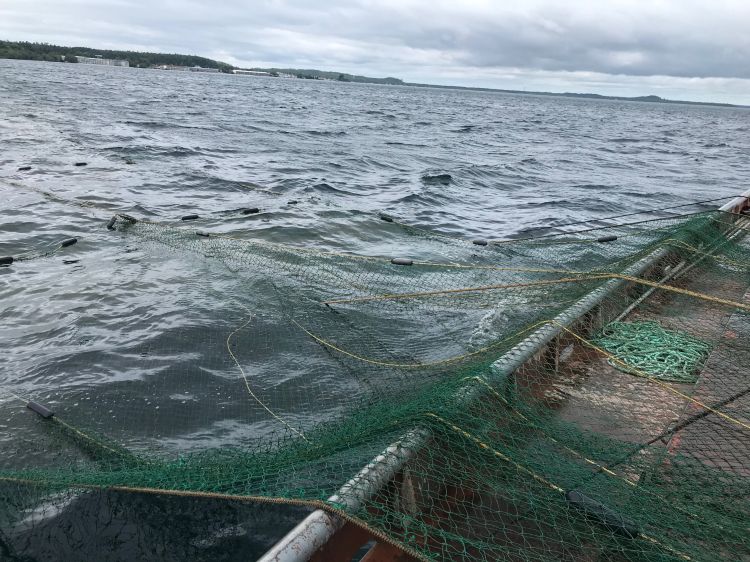 Seafood producers (aquaculture and commercial fishers) face a number of stressors involved in their daily jobs. For example, commercial fishers may battle unpredictable weather, or may cast out a net not knowing how much fish will be harvested. These stressors may be overwhelming to aquaculture farmers, or fish farmers, as their livelihood and ability to provide for their families rely on external factors, such as fish health, that stem beyond their control. Despite the significant physical and emotional demands of their jobs, aquaculture farmers and commercial fishers accept these risks as they dedicate their efforts to operating a successful business to supply fish for their communities. In an effort to help the producers of these vital industries take control of their stress and find balance in their lives, Michigan fish producers can now utilize online counseling services through a partnership with Michigan State University Extension and Pine Rest Mental Health Services.
Traditionally, therapy sessions are conducted during face-to-face meetings in an office. Teletherapy is a counseling session that is completed through video chat between mental health care providers and clients. This advanced approach provides flexibility for people to access behavioral health support in the comfort of their own environment, helping reduce stigma surrounding mental health treatment. Funds from a MDARD grant are currently offsetting the associated costs on a first-come-first-served basis, while funds are available.
Many challenges during 2020 have affected Michigan seafood producers as food supply chains were disrupted. Specifically, the Michigan commercial fishing industry was not only impacted by the coronavirus pandemic, but also from the attention to update fishing legislation and unanticipated changes to fishing regulations. In an effort to support this industry, Michigan Sea Grant hosted educational sessions for the 2021 Michigan Fish Producers Association's annual conference. A session titled "Mending the Stress Net" was presented at this conference by MSU Extension, which demonstrated various mental health resources for commercial fishers in recognizing the signs of stress, tools to support healthy lifestyles, recognizing the warning signs of suicide and resources to help those in need. The session highlighted specific resources such as a free online course for the public as well as other resources that can be found on the Managing Farm Stress Program webpage.
In April 2020, MSU Extension partnered with Pine Rest Behavioral Health to launch a teletherapy program to serve the state's farming community. Since the program's creation, many farmers across the state have engaged with these online counseling services. Paralleling many of the stressors fish producers endure, agricultural farmers experience similar stress factors. According to the Centers for Disease Control and Prevention (CDC), agriculture, forestry, fishing, and hunting, have been categorized together and ranked high nationally among occupations associated with loss of life by suicide. These industries are also one of the most hazardous industrial sectors documented by the National Institute for Occupational Safety and Health (NIOSH) with a rate of 22.8 deaths per 100,000 workers, which is well above the average rate of 3.4 deaths per 100,000 workers for all U.S. industries.
For more information on accessing the teletherapy program, farmers and fishers can reach out to Eric Karbowski, MSU Extension behavioral health educator, at 989-317-4079 or karbows8@msu.edu, or get more information through this secure, online form to refer yourself, a friend or a loved one. Fishers with additional questions may reach out to Lauren Jescovitch, Sea Grant extension educator, at jescovit@msu.edu.
Michigan Sea Grant helps to foster economic growth and protect Michigan's coastal, Great Lakes resources through education, research, and outreach. A collaborative effort of the University of Michigan and Michigan State University and its MSU Extension, Michigan Sea Grant is part of the NOAA-National Sea Grant network of 34 university-based programs.
Michigan State University Extension's many resources on farm stress can be found at the Managing Farm Stress website, including access to the MSU Extension Teletherapy pilot project and free online farm stress training such as Rural Resilience: Farm Stress Training.
This article was prepared by Extension educator Dr. Lauren N. Jescovitch under award NA180AR170102 from the National Oceanic and Atmospheric Administration, U.S. Department of Commerce through the Regents of the University of Michigan. The statements, findings, conclusions, and recommendations are those of the author(s) and do not necessarily reflect the views of the National Oceanic and Atmospheric Administration, the Department of Commerce, or the Regents of the University of Michigan.