Featured Entomology alumni Mollie McIntosh
Mollie McIntosh is an associate professor at Xavier University in Cincinnati, Ohio, our latest featured alumni.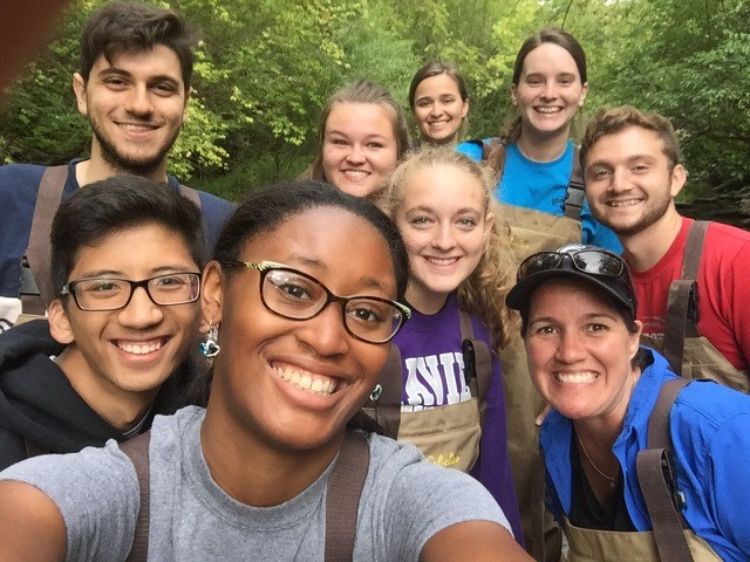 What led you to study entomology at MSU? As an undergraduate at the University of Dayton, I was a biology major planning to go into athletic training or a related field of medicine. However, I discovered I faint at the sight of blood and chose to change my plans. My advisor suggested getting a variety of experiences to better determine my interests. At the time, I was taking an invertebrate zoology class and the class professor was excellent, so I asked him if I could work in his lab. It was a great experience as the professor worked in a variety of areas within aquatic ecology and first exposed me to aquatic insects. I worked for one of the lab's doctoral students, Eric Benbow, who is now an associate professor of entomology at MSU. Little did I know that Eric would later be a reference for my application to MSU.
Based on my experiences in this research lab, I decided to study environmental science and entered into a master's program at Indiana University. It soon became evident that I liked aquatic studies and aquatic insects were by far my favorite organisms. I remember being assigned to identify some beetles and they handed me a book, "The Aquatic Insects of North America," edited by Merritt, Cummins and Berg. It took me a week to identify one beetle. I recall looking at the photo of the authors on the back of the book and wondering who they were and how did they get jobs like that? It looked like great work to me.
When it became time to apply for doctoral studies, I contacted Rich Merritt at MSU. He didn't have an opening, but eventually I got an ISB teaching assistantship at MSU and began studies with Rich. My doctoral project was assessing macroinvertebrate communities across an urbanization gradient in the Muskegon River watershed. Rich was an incredible mentor and advisor. Along with teaching academic skills, he demonstrated how to work in a department and with others in your field of science, how to network and be a good person in general.
Tell me about your work. I'm an associate professor at Xavier University in Cincinnati, Ohio. It's a small university with about 4,000-5,000 undergrads and no graduate program. Primarily, I teach, which was always a career goal for me. I squeeze as much aquatic and forensic entomology into my ecology and environmental science courses as is possible. I'm from Ohio, so I feel fortunate to have found an academic job where I can raise my children near my family.
What keeps you engaged in your work? I love interacting with the students and value my time spent teaching. I treat my undergraduate research program like a graduate program. I take students into the field, show them how to identify aquatic insects and get them working with statistics. I tell them sitting at the microscope identifying aquatic insects is my yoga, my calming, happy place.
Any thoughts for current students? I'd encourage them to be involved in more than just their research. Diversify yourself. I was very fortunate to get a variety of experiences beyond my own research at MSU. Rich involved me in his work with forensics and also with Buruli ulcer disease. My studies took me to Africa and other international destinations many times, which really broadened my horizons.
Any particular experiences or people stand out from your time at MSU? I met my husband, David Hulefeld, through Bug Camp! I was a camp volunteer and invited my 8-year-old sister, who lived in Ohio, to attend camp. She was assigned David as her counselor. When I picked up my sister every day after camp, I also got to know David.
In the spring of 2018, I brought 12 of my Xavier undergraduate students to campus. We had a great time visiting with Eric Benbow and several other alums from the Merritt lab who work on campus. We stopped at the Bug House to see Gary Parsons, who was very helpful to me as a student when I had many aquatic insects to identify.
When I think about MSU, it puts a smile on my face. Everybody in Entomology was so wonderful to me. I had such a great experience. If anyone is thinking about careers at a smaller institution, I am happy to talk with Spartans about what it is like to be faculty at a smaller university.
Read about our past featured alumni.