Featured Entomology undergrad student Anne Johnson
Anne Johnson shares how she became interested in entomology, her love for ladybugs and MSU, and offers her "go for it!" advice for those thinking about pursing an entomology major.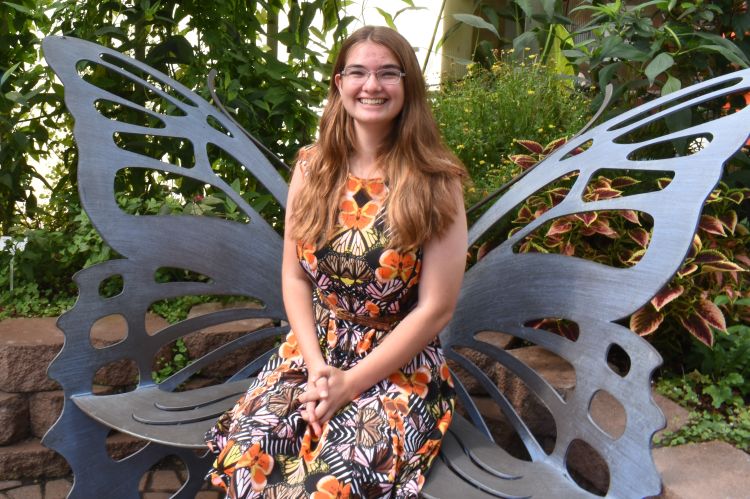 Name: Anne Johnson
Hometown: Oxford, MI
Future study or career plans: Getting a doctorate in entomology and then researching tree pests, especially beetles.
What or who inspired your interest in entomology? I have always loved insects ever since I was very young, and always knew I wanted them to remain an important part of my life. What probably convinced me was attending Insect World Science Camp when I was younger, which was a summer camp here at Michigan State. It certainly influenced which college I chose to study at!
What has been your best experience with entomology? During the school year, I work in Rufus Isaacs' lab. I absolutely love working there, seeing the dedication of the people and the wide variety of projects with different insects going on in just one lab. This summer, I've been working at the Original Mackinac Island Butterfly House and Insect World. It is always fun seeing people's reactions to the butterflies and animals, and to try and teach them something new that may help them get over their fear of these amazing creatures.
What is your favorite activity/way to spend your time outside of your studies? Anything outside is great, from collecting insects to hiking and exploring what's around me. I also enjoy reading, drawing and crocheting, and playing music on my French horn, trumpet, piano or guitar.
What is your favorite insect? It is and always has been ladybugs. They are beautiful, coming in so many colors and patterns, and are fantastic at getting rid of soft-bodied plant pests, like aphids, in the garden.
What is your favorite thing about MSU? I love everything about MSU, but the campus is definitely one of my favorite parts. Not only all the beautiful architecture, especially the older buildings, but also all the gardens, trees and the Red Cedar running right through the center of campus.
Do you have advice for anyone interested in an entomology major? Go for it! This is a field that links in so well with so many others, you are almost certain to find something you can be very passionate about and is the perfect fit for you. If you're still not certain, take an introductory entomology course, such as ENT 404 with Dr. Chris DiFonzo, who is also the entomology advisor, and learn more about entomology. I promise, the more you learn about entomology, the more you will want to know!
Read about our past Featured Students.