Good Food Life: Rachel Chadderdon Bair
Rachel Chadderdon Bair, Director for Sustainable and Innovative Food Systems, Kalamazoo Valley Community College - Kalamazoo
April 25, 2016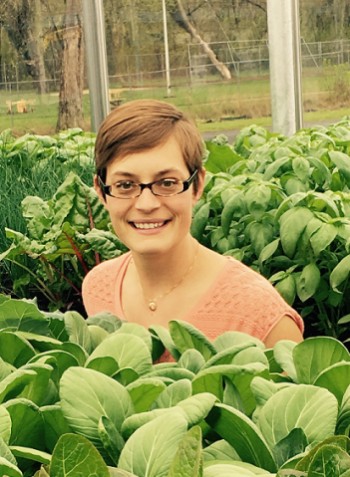 What is your role at Kalamazoo Valley Community College (KVCC)?
RCB: I work with an amazing team to lead the development of KVCC's Food Innovation Center (FIC), a demonstration urban farm and food hub in downtown Kalamazoo. Our facility is brand new, so right now we're working on equipping the spaces and creating educational programs that will use the FIC as a living lab.
How does KVCC work towards the goals of the Good Food Charter?
RCB: The FIC is one of three buildings on the new Bronson Healthy Living Campus, which is a partnership between KVCC, Bronson Healthcare, and Kalamazoo Community Mental Health and Substance Abuse Services. Together, we are working toward ALL of the Charter's goals (more here). The FIC in particular is working to bolster the supply chain to get more fresh Michigan foods into institutions.
What do you find most exciting or inspiring about what you're doing?
RBC: I get to work alongside colleagues who are chefs, dieticians, academics, healthcare providers, farmers, and veterans of food retail, working on complementary programs that address health, sustainability, and economic vitality in our Kalamazoo community. Good food is both our catalyst and our goal, and it's thrilling to see so many different approaches converging in one place.
What opportunities do you see for moving towards the goals of the Michigan Good Food Charter and where do you see those leading in the next five to ten years?
RCB: There is so much interest in fresh, local and regional foods, and with the investments that are being made in financing, technical assistance, and education, I think we'll soon see more people with the drive, the skills, and the support to create new ventures and innovate within existing ones until we reach the Charter goals and beyond!
What is one thing you've learned through your experience with working towards the goals of the Good Food Charter that you'd like to share with others?
RCB: The status quo is relentless. Our work on the Good Food Charter goals is a deeply challenging, long haul. Because of that, it's so important that we take care of ourselves and each other, and take time to be inspired by the little miracles, like the first seedlings sprouting every spring.