Good Food Life: Sam Larson
Sam Larson, Executive Butcher, Montello Meat Market - Grand Rapids
September 14, 2015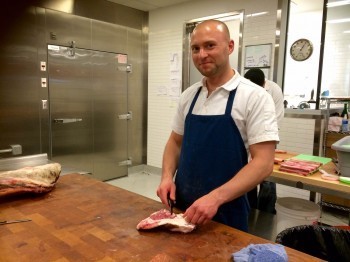 What is your role at Montello Meat Market?
SL: As Executive Butcher, I mainly handle our whole-animal butchery, but really since our family owns the shop there isn't a lot I'm not involved in.
How does Montello Meat Market work towards the goals of the Good Food Charter?
SL: As a full-service retail butcher shop, we are able to engage with customers on a daily basis with education about how meat is raised and processed. By utilizing whole animals we can work with local, smaller farms that see value in a better food supply chain. We promote a higher quality product, with quality that starts at the farm level with how the animals are raised right through to their slaughter and transportation, to the aging process where we carefully breakdown and utilize the entire animal. This allows for us to sell the best possible product from a regional food supply.
What do you find most exciting or inspiring about what you're doing?
SL: One of the most exciting elements of our shop is the connection we can build with the community. We have a massive display case that our team keeps looking awesome. Our walk-in cooler where our whole animals hang and age has a large window, so that customers can really SEE how butchery happens. Add to that, that we know many of our farmers by name and we become a sort of fulcrum to the local food system. We coordinate with farms, slaughterhouses, and distributors to build the production end of the system, and engage with the public to explain and educate where food comes from, why conscious sourcing matters, and how to purchase responsibly.
What opportunities do you see for moving towards the goals of the Michigan Good Food Charter and where do you see those leading in the next five to ten years?
SL: As a medium-scale shop in a world of agri-businesses and niche markets, I see an opportunity to promote the idea that there can be a sustainable balance between the extremes of small, specialty producers and large, efficiency based producers.
What is one thing you've learned through your experience with working towards the goals of the Good Food Charter that you'd like to share with others?
SL: Food transparency wins. Marketing techniques, eloquent descriptors, buzzwords, and trends can only take food so far before consumer preference shifts to the next big thing. The more education that can happen across the board, the better the system we can create will be.