Grand Rapids area tree fruit update – June 1, 2021
Cool, rainy conditions last week will give way to more hot dry temperatures this week.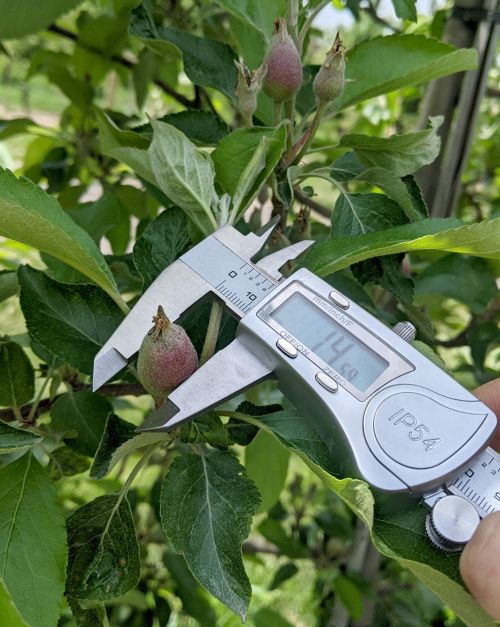 Weather update
Over the past week, the Grand Rapids, Michigan, area experienced a significant cooling trend, accompanied by much-needed precipitation. After a very hot weekend over May 22-23, in which high temperatures were approximately 20 degrees Fahrenheit warmer than seasonal averages, temperatures cooled to the mid-50s during the middle and the end of the week, nearly 20 F cooler than normal. Low temperatures were recorded in the upper 30s on Friday and Saturday mornings. Afterward, temperatures warmed again to highs in the mid-70s, much more typical for the season.
As a result of the cooler weather, the season is no longer quite as far ahead of average heat accumulation. The Michigan State University Sparta Enviroweather station has accumulated 832.7 growing degree days (GDD) base 42 since Jan. 1, which is approximately six days earlier than the average for May 24.
There was significant rainfall across the region over the past week. Between 0.8 and 2.22 inches of precipitation was recorded at MSU Enviroweather weather stations in the past week, with most locations receiving 1-1.5 inches of accumulation. Most of the rain took place in two weather systems, the first on May 26 and then on May 28. The rain was slow and steady, providing plenty good soil penetration. As a result, soil moisture conditions in the top 3 feet have improved considerably. However, there is still a deficit of rainfall compared to seasonal averages, and irrigation is needed to make up for the lack of moisture, especially in sites with sandier soils.
Warm, dry conditions are expected to return over the next two weeks. By the middle to end to the week, high temperatures are expected to reach into the 80s and lows will remain in the 50s. Little rain is in the forecast. Although a weather system will be moving across the Midwest mid-week, it is expected to pass south of most of the state.
Most varieties, including Gala, Honeycrisp and Fuji, are beginning fruitlet growth, and nearing 12-16 millimeters in diameter. Earlier varieties such as Zestar and Ginger Gold are reaching 18-22mm. Thinning conditions remain somewhat challenging. Several excellent windows of opportunity for applying chemical thinners took place early last week, prior to the cold trend, and then again this weekend as temperatures warmed up. This corresponded with 8-12 millimeters fruit size in most locations. Effects of thinning will be evident by the end of the week as the warmer temperatures arrive. Less thinning seems to be required this year in many locations this year due to some natural thinning due to frost earlier in the season, lighter pollination and poor return bloom in some blocks (predominantly Honeycrisp and Jonagold).
As we continue this critical period for thinning, growers should use the Apple Carbohydrate Thinning Model to adjust thinning rates each day based on weather conditions, which is available on the Enviroweather website, the Network for Environmental Weather Applications (NEWA) and the Malusim app. In addition, the Fruit Growth Rate Model can be used to determine whether make additional thinning applications. This model is also available on the Malusim app. Further instructions for both of these models can be found in this presentation Introducing the Malusim app. When it comes to apple thinning, it can be a challenge to determine the actual volume of a product to include in a tank mix. The MSU Extension article, "Spray Mixing Adjustments for Thinning," provides some guidance.
Pest updates
With cooler than normal weather over the past week, flying insect activity has slowed a bit. Continued dry conditions have limited some disease pressure, but not all.
With the very warm nighttime temperatures a week ago, plum curculio became active. Cool weather later in the week slowed their evening activity. It is expected that plum curculio females still have eggs to deposit, and fruits of plum, peach and apple are still a susceptible size for egglaying to occur. It would be good to maintain insecticide covers for plum curculio for at least another seven days.
Cooler evenings and nights slowed adult male flight of codling moth a bit over the last five to seven days. A biofix for the Grand Rapids region was set for May 16. The degree day totals for base 50 since that biofix total 198 base 50. Early egg hatch and the timing for materials aimed at small larvae is expected around June 3 or 4 for the general Grand Rapids area. For blocks with high pressure, this 250 degree days base 50 is critical. For low pressure blocks, using 350 degree days base 50 might suffice – this mark is expected to be reached near June 8.
European red mites have been building faster than normal in 2021. Higher populations in 2020, a mild winter and a dry spring are all favorable conditions for mites. We should expect petal fall miticides to potentially break sooner this year. Extreme heat for next week will be greatly favorable for a mite population explosion and right at the time those petal fall miticides wear out. In recent years, more and more twospotted spider mites can be found in Grand Rapids orchards too.
Medium to large sized larvae and pupae of obliquebanded leafroller are present. Sprays will not be effective while in the pupal stage. Traps for adults should go up this week to capture first adult flight so an accurate biofix for the summer generation larvae can be set.
Rosy apple aphids are curled up in apple terminals, becoming easier to find. Green apple aphids (also known as spirea aphid) can be found in apples. Woolly apple aphid should be moving from roots up into the canopy at any time. They are extremely hard to find, but early management is important to keep woolly apple aphid at bay in late summer and early fall. If you had high populations in fall 2020, scout for their presence now.
San Jose scale males began first flight over the past week. A regional biofix for the general Grand Rapids area was set for May 20 with 120 degree days base 51 accumulated since that date. Cover sprays to target San Jose crawlers are at least two weeks off. If you choose to use a systemic material, keep in mind it needs some time to be taken up by the tree to be most effective. That timing will likely be mid-June. Timing of contact insecticides targeting crawlers will likely be the last week of June.
Oriental fruit moth adults continue to fly and trap numbers are declining as expected. A biofix was set for the general Grand Rapids area for May 1. The Sparta MSU Enviroweather station has accumulated 380 degree days base 45 since that biofix. Egg hatch is well underway and cover sprays to prevent shoot infestation in stone fruits continue to be necessary. Peak egg hatch is expected around June 2 in the general Grand Rapids area.
Early hatch of white apple leafhopper started over the past week to ten days. Nymphs are present in very low numbers. A few adult potato leafhoppers can be found as well.
Black stem borer activity increased with warmer weather. At this time, sick and injured trees are being attacked. Expect an uptick in activity over the next two weeks with warmer weather. Dogwood borer could begin flying at any time – mating disruption dispensers should be in place now and traps for monitoring should be up. Lesser peach tree borers have started to fly. American plum borer is also flying. Peach tree borer should start flying soon. Borer sprays are usually timed for peak adult flight. For peach tree and lesser peach tree borers, this is usually late June. For dogwood borer, timing is usually around July 4.
Apple scab primary ascospores should be 100% mature. Now we need some decent rain events to release all mature spores. With the very unusual dry spring in 2021, the discharging of primary apple scab spores has been unlike any other year in recent memory. I continue to catch spores even with the light rains. It is likely primary apple scab will end on the early side, but dry conditions might play a role in drawing out the spore release. Despite the very dry spring, scab lesions can be found readily in unmanaged apples. There are a few reports of scab in commercial blocks as well. Be cautious of stretching fungicides too much. With a good deal of fresh, green tissue and tiny apples present, the risk for primary scab is a concern with any rain event from now until at least the end of May.
Powdery mildew seems to be more of an issue in 2021 than usual. This often happens in a dry spring – we stretch our fungicide cover sprays for apple scab, but mildew can still get a foothold – even without actual rainfall. Mildew typically needs high relative humidity, so it is a bit surprising to see it when we have been on the lower side of humidity than a normal spring. Be sure you are adding a fungicide that works well for mildew to keep it at bay.