Grand Rapids area tree fruit update – June 8, 2021
More hot, dry weather imposing a significant challenge across the region.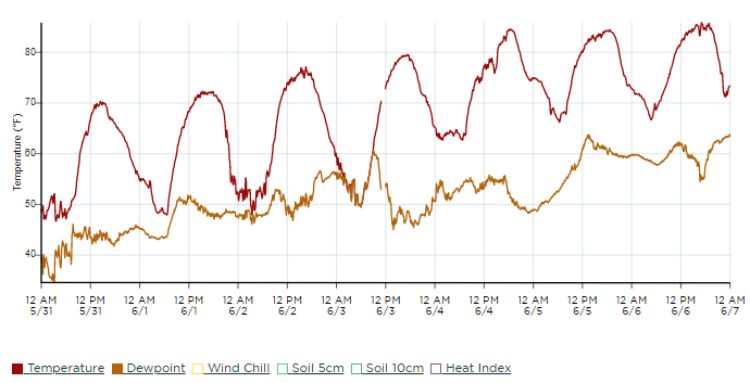 Weather update
In the Grand Rapids, Michigan area, hot, dry conditions have continued and escalated. Both daytime and nighttime temperatures climbed steadily over the course of the week, with highs over the past three days in the upper 80s (degrees Fahrenheit) and lows only dropping to the upper 60s. This has meant a rapid accumulation of heat. The Michigan State University Sparta Enviroweather station has accumulated 1031.8 growing degree days (GDD) base 42 since Jan. 1, which is approximately eight days earlier than the average for June 7. Nearly 200 degree days were accumulated in the past week, with 100 in just the past three days.
The past week was also very dry, continuing the trend this season. Yesterday, a storm system moved through the region, but precipitation was extremely variable. Significant rainfall was recorded between 0.5-1.0 inch in very isolated locations, but most places received only brief showers of 0.1 inch or less.
The outlook for the next week again includes very warm, dry conditions. Temperatures will remain in the 80s and 60s for highs and lows, respectively. Thunderstorms may develop in the afternoon on several days, but rain accumulation is expected to be extremely variable, similar to yesterday's event. Longer range outlooks indicate the possibility of cooler temperatures, but still very dry conditions in the next two weeks.
Water and irrigation continue to be a pressing issue. As a result of the hot, sunny weather, evapotranspiration (ET) demands have been extraordinarily high. Values have been the greatest we typically observe for Michigan during any part of the season. Soil conditions still indicate a severe deficit compared to seasonal average, with available soil moisture in the top 3 feet less than 30% of normal for this point in the season. The region is currently in the 90th percentile for the driest year compared to the past 129 years in terms of Total Precipitation Ranks from Jan 1 – May 31. Irrigation continues to be necessary to make up for the lack of moisture, especially in sites with sandier soils.
Most varieties, including Gala, Honeycrisp and Fuji, are beginning fruitlet growth and nearing 20 millimeters in diameter. Earlier varieties such as Zestar and Ginger Gold are reaching 1 inch. Results of thinning and early June drop have been very evident over the past week as a result of the warm, dry temperatures.
Pest updates
Much warmer weather has created a spike of insect activity in the past week. Drier conditions slowed diseases somewhat, but the heat, humidity and scattered rain events for this current week will be perfect environmental conditions for all pathogens in tree fruits.
It is likely that plum curculio adult female egg laying activity is now over for the 2021 season. Adult females have likely exhausted their egg stores in stone fruits and in apples, fruits are getting too large to be favorable egglaying targets.
Warm evening temperatures have been ideal for adult codling moth activity. A biofix for the Grand Rapids region was set for May 16. The degree day totals for base 50 since that biofix total 342 base 50. The degree day models indicate the general Grand Rapids area is at 20% egg hatch as of June 7. Cover sprays are critical in blocks over threshold (five moths accumulated per trap or one moth per 1X trap in disrupted apple blocks).
European red mites continue to build at record speeds. Twospotted spider mites can be found in Grand Rapids orchards too. Having mite populations this early in the growing season is not good news and staying ahead in their management will be a challenge with continued hot and dry conditions at play.
Obliquebanded leafroller adults are just now beginning to fly. There are still plenty of pupae wrapped up in leaves. An obliquebanded leafroller biofix for the Grand Rapids region was set for June 7. The degree day totals for base 42 since that biofix total 32. The next timing to target this pest will be at the start of egg hatch, which is likely to occur in the third week of June or perhaps a bit sooner if warmer than normal temperatures continue to drive faster than normal insect development.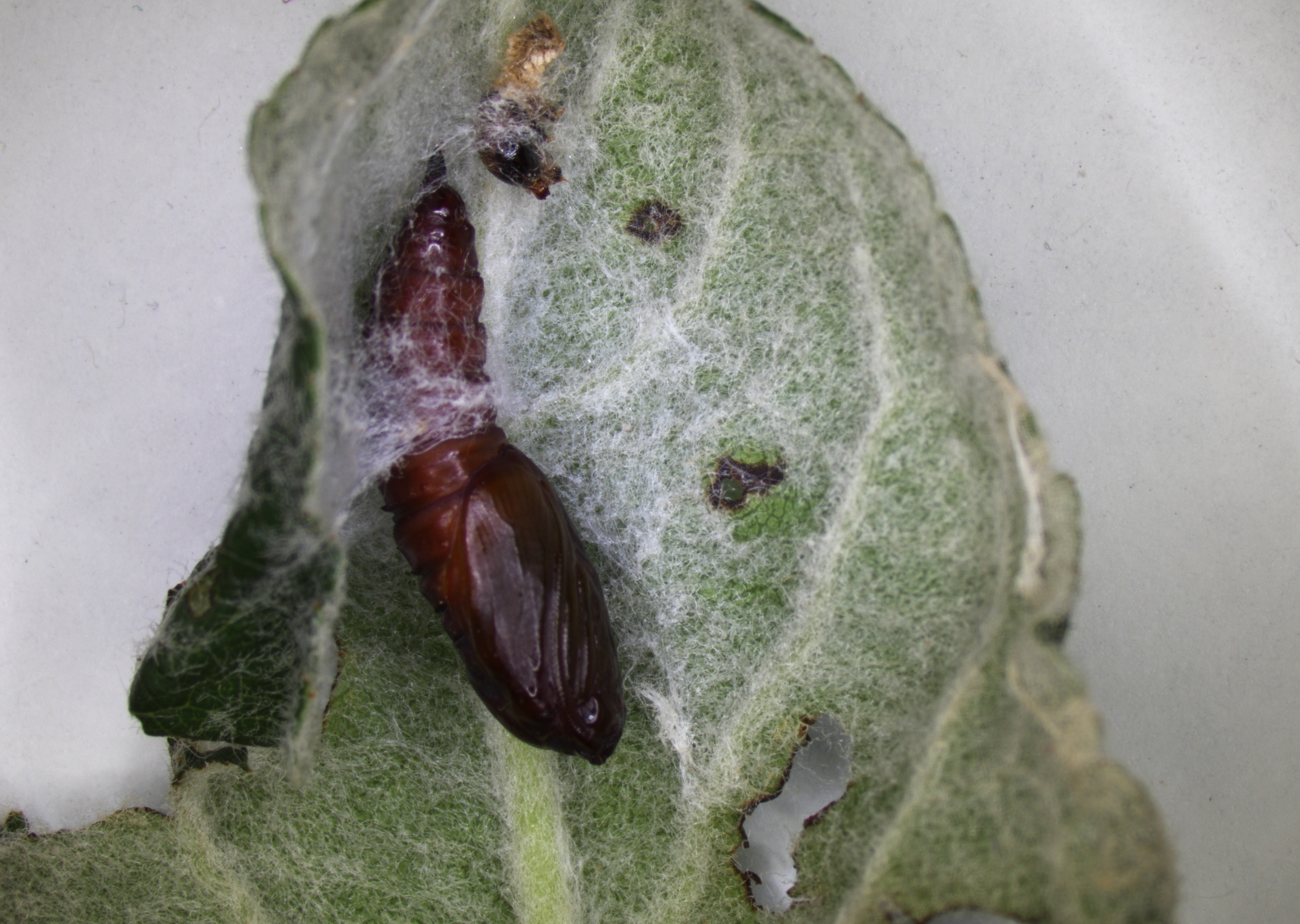 Rosy apple aphid are still present in apple terminals. Green apple aphids, also known as spirea aphid, can be found in apples. There are several species of aphid predators enjoying the buffet of aphids.
Woolly apple aphid should be moving from roots up into the canopy at any time. They are extremely hard to find, but early management is important to keep woolly apple aphid at bay in late summer and early fall. If you had high populations in fall 2020, scout for their presence now.
San Jose scale males continue to fly. A regional biofix for the general Grand Rapids area was set for May 20 with 258 degree days base 51 accumulated since that date. Cover sprays to target San Jose crawlers need to be considered in the next week to 10 days. If you choose to use a systemic material, keep in mind it needs some time to be taken up by the tree to be most effective. Timing for systemics according to the Sparta Enviroweather station data is likely for June 13 or 14. Timing of contact insecticides targeting crawlers is guesstimated for June 25 or 26.
Oriental fruit moth adults continue to fly and trap numbers are declining as expected. A biofix was set for the general Grand Rapids area for May 1. The Sparta MSU Enviroweather station has accumulated 558 degree days base 45 since that biofix. Egg hatch should be winding down in a day or two. This is a good time to change lures to be ready for the start of second generation adult flight. Flagging of growing shoots can be found in very light levels in managed stone fruits.
White apple leafhopper nymphs and adults can be found in apples in rather low numbers. Keep an eye on noon-bearing trees where insecticide covers are not used as much – a smaller than normal level of white apple leafhopper could shut down shoot growth in drought condition.
Black stem borer activity continued in sick and injured trees. Dogwood borer adult flight is just beginning in the Grand Rapids area. Lesser peach tree borers, American plum borer and peach tree borer are all flying now in low to normal numbers. Borer sprays are usually timed for peak adult flight. For peach tree and lesser peach tree borers, this is usually late June. For dogwood borer, timing is usually around July 4.
Apple scab primary ascospores are 100 % mature and nearly all discharged. Recent rain on Monday, June 7, released 52 spores per rod. This rain event was light where spore rods are located. The RIMPro model indicates we need one or two more rain events to discharge all primary spores for the 2021 season in the Grand Rapids area. Despite the very dry spring, scab lesions can be found in commercial blocks. Be cautious of stretching fungicides too much. With a good deal of fresh, green tissue and tiny apples present, the risk for primary scab is a concern until all primary spores are released.
Powdery mildew seems to be more of an issue in 2021 than usual and it is a bit surprising to see it when we have been on the lower side of humidity than a normal spring. Now that heat and humidity have moved in, any mildew present could advance quickly.
Fire blight symptoms from bloom time blossom blight infections should be easily visible by now. If symptoms are found, cutting out strikes is advised as well as spraying to keep further infections at bay. The hot and humid weather this week could cause fire blight to explode in blocks with issues.