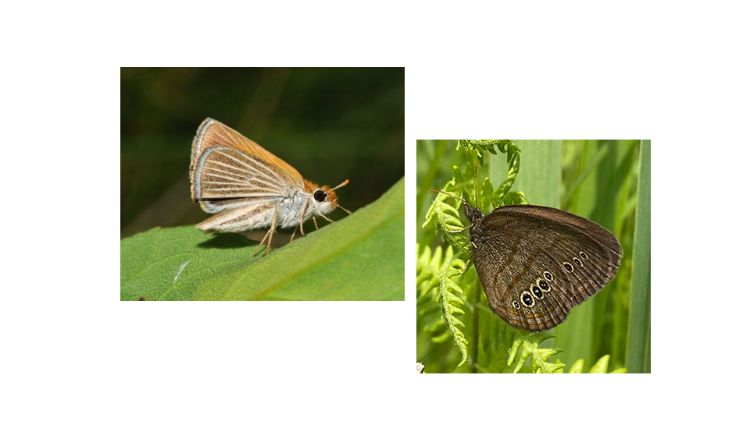 Meghan Milbrath, Ph.D., was awarded a $48,000 grant by the North Central Region-Sustainable Agriculture Research and Education program (NCR-SARE) to work with farmers to increase the availability of native plants for pollinators.
Pollinators across the region are in decline. Of particular concern are specialist butterflies, whose habitat is shrinking due to the loss of the specific native plants on which they depend. Michigan is home to two endangered butterfly rearing programs, but habitat restoration efforts are limited by the availability of affordable plant materials. While many small-scale farmers have land that could grow the needed native plants, they lack training in native plant cultivation. This project outlines a training program for vegetable farmers and native plant producers and increases connections between them and the conservation community.
Milbrath and her team will partner with butterfly conservationists and native plant experts to identify needs and sources for stock materials and to develop a training program on the cultivation and harvesting of these materials. This program will include webinars, handouts, and field days. The team will also create an online education module for the public and point of sale materials explaining the importance of specialist butterfly host plants and will create supply chains through leveraging connections with conservation partners.
The goal of this project is to increase the habitat for native specialist butterflies in Michigan by working with farmers to grow native plants. Three key objectives for the project include:
Improving access to stock of specialist native plants for growers through purchasing and distribution.
Training farmers to grow and harvest native plants. This training will take the form of field days, webinars, and published case studies.
Increase planting of specialist plants through online education, point of sale materials, and connections with conservation partners.
Additional partners in this program include:
Logan Rowe, Conservation Associate, Michigan Native Features Inventory
John Ball Zoo Poweshiek Skipperling rearing program
Mike Losey, Natural Resources Manager, Springfield Township
Kalamazoo Nature Center Mitchell's Satyr rearing program
David Pavlik, Research Assistant, MSU Kellogg Biological Station
Meredith Bryant, US Fish and Wildlife Service
Connie Crancer, NRCS Liaison and past state lead of Project Wingspan
The USDA-funded Sustainable Agriculture Research and Education program was authorized by the 1985 Farm Bill and was first funded in 1988. SARE operates through four regional offices as well as a national office. The North Central Region serves Illinois, Indiana, Iowa, Kansas, Michigan, Minnesota, Missouri, Nebraska, North Dakota, Ohio, South Dakota, and Wisconsin.