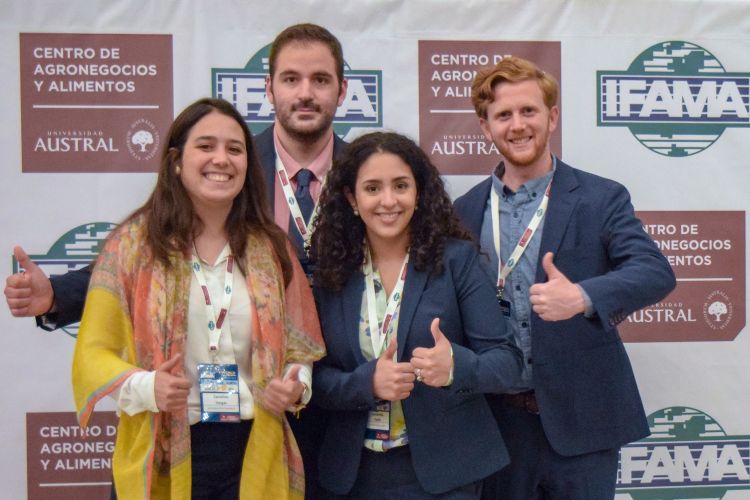 For the second year in a row, graduate students from the Department of Agricultural, Food, and Resource Economics (AFRE) won the International Food and Agribusiness Management Association (IFAMA) Student Case Competition, in the Advanced Graduate category. Hosted in Buenos Aires, Argentina, the winning team members included Master's students Brian Bartle and Carolina Vargas Espinosa, and PhD students Angelos Lagoudakis and Samantha Padilla.
"It was a pleasure to represent MSU and AFRE once again with this year's IFAMA team," said Samantha Padilla, a member of both year's winning teams. "It was a great experience to compete and apply the theories and skills AFRE has endowed me with throughout my graduate career."
The team's case was about a partnership between a non-government organization, Plant Breeders Without Borders, and a private firm, Bayer. In the first round, the team received the case the same day they presented, had four hours to read, analyze, discuss and prepare a 15-minute presentation on their strategic recommendation that they gave to a panel of judges. Advancing through that round with only one other competing team, the AFRE students then received an extension of the case the next day, and again had four hours to read, analyze, discuss and prepare a presentation on our implementation plan.
"Everyone in the team put together their diverse skill set and along with the knowledge and experience we have all acquired through the program we managed to bring home the win," said Lagoudakis. "It was a great honor and privilege to represent MSU and AFRE in this great international competition."
The team won first place in the Advanced Graduate division of the competition, were recognized at the conference in front of a global audience, and are excited to represent AFRE next summer, at the IFAMA 2019 in China.
"We're so grateful to Dr. Myers for funding our trip and believing we could win, to Dr. Black and Dr. Ross for their wonderful AFRE 932 class, to Dr. Peterson for teaching me about strategic management, and to my advisor Dr. Liverpool-Tasie for all the encouragement and support," said Padilla.
Padilla will go for four straight case study competition wins on August 5-7, competing at the AAEA Student Case Study Competition, which the AFRE team also won last year.
"It speaks a lot to our program and to our team members that we can consistently place at the top of these international competitions," said Padilla. "We can't wait to put our heads together again at AAEA."