Improving Farm Animal Welfare with Biotechnologies
MSUAFRE Ph.D. student, Danielle Ufer, is working with Michigan farmers and consumers to explore market opportunities and limitations of biotechnologies that improve farm animal welfare in the pork and dairy industries.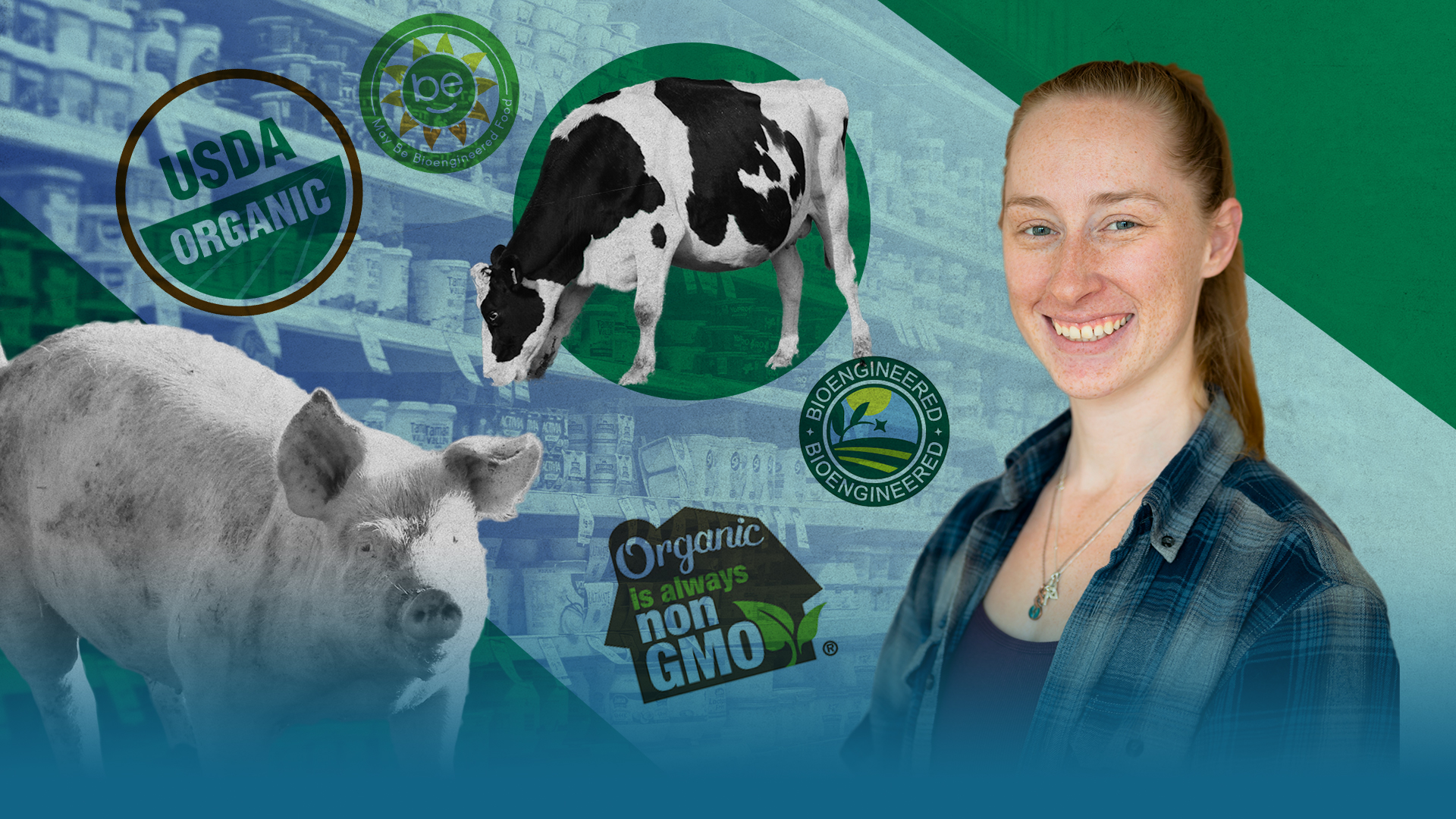 The adoption of biotechnologies by farmers can improve animal welfare, but not all farmers and consumers are ready to embrace these changes. How can biotechnologies be employed to benefit animal welfare, farmers, and consumers, and what policy changes would help the market for these animal products? These are the questions that drive the research of fourth-year Ph.D. student, Danielle Ufer.
Ufer grew up in the suburbs of Denver, Colorado, and spent the summers visiting her family's farm in Minnesota, where corn and soybeans were plentiful. From a young age, Ufer dreamed of becoming a farmer. Her love of agricultural economics sparked at Colorado State University (CSU), where she studied animal science, agricultural business, and agricultural economics throughout her undergraduate and master's programs. After completing her master's degree, Ufer felt there was so much more that she wanted to learn, which brought her to the Department of Agricultural, Food, and Resource Economics (AFRE) at Michigan State University (MSU).
Through a handful of faculty connections at CSU, Ufer discovered the research of Dr. David Ortega, Associate Professor in Food and Agricultural Economics in AFRE, and knew instantly that she wanted to work with him. Together, Ufer and Ortega have completed two studies looking at consumer acceptance of products produced using biotechnology, including gene-editing, to improve animal welfare. One study focuses on labeling animal products produced with stricter animal welfare and without biotechnology, and the other on acceptance of food products from bioengineered animals. These studies were based on field experiments conducted in a local Lansing area grocery store with about 200 Michiganders each. Ufer's research's key findings are that redundant labels are an effective strategy for organic producers trying to communicate with consumers about the absence of biotechnology or the presence of animal-friendly practices. Her research finds that ensuring consumers are informed is still key for marketing products with those two traits, even if alternative labeling strategies are employed. Lastly, pork products produced by using biotechnology do appear to be acceptable to consumers on average, though the distaste for biotechnology has a more significant negative effect than the positive impact of animal welfare improvement. If consumers care a lot about both of these things, the net effect is negative.
Ufer and Ortega have also studied dairy producers and their intent to adopt gene-editing technology that increases disease resistance in their cattle. That study focused on how a farmer's intent to adopt biotechnology is impacted by social pressure, veterinarian's opinion, the farmer's attitudes toward biotechnology or animal welfare on the farm, and past experiences with these technologies. Although this study is in its preliminary stages, Ufer and Ortega find that these factors have a significant influence on farmer decisions, though it varies from farmer to farmer.
Through all of these studies, the collection of primary data ignited Ufer's interest. For Ufer, being able to say, "I've got these research questions, and I need to figure out how I'm going to answer them, and create the data that I need to do that," has been very rewarding. Ufer said, "I feel really lucky that this project coincided exactly with my time, working with David; it couldn't have been more perfect."
Thus far, Ufer has received positive responses to her research and methods, not only from faculty and peers, but also from Michigan farmers and consumers. Ufer feels fortunate that she has been able to personally interact with every participant in her consumer studies. "With the consumers, it was really fascinating. Some individuals talked to me for 20 minutes, starting out with talking about milk and pork, and then sharing everything they think about agriculture." Ufer continued, "It's been interesting to see how important it really is to some people, and how much attention they do pay [to labels]." Regarding her interactions with Michigan farmers, Ufer expressed the importance of remaining unbiased and indifferent in her research approaches.
When asked what she wants to achieve with her research, Ufer said she wants her findings to be presented in a meaningful and useful way to stakeholders. Ufer said, "I really want to create markets that are efficient, but are also beneficial." Ufer also hopes to present policy solutions that will benefit both farmers and consumers.
Ufer hopes to continue researching animal products in the animal agriculture industry. Still, she is ready for any new research questions that come her way, adding, "Even though my passions tend to lie in the animal industries, especially cows and sheep, I find every facet of agriculture interesting and look forward to exploring new questions that arise anywhere in agriculture."
When she is not working on her research, Ufer enjoys spending time outdoors, "hopping in her Jeep" and exploring Michigan, hunting, fishing, and knitting.
Learn more about Danielle Ufer and the AFRE Ph.D. program.