Tracking the spread of invaders that creep, crawl and destroy
Howard Russell, an insect and arthropod diagnostician with MSU Diagnostic Services, identifies pests and solutions to assure plant health for Michigan growers and home owners.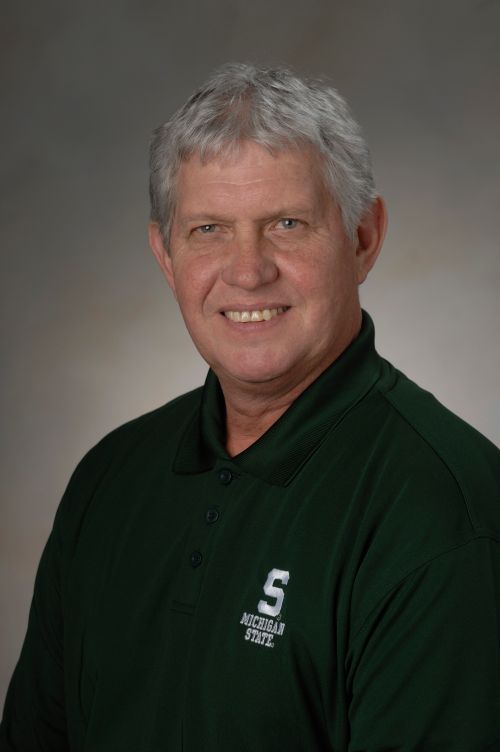 As part of the MSU Plant and Pest Diagnostic Lab, Howard Russell works to identify insects.
"I identify mites, ticks, insects, basically anything that creeps, crawls and slithers for the agricultural community, homeowners, and the state department," he said. "Since everybody has a cellphone these days with a pretty good camera, most of the things I work with and identify come from digital images that people send to us via email.
"I probably do about anywhere from 2,400-2,500 email identifications a year. That is at least to some degree a way that we quickly respond to the public on what their plant or pest might be rather than having to wait for a sample."
With over 41 years at MSU, Russell has been involved in his fair share of plant health emergencies. For example, in 2010, spotted wing drosophila (SWD) was detected in Michigan for the first time. SWD is a fruit crop killer. With cherries, grapes and other tree fruits, Michigan is a vulnerable target for the small fly that damages healthy fruit by laying its eggs below the skin.
"I helped to confirm potential specimens that came in from around the state," he said. "We were able to document where the bug was found and document its spread throughout the state."
His work to detect and monitor were important steps in helping fruit growers prepare for and manage the pest.
Russell also participated in identification and monitoring the spread of the brown marmorated stink bug (BMS), the shield-shaped insect that has been invading Michigan homes and feeding on important fruit, vegetable and ornamental crops.
"The brown marmorated stink bug is a good example of how we look for and keep track of things when they're found in other places in the country and anticipate that they're going to show up here," Russell said.
Once insects are identified and monitored in Michigan, Russell and his colleagues at the lab work to make recommendations.
"We're a full-service lab, so we ID and make management recommendations," Russell said. "If we're stumped or need advice, we go to our people here on campus that have that experience and knowledge."
With global trade and climate change, Russell always has his eyes on new, potential invaders.
"Currently, we're watching the spotted lanternfly that's in Pennsylvania," he said.
The spotted lanternfly is an invasive, colorful-winged fly that sucks sap from its host plants and secretes a sugary substance called honeydew that inhibits plant growth and encourages mold growth that kills plants.
"We're waiting to see the spotted lanternfly here in Michigan and it's just a matter of time," he said. "It's a pretty showy insect that's been spreading westward."
This article was published in Futures, a magazine produced twice per year by Michigan State University AgBioResearch. To view past issues of Futures, visit www.futuresmagazine.msu.edu. For more information, email Holly Whetstone, editor, at whetst11@msu.edu or call 517-355-0123.