Marquette School Leads the Way in Healthy Vending
If the vending machine in your building didn't offer choices you were happy with, would you go out and buy your own machine and start filling it yourself? That's just what guidance counselor Lesley Addison and a team of students from Marquette did.
July 8, 2014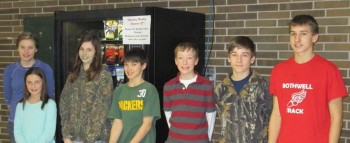 By Kathryn Colasanti, Center for Regional Food Systems
If the vending machine in your building didn't offer choices you were happy with, would you go out and buy your own machine and start filling it yourself? That's just what guidance counselor Lesley Addison and a team of students from Bothwell Middle School in Marquette did.
The story starts more than ten years ago when the district began taking new steps to encourage health and wellness for staff and students. They held Health & Wellness Fairs for students and staff, increased the number of required PE classes in the middle school, experimented with offering recess before lunch for all grade levels and established an all-volunteer District Health & Wellness Team. The district also started working towards a long-term goal of offering healthier snacks to students in venues like vending machines, concessions and class parties.
Meanwhile, the USDA passed the Healthy, Hunger Free Kids Act of 2010. The act required USDA to develop nutrition standards not only for school meal programs but for all foods sold in schools. In compliance with the act, USDA released the "Smart Snacks in School" standards in June 2013 for venues like the cafeteria a la carte line, school stores, snack bars and vending machines. The rules will go into effect this July, in time for the next school year.
New selection available in school vending machines. Photo courtesy R. Schmeltzer.
But as USDA was drafting and revising these standards, Bothwell Middle School wanted to take swifter action to increase the healthy food choices available in its vending machine. They also had a group of students with peanut allergies who were requesting changes in the vending machine choices.
When they didn't see any response from their vendor to requests for changes, Principal Bill Saunders, the building wellness team, led by Addison, and a group of students decided to go it alone. They used the $1000 they had been awarded from a Sault Tribe Community Transformation Grant to buy a used vending machine on e-Bay.
Then Addison put together a student tasting panel to search for new foods that would meet the USDA requirements, that were completely peanut-free and that would appeal to the 800 middle school kids at Bothwell. Two students per grade (5-8) were chosen for their interest in the project and overall support for healthier snacks, peer relationships and current leadership roles.
Bothwell reached out to the Marquette Food Co-op, which was also starting to pilot healthy vending programs at local businesses, to help them identify healthy snack options. "Our healthy vending program is still small," said Sarah Monte, Education Coordinator for the Co-Op, "but the Bothwell relationship has encouraged us to consider expanding this program. We especially enjoyed the student involvement, which promotes mindfulness about food and gives students a sense of ownership over their food choices."
Ultimately, the team settled on 12 new snack foods, including Popchips, popcorn, blue corn chips, edamame, fruit rope, veggie straws and applesauce. Initial sales have been strong. Since introducing these new offerings in late January, the vending machine has generated over $500 in profits. "There are some awesome products out there that kids love, and adults too," said Addison. She notices students using the snacks to supplement their lunches, for a mid-morning snack break and for after-school activities.
They're still learning what items sell the best and still researching other options; but they're happy with the response they've seen so far. And others are taking notice. Addison is working with the student council to help them make parallel changes to the concessions they operate at sports games and other events by fall 2014. Marquette Area Public Schools Food Service Director, Chris Collins, is interested in making similar changes in the high schools. And the Bothwell seventh grade nutrition classes have been studying the new vending machine snacks as part of their curriculum.
Currently Addison is responsible for stocking the vending machine and purchasing the food, the majority of which she is able to get through the food co-op. But they hope to soon find a local vending company that will offer these products. As the new USDA standards take effect this fall, vendors will need to revise their offerings to stay in compliance. In the meantime, the Bothwell tasting team will be happy to make recommendations.