Meet the New CRFS Director, Dr. M. Jahi Chappell
Check out this Q&A with the new director of the MSU Center for Regional Food Systems, Dr. M. Jahi Chappell.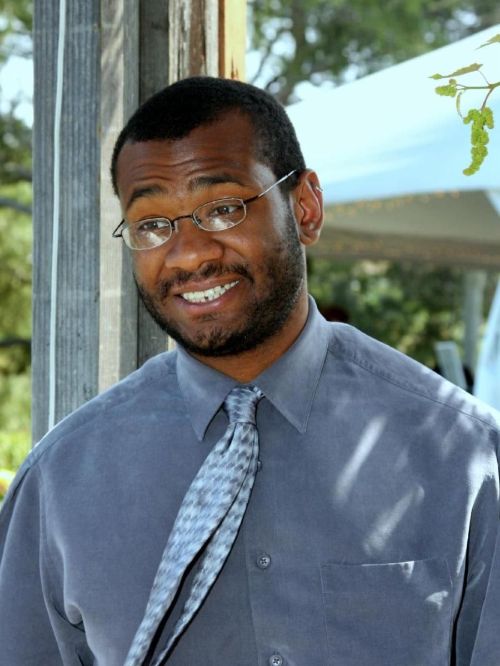 The Center for Regional Food Systems team is excited and grateful to introduce you to Dr. M. Jahi Chappell, W.K. Kellogg Foundation Endowed Chair in Food and Society. We sat down (virtually) with Jahi to ask him some getting-to-know you questions to share with CRFS's friends and partners. Please enjoy and join us in welcoming Jahi to MSU.
What's your favorite seasonal food or dish?
Truthfully, I really love a big, greasy pepperoni pizza... but as someone who works on food, I don't want to just leave it at that! So I'd also say: Blueberry cobbler. My maternal Grandparents had a blueberry farm in Western Michigan. We would get enough blueberries in the summer to last a whole year; so we'd take blueberries out of the freezer to make cobbler for Thanksgiving. Another favorite food is homemade eggnog, from my Grandma Chappell's recipe.
What is a meaningful experience related to food or food systems that stands out in your memory?
Blueberries. Every summer we spent time on my grandparents' blueberry farm. Blueberries were a big part of my childhood—helping pick them, sort them, and of course, eat them.
Another meaningful experience that comes to mind happened shortly after I started at the Institute for Agriculture and Trade Policy (IATP), a US –based ag think-tank. I had done my PhD work in Brazil on local food systems there. When I took the job at IATP, I shifted to working on U.S. agricultural systems. My mom organized a neighborhood breakfast in South Haven, Michigan, her hometown, so I could talk with local farmers and hear their lived realities. At that time, I also helped coordinate IATP's work with the National Sustainable Agriculture Coalition (NSAC). No one at the breakfast had heard of NSAC. The farmers all talked about having to increase spending on larger and larger-scale equipment and infrastructure even though they'd rather invest in paying labor wages that they could live on. But margins were just too small to hire labor. Most of the neighbors didn't see a future in farming. I shared with them how IATP approached food and farming, and was happy to find out that much of it was in line with what these farmers on the ground were saying. At the end of the breakfast, a neighbor and family friend came up to me and said, "You keep doing what you're doing." This is after he had been the most vocal about not seeing a future for farmers like him! I appreciated that. It made an impression on me to hear that what we were advocating for at IATP and with NSAC resonated, even with someone (understandably) pessimistic about the future of farming.
Could you please

say

a little

about

how

universities and centers like CRFS

generally

can

play a role in

building participatory, socially just and ecologically sustainable food systems?
Universities are a unique place with the ability, in the best case, to provide useful and trust-worthy information to people. We're seeing right now that people have a lot of uncertainty about where to get information. And we're seeing how people's trust in institutions has been dramatically decreasing. University researchers are trained to keep nuance in mind, and of course there is often a challenge balancing nuance with larger-scale communication. Too often it's the case that communicating research outside of academia is considered a low priority. And there are too many barriers and too little support for doing what it takes to make our research "live and work" with and within communities. So, there is an understandable lack of trust in universities. It is important to honor that this lack of trust comes from real dynamics and lived experiences, and to use our knowledge and resources to expand community-based work in a way that earns and maintains trust.
The Center for Regional Food Systems is unique in that it is based in an academic department and is doing so much community work. This is an important model – to spend time being with communities, listening, sharing knowledge, and learning if people think it's useful and interesting. There are plenty of academics out there who want to do this. Academic status is largely based on whether one's "peers" find their work valuable. But we need to know if our peers in real-world communities find our work useful and valuable, whether that's through helping to realize new local food systems, evoking and deepening wonder, or supporting and deepening community ties.
How do you see the role of

CRFS's

values

-driven work

in food systems currently or in the future (statewide, nationally, or other scope)?
There are two things that I want to say about this. First, accountability is key to collaboration and shared vision. We can't have real collaboration and shared vision if we are not committed to holding ourselves accountable to our partners and the communities we work in. The second thing I want to say is about place. In the book The View from Nowhere, Thomas Nagel talks about how so called "objective" information often isn't generalizable because it doesn't connect with local lived reality and culture. People need solutions grounded in where they are. We are seeing how critical it is to have localization of many things now, including localization of food systems.
You have a family connection to Michigan – could you please share that story?
My mom's parents had a small farm in South Haven. It was what we now call an integrated family farm – fruits, vegetables, chickens, so on. They came to Michigan from Illinois basically for what we now call the idea of Black food sovereignty – although they didn't call it that at the time! My grandfather believed that if you have a farm you will always have food for your family. My great-great grandfather on my dad's side worked for the city of Ypsilanti. He helped to build the underground water systems there.
What's a question that you wish people would ask you?
I occasionally get asked this, but wish I was more regularly asked: Why is there so much hunger in the world when we produce enough food? More and more people are waking up to the fact that hunger stems from a lack of political power and recognition, not a lack of food. But too many people who should know better still focus on how to produce more food rather than how to produce systems that support people's ability to nourish their own communities.
Is there anything that you'd like to say to CRFS's partners

and friends

as you start off as

d

irector?
In the work I was doing with my previous organization, the Southeastern African American Farmers Organic Network (SAAFON), the importance of place, of relationship to place and history, was always evident and immediate. I value being back in Michigan and connected to the roots of my childhood and my parents' childhood. And I am excited to be part of an organization like CRFS that, from everything I have seen, is at the leading edge of living its values.